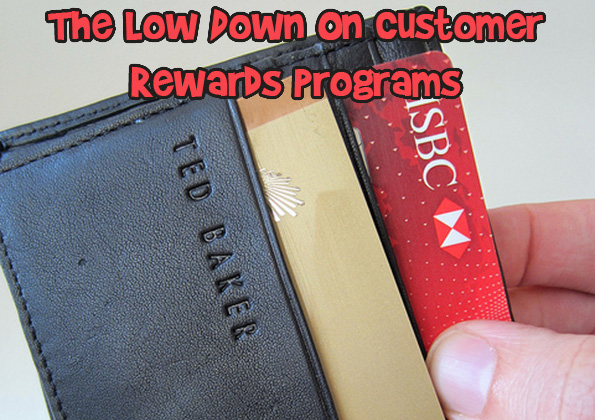 At this time of year many people are doing a lot of shopping. If you are spending all that money, I think you should get some sort of reward. I love shopping at stores that offer rewards for shopping and more often than not, if there are two competing stores, I will pick the store that offers the rewards over the one that doesn't. Sometimes those stores can sell their products more expensively than the other store, so you always have to weigh that out. In this article, I can help you do that on a few popular customer rewards programs.
The most popular rewards program right now is Air Miles. Air Miles used to only be available at very few select stores, but they have branched out tremendously, and now you can get Air Miles on a huge array of products from dog food to liquor to toys. If you don't have an Air Miles card, my question is, why? It is a free program, you don't have to do anything but swipe your card and the rewards are endless. I always go for the gift certificate rewards over the actual air miles, because when I calculated the worth to mile ratio, it was the best.
Loblaw has exploded across Canada. They are into everything and President's Choice is a brand name these days. I was very excited when they announced that the PC Plus program would be extended to other stores under the Loblaw name (Zehrs, Fortinos, Superstore, etc), because I can price match at these stores and earn points. PC Plus is also a free program with an easy swipe card that gets you points on specific purchases. You do have to do a bit of work and load your offers before you go, or you can just shop the in-store offers. The best part is that they tailor the offers to you once they know your shopping habits. They also have cool promotions, like get 10,000 points on every $80 spend, which is literally $10 off your spend of groceries that you need anyway. PC Points are a bit different, but also allow you to get free groceries, just for using your credit card or PC banking card.
Shop.ca has a fantastic rewards program, where you'll get $25 in free rewards just for signing up and 2.5% back on every purchase. You even earn rewards for sharing the program with others with their social loyalty network. Shop.ca has so many items for sale and a number of sales daily, so you can really score big while shopping there.
Please Mum also has a wonderful rewards program where you get an additional discount for being a Thanks, Mum member (free) and 5% back in cash or credits. They will actually cut you a cheque when you get up to a certain amount! You can go even further and refer friends to their program, earning 10% of their purchases back in cash too!
Optimum points are another must-have card in your wallet. Every time you shop at Shoppers Drug Mart (with some exclusions), you'll earn points. They often have bonus days where you can get 20 times the points or redeem your points for more than you have. It pays to wait for these days rather than just redeeming any time you get to a minimum amount.
The Stag Shop has a brand new loyalty program where you get 100 points for every dollar spent. You can redeem at as low as 5,000 points. You can only collect and redeem online, so that gives you the incentive to shop online.
They have an awesome program with points earned on every dollar spent online and in-store. When you sign up, you'll get $10 off your next $25 purchase and 15% off if you buy something within seven days of signing up.
For $10 you can get a Love Your Body membership, which will get you 10% off all your purchases for one year, plus other bonuses like $10 birthday gifts and more money off your purchases once you get so many points.
Chapters
Chapters actually has two rewards programs. The first is Plum Rewards where you'll get 5% off every book purchase online, plus 10 points for every $1 spent. You can redeem $5 off your purchase once you've collected 2,500 points ($250 spent), but sometimes they have events where you can earn 5 times the points.irewards has a $35 annual fee, but includes 10% off books in-store, 5% off books online and 5% off everything else. Both cards let you get free wi-fi in store as well.
This list is far from exhaustive, as many stores offer their own rewards programs. Bargainmoosers, what are your favourite store loyalty programs?
(banner image credit: 401 (K) 2013)