Knowing the best makeup dupes in Canada for 2017 is the best kept secret of makeup-lovers the world over. Why invest hundreds upon hundreds on top-of-the-line makeup brands, when you can find their virtual doppelgängers at a fraction of the price?
Like this? Check out our list of the Best Foundation Dupes in Canada for 2017.
Mascara Dupes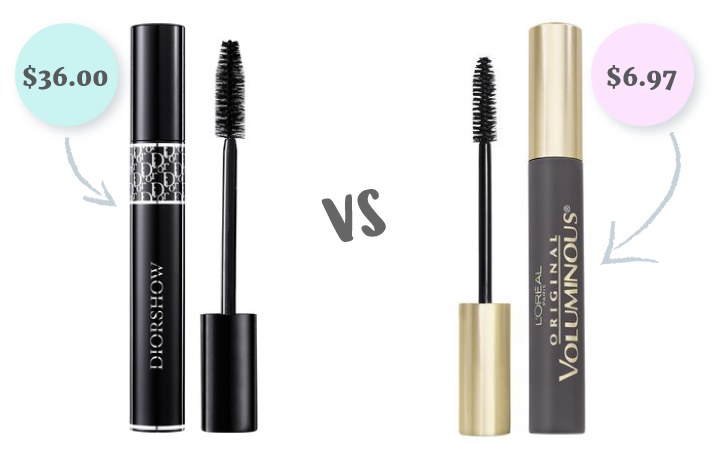 L'Oreal Paris Voluminous Carbon Black Mascaramight as well be the twin sister of Dior's Diorshow Lash Extension Effect Volume Mascara. They both have extremely similar tapered brushes that work to separate and elongate lashes. Though the Diorshow is definitely a touch clumpier, L'Oreal's smooth and even application wins out on price point every day.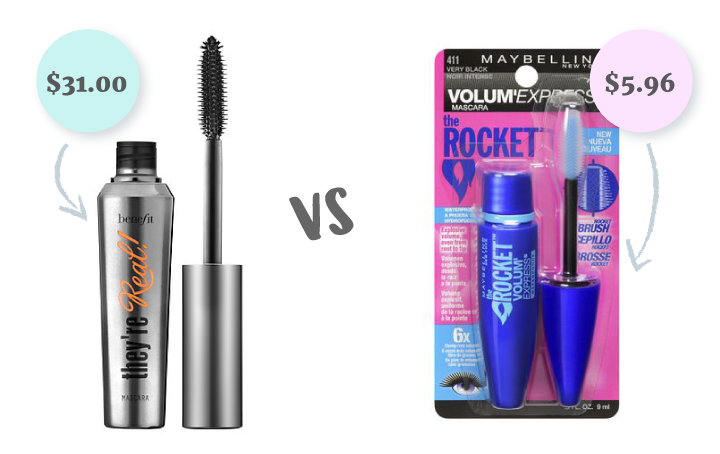 Benefit Cosmetics' They're Real! Lengthening & Volumizing Mascara for $31 (Sephora) vs. Maybelline's Volume Express Rocket for $5.96 (Walmart). These two have been written about by a ton of makeup bloggers. The texture of the brushes are similar, as is the consistency of the mascara itself, with Maybelline's bristles being a little shorter and lacking the bristled top. At the end of the day, both these darlings will provide similar volume and length, so I'm not sure why folks would opt for the brand that is 5 times more expensive!
Want more Mascara Dupes? Read this post on the Best Mascara Dupes in Canada.
Eye Pencil Dupes
For something you apply daily, it kind of amazes me how folks can spend a fortune on eyeliner! Urban Decay 24/7 Glide-on Eye Pencil costs $25 (Sephora), whereas Rimmel London Scandaleyes Waterproof Kohl Eye Pencil is available for $5.48 (Walmart). Obviously, Rimmel London doesn't have the forty odd shades that Urban Decay offers in their line, but in terms of performance, both of these lines are long-lasting, deliver high intensity colour, provide smooth application that promises to be waterproof and smudge-proof.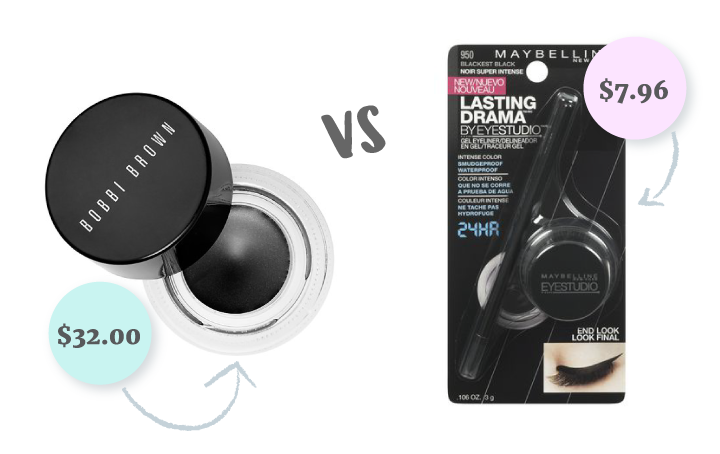 Maybelline Eye Studio Lasting Drama Gel Eyeliner is available for $7.96 (Walmart) whereas Bobbi Brown Long-Wear Gel Eyeliner is almost three times the price at $32 (Sephora). Though both are water-resistant, suitable for sensitive eyes, and relative in pigment comparison, Maybelline's model is a touch creamier than Bobbi Brown's, though keep in mind that this can also be an asset if you make mistakes and need a to a quick touch-up before it sets (!). Considering you can own three Maybelline Drama Gel Liners for every one of the Bobby Brown versions, you might consider switching!
Brow Pencil Dupes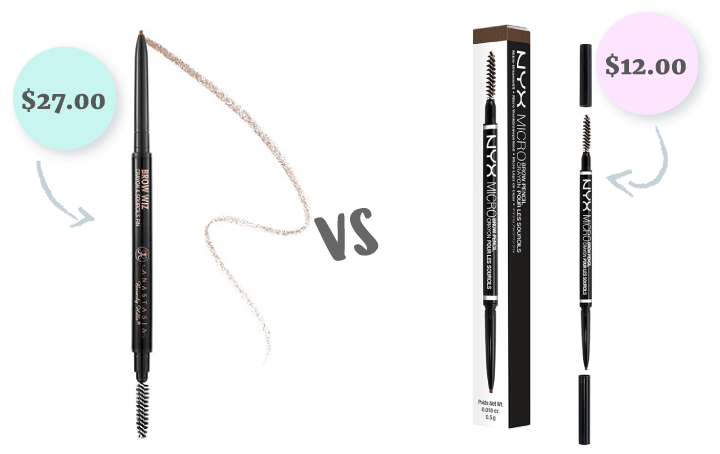 As any makeup artist worth her salt will tell you: eyebrows make a difference! And if you're not into making the $27 (Sephora) investment that Anastasia Beverly Hills' Brow Wizwill set you back, you should consider NYX's Micro Brow Pencil for$12 (nyxcosmetics.ca). From the packaging, to tip size, pigment, firmness, and consistency, these brow pencils are practically identical. I can't imagine why someone would opt for twice the price!
Eye Shadow Dupes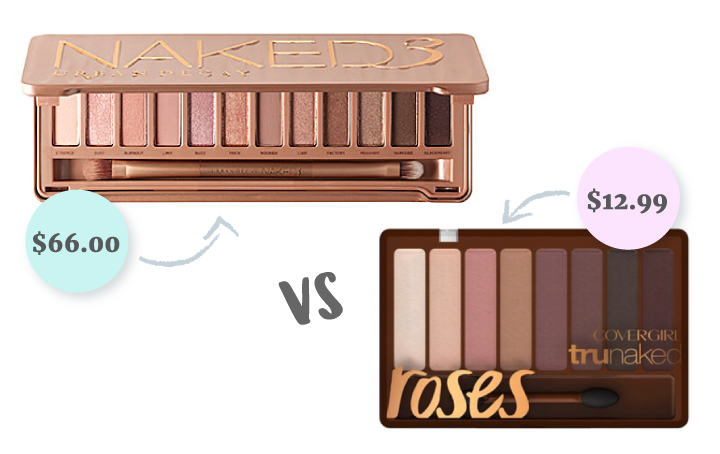 I've head a lot of buzz about Urban Decay's Naked 3 palette, it offers 12 beautiful neutral eyeshades, a fantastic edition from the former Naked 2. That being said, you might not be up for the $66 price tag (Sephora), so you might want to go for Cover Girl Trunaked Eyeshadow Roses instead. It offers a quarter less shadows, but they are a solid Plan B to Urban Decay's model, offering three palettes: Nudes, Goldens, and Roses. And at $12.99 per set (Well.ca), you could snap up one of each and end up with more colours than the Naked 3 anyway.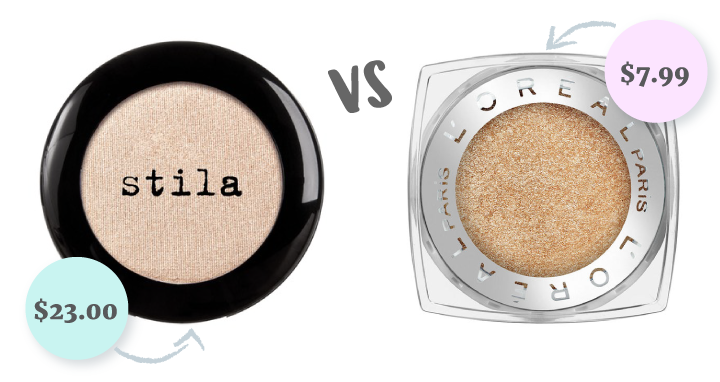 Though I don't think it's crazy for pay $23 on an eyeshadow, especially if it's one as raved about as Stila Kitten Eye Shadow Compact(Well.ca), I do thinkL'Oreal Infallible Eyeshadow (Iced Latte) provides a very promising dupe, and at $7.99 (London Drugs), who can argue! With the pressed L'Oreal pigment, you can even apply it with your finger for best results.
Do you like these dupes? Comment below if there are any favourite high-end makeups that you're dying to find alternative drugstore versions and we'll see if we can help you out on our next post!