You may have already caught the controversy over the ad below, launched by Gap this weekend as part of its collaboration with Ellen Degeneres and her clothing and lifestyle line, ED.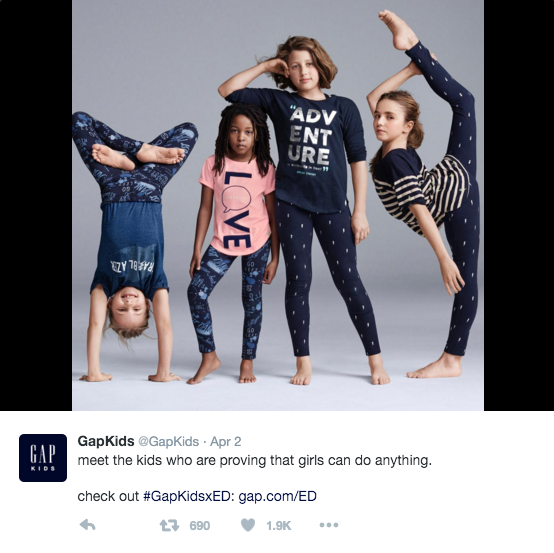 The ad campaign features a dance troop called Le Petit Cirque and was quickly challenged upon its release on social media for being insensitive in its portrayal of the one African American child in the ad—the only girl in photo who is not smiling and has another larger girl resting her elbow on her head.
The backlash was swift, with people responding immediately on Twitter and around the internet with disappointment, anger and hurt:
"Proving girls can do anything... unless she's Black," wrote one user. "Then all she can do is bear the weight of White girls. #EpicFail."

Gap, a company that has been often praised for its use of diverse models and its support of stereotype-busting clothing and messaging, particularly for girls, responded by issuing an apology for causing any offence. In this statement to the New York Daily News they say,
"As a brand with a proud 46-year history of championing diversity and inclusivity, we appreciate the conversation that has taken place and are sorry to anyone we've offended... We are replacing the image with a different shot from the campaign, which encourages girls (and boys) everywhere to be themselves and feel pride in what makes them unique."
Turns out, the girl resting her elbow on the other smaller child, is actually her older sister. Their mother, actress Brooke Smith, weighed in on the controversy and defended the ad with this Tweet: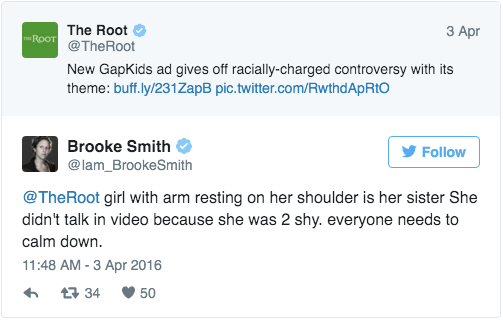 The original tweet can still be found on Twitter @GapKids however, the specific image in question has been replaced with another from the campaign on the company website.
Good on Gap for responding quickly and owning the responsibility for the hurt and anger sparked over this image, but what do you think, is it enough?