Using top of the line luxury brand beauty products can be beneficial in many ways but it comes with a cost, and a literal one at that - they can be pricey. I admit I've wasted a lot of money trying some of the budget ones in an attempt to save money.
Through trial and error though, I've found some fantastic high quality, low priced beauty products that are like dupes of the luxury beauty brands. In some cases I even prefer using them!

I've selected 5 essential beauty products that will give your cosmetics stash a complete makeover for under 1/3 the cost of buying these more expensive luxury brands. (On 5 items below, it costs $48.76 for the dupes Vs. $157 for the luxury brands.)
Foundation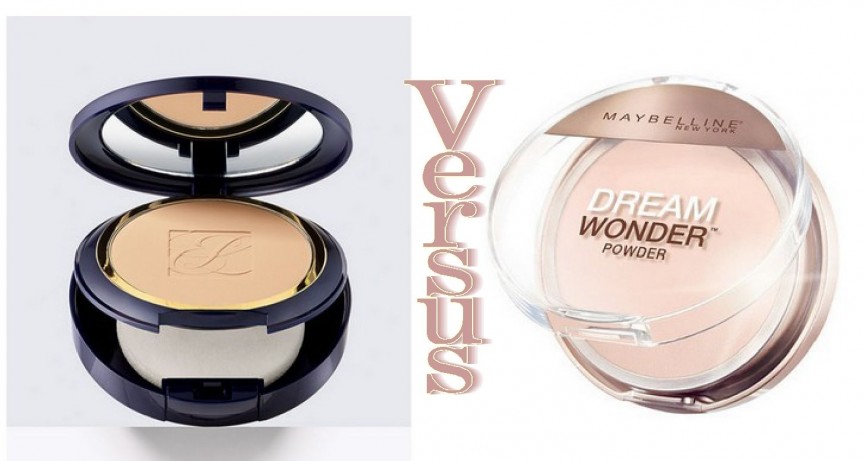 Luxury brand: Estée Lauder Stay-In-Place Powder Makeup $44
This is a long-wear powder makeup that provides medium coverage. The feel is soft and luxurious but I have to say the variety of shades are lacking somewhat with neutral/natural tones, particularly if you have super fair skin.
Dupe: Maybelline Dream Wonder Powder $11.96
Talc free is the key to this one, which means no chalky look. It provides excellent coverage that is build-able. You can definitely wear this without a liquid foundation underneath. The shades in this line are fantastic, they range from the naturals, cools and warms and blend extremely well with your jawline. It wears well and feels super soft on your skin. The finish is a gorgeous matte finish.
Mascara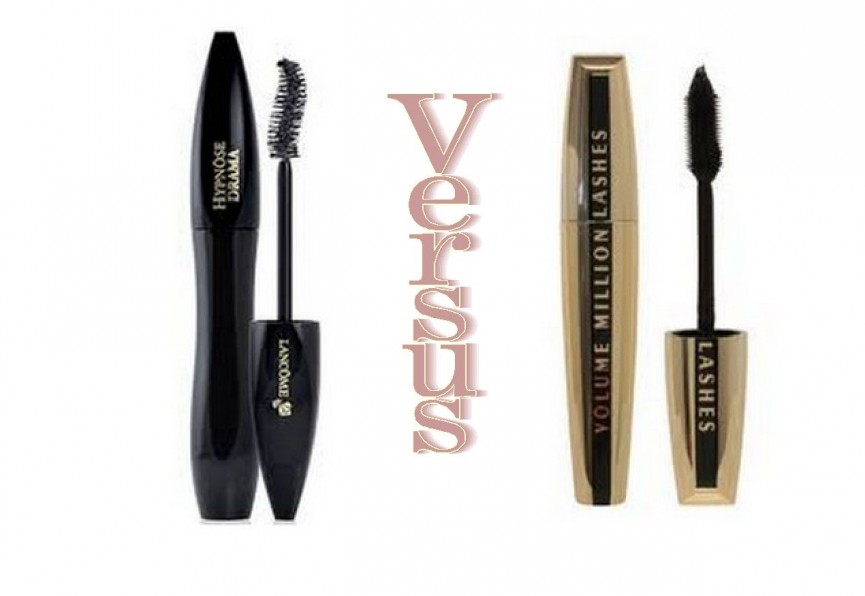 Luxury Brand: Lancôme Hypnôse Drama Instant Full Body Volume Mascara $33

This is a volumizing mascara that applies smoothly. You can build several layers to get the look you want. The pigmentation is good and so is the coverage. It wears a long time without smudging or flaking.
Dupe: L'Oréal Voluminous Million Lashes Mascara $9.96
The hype in the name is true for this mascara. It has collagen in it to thicken each lash which builds a lot of volume. The brush has a design that helps to hit every single lash. I love that this one is available in 'blackest black!' It wears very nicely too, without smudging or flaking off.

Eyebrows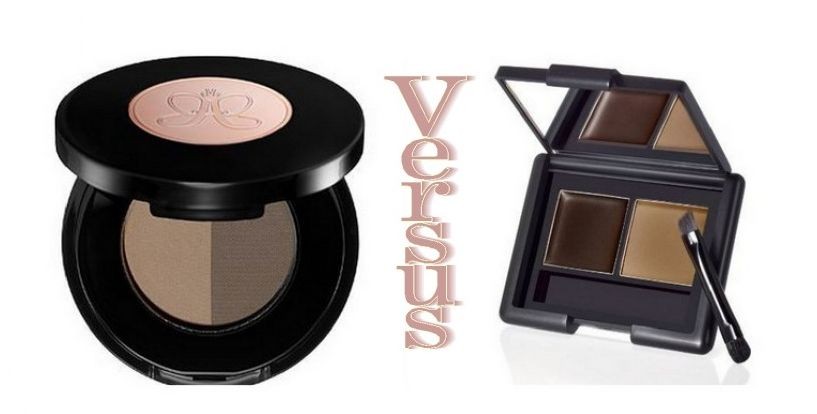 Luxury Brand: Anastasia Beverly Hills Brow Powder Duo $30
Anastasia knows how to enhance brows. This product has sheer to medium coverage and is smudge-proof. There's a huge range of shades to pick from, but oddly enough, when it comes to brows, such a large range is not really necessary. Most people can easily find a shade to suit, even if only a few shades that range from taupe, light brown, med.brown, dark brown and of course, an auburn shade.
Dupe: e.l.f. Eyebrow Kit $3.91
Your eyebrows will look fantastic with the e.l.f. brow kit. The product applies smoothly, blends easily and is smudge resistant. It has a pigmented wax to help to define and shape your brows. There's a lighter powder on the other side, that you can use as a setting powder. This will prevent smudges. It wears exceptionally well. When choosing your shade, it's always better to go too light, rather than too dark. (Too light still blends, too dark is too harsh.) If you're in Western Canada, I've noticed that London Drugs carries this line now.
Blush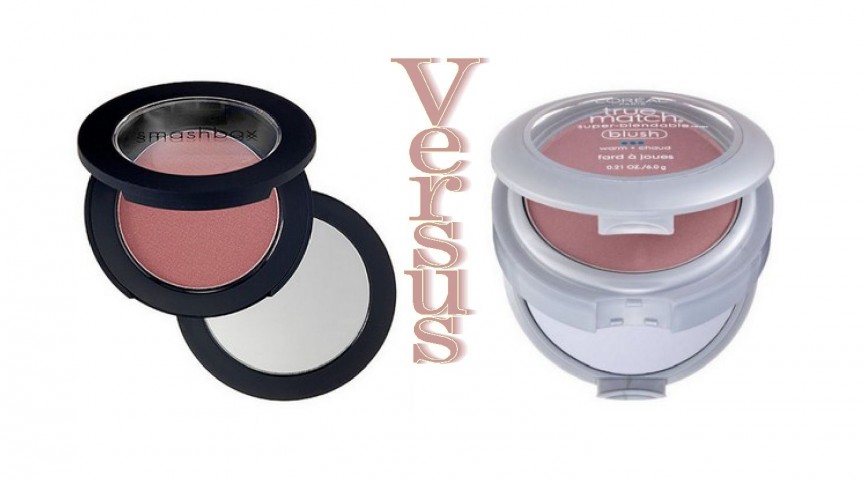 Luxury Brand: Smashbox Blush Rush $29
This blush is known to be one that is long wearing and is highly pigmented. Smashbox does everything well. Their entire line is excellent. I find that the colour stays true when you apply it and it goes on smoothly without streaking.
Dupe: L'Oreal Paris True Match Super-Blendable Blush $13.93
The name is well suited for this blush, it does blend easily on the skin. It has enough pigment in it, too, so you don't have to put a lot on. Being oil-free and non-comodogenic, it won't clog your pores and cause blemishes.
Lipstick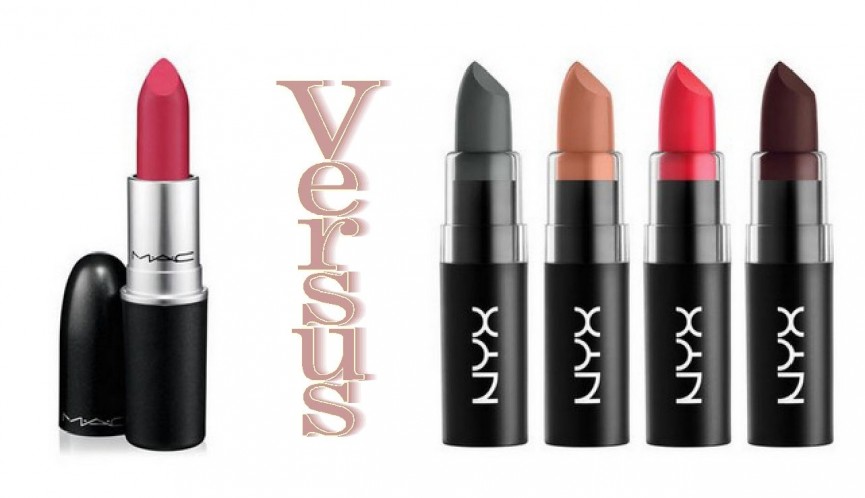 Luxury Brand: M.A.C The Matte Lip Lipstick 21.00
This lipstick is available in at least 20 shades. It's a very long wearing product that has a matte tone, and is non drying. It provides excellent coverage.
Dupe: NYX Matte Lipstick $9.00
NYX Matte is available in 14 shades.This formula is also long wearing, has a matte tone and doesn't feel drying to the lips. As it wears off, lips are more stained, as opposed to when lipstick wears just off unevenly. London Drugs carries this line as well. The main downside to this one is, it's just not as nice of a tube as the M.A.C one.
The beauty industry has literally millions of products within it and just because a product isn't packaged up as nicely as others doesn't make it a bad product. Vice versa - just because the package looks incredible doesn't mean it's always worth paying a lot more for it, either!