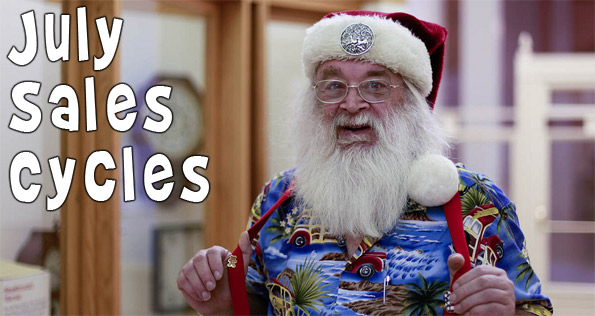 This year is already half over and there have been many great deals in the past few months. Of course, a new month means new sales cycles for big savings. The month of July is a little different from other months because there are no huge holidays and people are relaxing and staying outside instead of heading to the malls - and the stores know this fact. For that reason, stores will actually make up events like the oh-so ever popular "Christmas in July" to advertise sales.
Since there are no actual holidays in July (other than Canada Day which is the first day of the month therefore sales would have happened in June) the sales revolve around what will be happening in the months to come.
Computers- Since school has just ended and students won't be going back for a couple of months, stores are trying to get rid of big-ticket items such as computers. Summer is a slow time for computer sales, but the sales pick up again closer to the end of August when students are on the look out for new computers. For this reason, stores try to push out the old computer stock with great sales in July.
Jewellery- There are six non-gift giving months of the year without holidays, and July is one of them. Most of the gift giving months sell a lot of jewellery because of the holidays (Christmas, Valentine's Day, Mother's day, etc...). For this reason, you will find some really great deals on jewellery in the month of July. Not only will the prices be lower with better sales, but you will also be able to barter a little more and get the best possible price if you go in to the jewellery store. Merchants know they won't have as many sales so if they have someone that wants to buy something then they will most likely give you a great deal to make a sale.
Clothing- You will find different clothing items on sale every month of the year. The month of July is especially good for sandals and swimsuits. By July, we will have already had nice weather for a couple of months now and most people have their swimsuits and footwear already purchased for the summer. That means the stores need to price items lower to get the customers to buy more of these items.
Christmas in July- This is an expression that I have heard many time thought the years. I grew up in a small town that would actually have a Christmas in July parade! I don't know exactly how this expression started but I am sure it was someone selling something trying to attract customers. Whatever the reason, I am happy to take advantage of the savings! There are no specific sales to mention but the month of July will boast more coupons, more free shipping offers and a lot of sales wanting to get rid of old stock. A lot of stores start getting new stock sometime in August so they need to make room for the new items by selling off the the old stock.
Travel- There are many different reasons to travel in the month of July but the main one is the affordability. You will find some crazy deals and specials on travel deals specifically to places that are hot. Not many people travel in the summer to places that are hot because it is already hot where they are. You will be able to find some great flights and hotel deals to places such as California, or other hot destinations because it is not as popular as the winter months.
These are a few different deals for sale cycles that you will be able to find in the month of July. Let us know if you know of some more!
(Thanks to Alvin Trusty for the image!)