Shopping for a leather jacket? If you have your eye on Rudsak coats, you probably just know how luxurious – and expensive – they can be. Pieces like these are definitely investments, but that just means they should last you for years to come. But before you break out your credit card, you might as well try to get a deal.
Rudsak is a Canadian brand that started selling leather jackets and has since expanded to make shoes, parkas, scarves and almost everything in between. They're now a national icon (just like their famous Rudsak Sample Sale), and we put together this quick guide to help you figure out ways to save on their products.
Here, you'll find tips for scoring free home delivery, repairing any damaged items without breaking the bank and the dates we predict major Rudsak sales like their Black Friday and footwear events will start up. And if and when you shop, just remember that you can also find their coats at stores like Simons – you know, places that also run their own savings events – as well as sites like eBay and other used clothing retailers.
Tips for saving money at Rudsak Canada
Let's be realistic. You can't always wait until Black Friday or Boxing Day comes around. Sometimes, you just need to shop when items are regular-price. And whenever that happens, it's worth trying out a few tricks like this to help you save a few bucks anywhere you can at Rudsak. So check these out before you shop!
1. Browse the sale section
This is a pretty smart practice anywhere you shop, but it's especially wise when you head to big-name retailers like Rudsak. Since major clearance events are rare, the sale section is usually one of the only ways you'll find discounts on things like Rudsak coats and their famous crossbody bags.
2. Choose standard shipping
At Rudsak, standard delivery (which takes up to seven business days) is FREE on all orders – but you'll have to shell out $40 for three-day delivery with Canada Post Xpresspost, so it's worth the wait! Honestly, I'd only ever choose express shipping if you're really in a bind – like you're buying a gift the week before Christmas.
3. Send damaged items for repairs
Don't get stuck with something you can't wear! If any outerwear, bags or small leather goods you order are defective, Rudsak will usually cover repairs. Their Quality Assurance Policy covers broken zippers, splitting seams and lost snaps (within 90 days of your purchase), as well as some footwear defects (within 30 days).
4. Look for a Rudsak promo code

Every once in a while, Rudsak will release coupon codes that can save you anywhere from 10% off specific items to $100 off your entire order. Keep in mind that these are incredibly rare, but you could see these from time to time. We'll let you know on the blog or our Facebook page if one ever pops up!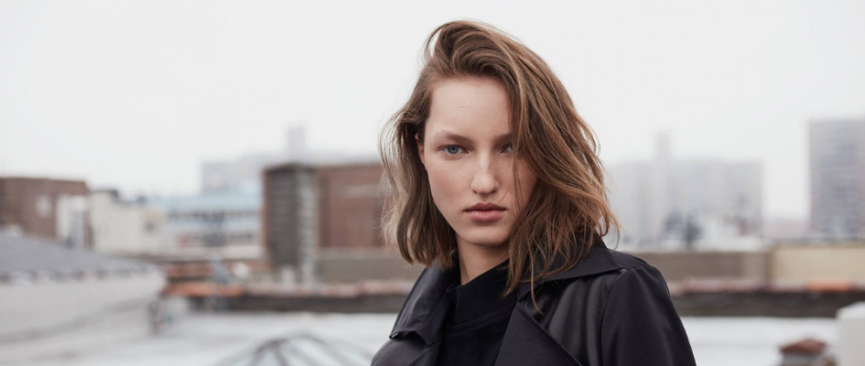 When does Rudsak go on sale in Canada?
I know it may seem like Rudsak styles never go on sale – especially if you're saving up for one of their coats. But trust me, there are a few of them, and these sales are absolutely worth marking on your calendar. Here's what we expect to see over the next calendar year and how much you should plan to save.
The Rudsak Sample Sale
This is the holy grail of Rudsak sales. The Rudsak Sample Sale is easily their most anticipated event every year, and it's your chance to shop outerwear, leather jackets, bags and more at major discounts. It's also called the Rudsak Warehouse Sale (because they're clearing out sample stock from their warehouse), and you need to act quickly whenever one starts, because items sell FAST! This event usually happens in mid-April in Toronto ... so if you don't live nearby, you have plenty of time to book your flights for the next one.
The Rudsak Footwear Sale

Alright, this isn't anywhere near as massive or newsworthy as their Sample Sale, but this footwear event is really the one time of year you can find Rudsak shoes and boots marked down. Styles for men and women are normally 30% off, and this sale often happens in mid-May or toward the end of the month.
The Rudsak Mid-Season Sale

You might have guessed this from the name, but I'll say it anyway: the Rudsak Mid-Season Sale happens twice every year. This is when select styles for men and women are often 30% off, and it sometimes overlaps with their annual footwear deal. Just hurry whenever you see this one live, because sizes sell fast!
The Rudsak Black Friday Sale

Want to know what Rudsak has in store for us this Black Friday? They usually keep things a secret until the end of November, but here's what we can tell you. In past years, Rudsak has held a few individual sales leading up to Black Friday (like select handbags and wallets for 20% off), so there's always a chance something similar will happen again. The Rudsak Cyber Monday Sale, however, is one you'll really want to shop. They've offered up to 40% off almost everything sitewide, and I'm already saving up to shop this year's event!
The Rudsak Boxing Day Sale
Also known at the Rudsak Holiday Sale, the Rudsak Boxing Day Sale is one of their biggest all year. In 2017, select items dropped down as low as 40% off, so if something similar happens this year, it'll be the perfect chance to treat yourself to a little post-Christmas present at a HUGE discount!
---
Do you have any tips for saving money at Rudsak or favourite times of year to shop? Let us know your advice below. And if you score any incredible deals, let us know what you got – and how – in the comments!
Sign up for our newsletter
Never miss a deal from Bargainmoose with our daily newsletter