A recent update on June 9th, 2016 has been added to to this May 11th recall and now includes additional products. Cabela's Classic Candies brand Cajun Hot Mix and Uncle Buck's brand Cajun Hot Mix, Sunflower Kernel, and Sweet & Salty Trail Mix are all included in the recall due to possible Listeria monocytogenes contamination. There have been no illnesses reported yet from consumption of these products. The Canadian Food Inspection Agency (CFIA) is conducting a food safety investigation, which could lead to the recall of other products (which would be updated on the Healthy Canadians Recalls & Alerts website.)
These kinds of snacks can be a popular snack for Canadian children to eat. Hopefully you don't have these in your homes, but as always, please take a close look at the products to identify them and pass this info. on to your friends and family.
The following Cabela's Classic Candies brand product has been sold in Cabela locations in Alberta, New Brunswick, and Saskatchewan and the Uncle Buck's brand products have been sold in Bass Pro Shop locations in Alberta, New Brunswick, and Ontario.
If you have any of the products listed below, do not consume them, and return them to the place of purchase or safely dispose of them to ensure no one ingests them.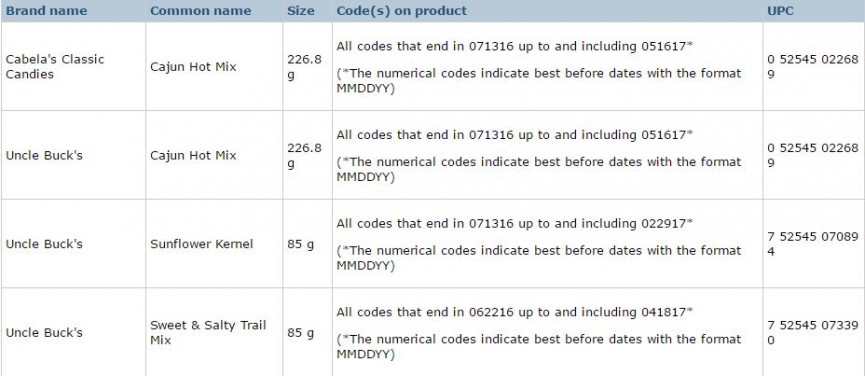 From the Healthy Canadians website, here is some information on Listeria, and how it can affect people who have consumed the product:
"Food contaminated with Listeria monocytogenes may not look or smell spoiled but can still make you sick. Symptoms can include vomiting, nausea, persistent fever, muscle aches, severe headache and neck stiffness. Pregnant women, the elderly and people with weakened immune systems are particularly at risk. Although infected pregnant women may experience only mild, flu-like symptoms, the infection can lead to premature delivery, infection of the newborn or even stillbirth. In severe cases of illness, people may die."

For additional information on this recall, you may contact:
Rucker's Wholesale and Service Co.: [email protected], 618-945-2411 or 800-663-1857, Mon-Fri 7:30am to 4:30 pm CDT
CFIA: www.inspection.gc.ca/contactus