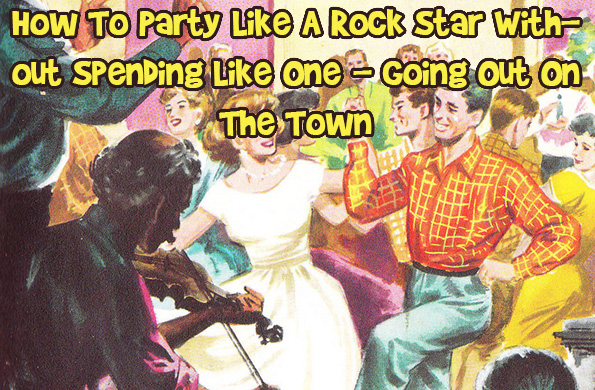 With all the holiday parties coming up, you might be going out quite a bit this holiday season. How does your bank account feel about that? Well, I'm here to tell you how you can get out on the town, have a good time and not spend all of your money. Check out my other post on hosting, if you feel like staying at home to party.
Getting dressed
You might be getting lots of invites for Christmas parties and the like (lucky you!). You want to look good, feel good and maybe not be good. Before you run out and buy yourself a brand new outfit, why not check what you already have in your closet? A little black dress can be spruced up with scarves and jewellery that cost very little compared to what you might spend on a new dress. Especially if no one at this party has ever seen you in that dress, you should make the most of the clothing you have and wear the dress again. The same goes for the shoes and coat. Another option is to borrow or trade with a friend of a like size. I have borrowed clothes from friends many times. I have also given clothes that I'm just not that into anymore to friends so that they can use them, and I have been given many, many clothes over the years (especially from my mom who loves to shop).
Eating
If you are going to a party where food is being offered, you should make the most out of this and eat what you can. If you are asked to bring something (or should), you can find many very easy and inexpensive recipes online that look like gourmet food. The Frugal Girls is a website devoted to living well with less, and they have a copy of this easy and inexpensive sweet and salty pretzels. I've made these a number of times and they are seriously so addicting, if I don't get them out of my house immediately, I end up eating them all and having to make more. They are very festive too. If you want something more upscale, check out these very cute black olive penguins from AllRecipes, which require only cheese, carrots and black olives. It will cost you less than $10 for enough to feed a crowd.
If your partying requires going out for dinner or to a restaurant, you can be frugal here too. Even if your restaurant is a pricey one, cut your costs by ordering some of the more inexpensive items on the menu. Chicken is probably less expensive than beef or fish, and don't think that pasta will be the best bang for your buck. Pasta is generally easy and cheap to make at home, but it has the largest price markup of most items on the menu. You'd do yourself better to order a quality protein to get your money's worth. Also, skip the appetizers and dessert - those are hugely marked up and not worth the money, no matter how good they sound. You could also eat before you leave and just have an appetizer or a side dish, which will save you money but also give the impression you are eating with your friends.
Drinking
Drinking at a restaurant or bar is never a frugal undertaking. I remember when I was 20 (as long ago as it was), and we'd go out for dollar draft night. As hard as I tried, I could not drink beer, so I spent $6-$8 on a cooler instead and where my friends had eight beers to my one drink, I did have less of a hangover. If having a buzz is important to you, have a few drinks before you leave (as long as you are not driving), then just have one or two during dinner or your night out. If you must drink while out, choose less expensive drinks like spirits or even beer or wine over fancy cocktails. I will often go for the gin and tonic for $5 over the $8 glass of wine or the $9 bellini, which probably has less alcohol too. If wine or beer is your temptation, consider getting it as a pitcher or a bottle and ask your friends to share. You'll pay less per drink.
If you are attending a party, some will have an open bar, but in this case you should bring a hostess gift. You could make something that they would appreciate to keep down your costs. Get some great ideas from this post on DIY gifts. If you think bringing a bottle would be more appreciated, stay out of the vintage section and bring an inexpensive wine you know everyone will like. The hosts will be happy with anything you bring, so don't feel like you need to splurge. If you are going to a BYOB party, coolers or beer may be more convenient, but they are more expensive than buying a bottle of spirits and making your drinks as you go, as I figured out in my post on Hosting Parties.
Gift Exchange
If you are meeting with others who you might think are bringing you a gift, or you have decided to exchange gifts, you might feel like you are going to go broke. The first thing you can do is talk to your friends about doing it more as a Secret Santa and exchanging with one person only. You could make some gifts or even re-gift. Many times you might get a gift you don't really care for (a box of chocolates or a bath set for example). Save those gifts (even keep them wrapped) for times when you need to give a gift to someone else. I don't think it is tacky if it is a gift that was not specifically picked out for you, and when the gift is going to someone who will never be in contact with your original gift giver.
Transportation
I live at the edge of my city and getting a cab to and from my house is a huge expense when I'm going downtown. There are ways you can save on this expense. First, never drink and drive. We all know this. But, if you can drive to your first location and park somewhere you won't get towed (a friend's house, an overnight parking garage), the parking might be cheaper than the cab rates. You should figure this out first, though. Second, try to find friends to split the cab on the way home. Better yet, try to find friends who are driving in your direction and beg them for a ride. Even if you gave them a bit for gas, it will save you some money. You could also take the bus, which on nights like New Years Eve, the bus might run late. The cost of the bus will be way less than any cab, no matter where you are going. Obviously the best idea is to drive yourself, so if you are going with friends or your spouse, take turns being designated driver or draw straws to keep it fair.
Bargainmoosers, how do you save money while having a night on the town? Let me know in the comments below!
(banner image credit: NinaZed)