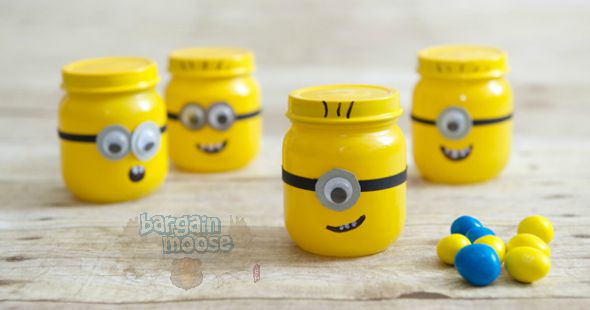 The Minions from Despicable Me have taken over the world it seems - they are so popular! I do a lot of crafts and I was looking for a way to have cute, decorative jars to store buttons, sewing needles and more. I found just the thing and had to share it with you. You can make your very own Minion Jars of any shape and size, without spending a fortune. The list of items needed for this craft is short and simple, and you can use any old jars that you were going to recycle.
So here's what you're going to need to create your own little minions:
hot glue gun & glue
black, blue and silver/grey craft paper or construction paper
googly eyes that will be proportionate with your chosen jars
yellow spray paint
scissors
permanent marker
paint brush & white paint
So the directions are pretty simple, and you can get creative too. Feel free to make different faces, different sizes or even do the entire minion a little differently if you desire. But here are the general instructions if you want your minions to turn out like the photo from BettyCrocker.com:
Step 1: Get your jars together
Gather the jars you desire. They can be any size, just remember to keep the eyes and glasses proportionate for a desired end result. Make sure the jars are clean, you won't want to wash them after you decorate them.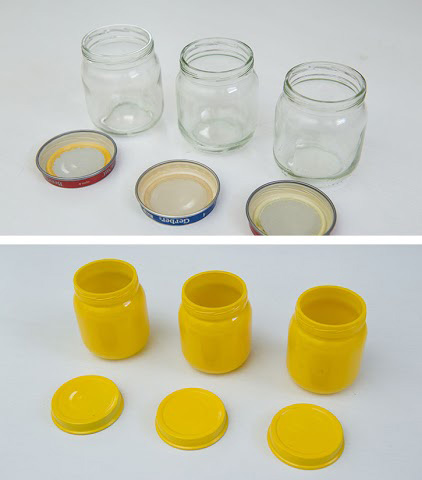 Step 2: Perfect yellow
It might be hard to find the exact yellow you need, but Michael's Arts and Crafts has quite a selection. Keep in mind that Michael's usually has great coupons, which can be found in our Bargainmoose forums. Right now they have 50% off one item of your choice. Spray paint is easiest, but you can use a brush to apply the paint if you prefer. Do two or three coats of yellow paint, but make sure you allow the paint to dry between coats. This is to ensure you can't see through the jar at all.
Step 3: Details, details.
Cut out your details! You will want to cut a thin strip of black construction paper for the band around the goggles on the minions. You will also want to cut grey/silver circles that are slightly larger than your google eyes. These will be the frames of the goggles. Then you can use your glue gun to apply the google eyes to the circles you cut out. Then add the black cardstock strip around the jar with hot glue again. Next you can place your google eyes with some more glue. Awh! Doesn't it look like a minion already?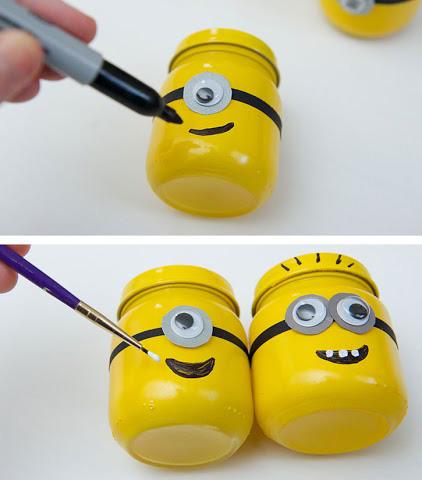 Step 4: Finish the job
Now you can use your permanent marker to add the fine details - like the adorable minion smiles. You can even use the white paint to make the smile a little tooth-y. If you want to add the overalls, just use the blue construction paper. The minion jars are cute with or without the overalls.
Don't forget to check out the other Do It Yourself recipes and crafts here on Bargainmoose!