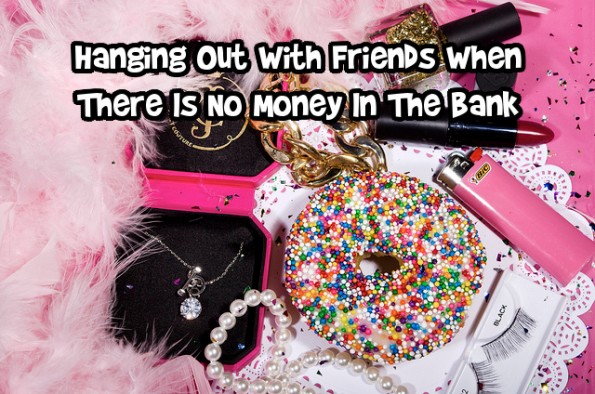 One of my favourite things to do is host a girl's night. I love entertaining and hanging with friends. I would cook so many little appetizers, have some drinks and spend the day cooking and cleaning. My budget would always go out the window. I also have a friend who I would meet for a dinner date each month, which is cheaper than going out with my spouse because I only pay for my dinner and no babysitter, but can still add up. I wanted to find frugal ways to hang out with friends without spending any or very little money. There are ways we can do this.
Girl's Night In
If you love having all the girls (and/or guys) over to your place and don't want to stop doing this, there are ways you can do it more frugally. If you want a big shindig, check out my article on Entertaining Like A Rock Star. If you are looking for something more low-key, consider seeing if your friends will each take turn hosting. This way you aren't all on the hook for each girl's night and everyone can contribute to the festivities. There are so many more ideas for girl's nights in like having a card or board game party, which would be free because each person could contribute a game to play or having a movie or TV show night. There is nothing like cuddling under a blanket with friends while you oohhh and ahhh about Channing Tatum's rear end.
Dinner Party
If you still are keen on having it at your place, check out Jessica's fantastic article on throwing a dinner party on a budget. I used to be part of a "supper club" where we took turns hosting and each guest would bring a dish based on the theme. I usually spent no more than $10 and enjoyed a fabulous many-course meal with friends. Style at Home has 10 great theme ideas for dinner parties.
Getting Out
If your house is a mess or you simply don't want people over, but want to find ways to hang with friends, there are tons of ways you can do this without doing the usual restaurant or club evening. I really enjoy walking and I walking with friends is really a treat. You burn some calories, get out the requisite chatting and you get all that fresh air too. I'm thinking of scheduling a weekly walking night with one of my friends. If you have dogs, this is a perfect opportunity for them to get some social time too.
If walking is not your thing, there are lots of other sports that could fill the gap like skating, roller blading or biking. If you really just want to rest, why not take a picnic to the park? Sit on a park bench and just spend time with your friend(s). Just getting outside is so much better for you than sitting at home alone.
You could also check the schedule in your town or city and see what free events are on. Some museums have free nights, and there are always free lectures or book clubs, etc., that you could attend to give you something to do with your friend.
Helping Out
If you have a room to paint or grout to seal, consider having your friends over to help out. You'll save money on labour, you might have a fun time doing it and you'll get the job you need done finished. The only caveat to this is that you will have to help out your friends too, but that shouldn't be a problem. You could even start by making a list of each renovation you and your friends need then schedule the days. The work will be done in no time and you'll have spent quality time together, while saving a load of money!
Meal Making
If you have trouble during the week finding time to make dinner, especially healthy dinners, you could get all your friends together to make batch meals. You'll have a blast cooking together, save money on groceries and get all your meals prepped for the week! If you don't need to cook for yourself, you could consider getting you and your friends out to cook for a cause. Ronald McDonald house, for example, always needs groups to cook meals for the families staying there. This is an amazing way to give back to charity, while having fun with your friends. Each RMH has a different branch, but I see the B.C. one is looking for volunteers.
Bargainmoosers, what frugal or free things do you do with your friends?
Photo credit: Candice Linkie