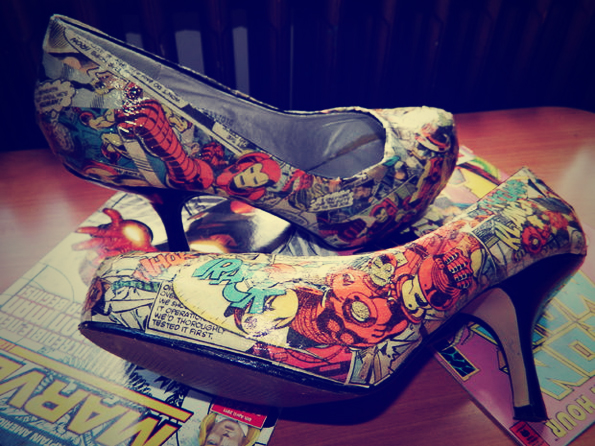 I was just having a read on Instructables, the amazing site where people share their craft projects and the instructions thereon. I came across these comic book shoes which look absolutely fantastic, and they're pretty easy to make too. As some of you might remember from this post, I recently made my daughter's bedside table into a comic-book themed design, so these shoes also tickle my fancy. I am sure that most of us have a few old pairs of shoes lying round which could do with some love. Consider giving them a makeover with your favourite comic book characters!
You don't just have to use high-heels as pictured above, you can try this style out on any shape of shoe. In fact, in the comments on the Instructables post, people have shared their own creations showing all sorts of shoes, from kitten heels to DMs.
I'll not write out the full tutorial here, but basically you just need shoes, the comic book of your choice, scissors or a craft knife, and glue. Use your creative juices and your imagination and put the clippings from the comic book on to your shoes, and finish with lots of coats of glue.
What do you think of the style? Will you give it a try yourself? I am so tempted!
(Expires: never!)