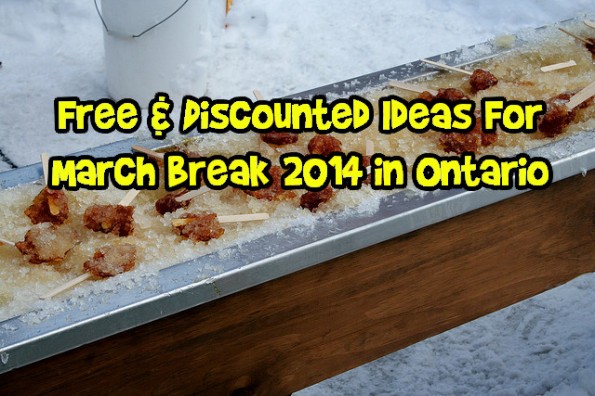 March Break starts in less than a few weeks in Ontario, and in my school district, they've even added an extra day by way of a PD day on the Friday before it starts. This means there are six full days plus two weekends (a total of 10 days) to keep kids busy and entertained. While I am not a huge proponent of going somewhere every day, I know at least two or three of these days need to be spent tiring out my children or they become grumpy little trolls. I've compiled a list of free activities, coupons and discounts specifically for Ontario. Stay tuned for the rest of the provinces!
Attractions Ontario has a number of great coupons for major attractions all over Ontario. I think we might take advantage of the 20% off the Ontario Science Centre coupon and if we were going to hit Niagara Falls this break, I'd also use the $10 off a Niagara Helicopters package.
If you want to see the best of the best in Toronto, your best bet is a City Pass. I have previously bought the City Pass, because it is a great deal if you want to do a few different things over the days. The City Pass gets you 42% off of the five best Toronto attractions - The Toronto Zoo, CN Tower, Casa Loma, Royal Ontario Museum and the Ontario Science Centre. The books are good for nine consecutive days from the first day you use them and they are good for a year from the day you purchase them (so you could buy now for the break). They also allow you to skip the ticket lines, which is great when it is going to be busy out there for March Break. You can buy them from any of the attractions themselves while you are there, or online. The cost is $60.89 US for adults and $36.14 US for kids between 4 and 12. If you are thinking about buying this pass, now is the time to buy it because as of March 1st the child's pass price is going up.
For the theatre lovers, Disney on Ice is playing at the Rogers Centre all March Break and you can get a me + 3 four pack of tickets at a discounted price at Ticketmaster.
If you are coming from out of town or your kids just love hotels, there are some great deals on stays with attraction tickets included. The Delta Toronto East is located very close to the Toronto Zoo and the Ontario Science Centre is right beside two major highways that will take you to many of the other Toronto attractions. They have a pool with a waterslide, plus a great kid's program and offer deals on stays plus attractions. Deals start at $139.
Greenhouses and conservatories in various cities around Ontario are offering free admission to their facilities, where kids can check out exotic plants and take part in the special March Break programming. Check out what you can see in Hamilton, Toronto and Thunder bay. I am definitely taking advantage of the one very close to my home.
Do you have a future police officer on your hands? My son says he wants to be a forensic police officer. He would love checking out police museums, and I actually think this is going on my list of things to do this break. The Toronto Police Museum and Discovery Centre sounds really cool and only costs kids $1, seniors $2 and adults $3. A little farther north in Orillia, the OPP police museum is free!
If skiing is your outdoor activity of choice, check out Deerhurst Resort, which has 20% off stays of three nights or more on March Break.
Groupon has a number of Things To Do deals, which you could get now and use during March Break. Some ideas include paintball, snowshoeing tours, golf simulation and various ski packages.
If you like museums, you must check out this free ebook of ten museums you can visit for free in the Ottawa area from Freeactivities.ca. They have a number of other great ideas listed too.
A totally free activity any family can partake in is to do walking tours of your own city or visit another one! Go Canada has some great ideas of where to visit in Toronto, like the Distillery District or St. Lawrence Market.
Check your local tourism site from your town for any free or cheap festivals going on in your city that week. You could also check the local pools and skating arenas to see if they have free days.
And last, but not least, the thing we always do every March Break is visit our local maple syrup shack for a pancake breakfast, horse and buggy ride and to get some of those yummy maple syrup candies. You can't live in Canada and not do this. Many of them are free to visit with a nominal charge for the breakfast and other attractions depending on the farm. Ontario Maple has a huge list of maple syrup festivals happening over the break.
Please post below if you have any other free or discounted ideas for March Break and let us know if you took advantage of any of these deals!
Check back frequently with Bargainmoose for more money-saving ideas for this March Break. Stay tuned next week to find out about discounted and free March Break ideas in other parts of Canada.
Photo Credit: Dugspr