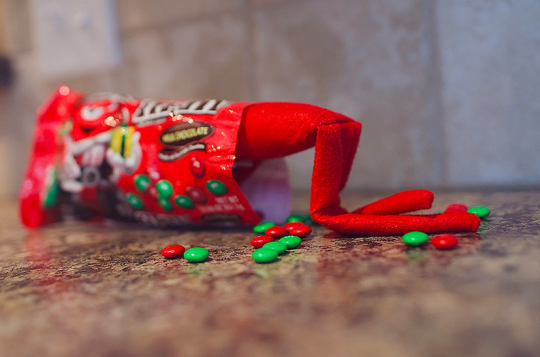 Can you even name one family who doesn't do the Elf on the Shelf tradition nowadays? I can't. In fact, we have been taking part in this tradition since my son was born. Yep, even before he understood what it meant at all. But where does everyone get their Elf on the Shelf ideas, seriously? Whether you are just starting the Elf on the Shelf tradition or you are an old pro, I am sure you can use some pointers for some fun antics. So let's get a little festive and figure out what our Elf on the Shelf will be up to during the Holiday season. Oh, and if you don't have The Elf on the Shelf yet, then be sure to order yours now.
You are going to want to stay tuned for tons of fun ideas for your Elf on the Shelf, but for now here are 10 hilarious ideas for you to use when staging your Elf every morning. Remember to keep it interested to keep your kiddo's head in the game.
Here are ten hilarious ways that Elf has been spotted:
1. The Lego people attack!!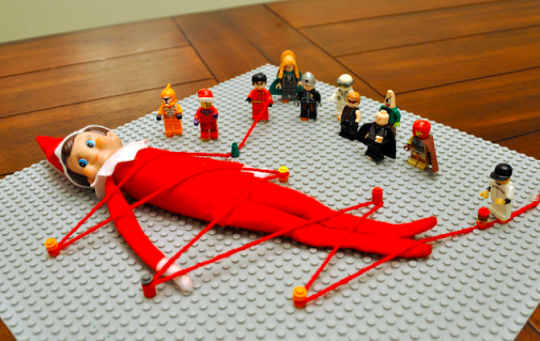 This scenario looks fairly easy to duplicate. If you have little boys in your household then I am sure you have Lego as well. Get a flat base piece of Lego, some round single Legos and a swarm of Lego people to create this scene. You will also need some yarn to tie your Elf down. The kids will love it!
2. Elf + Minions....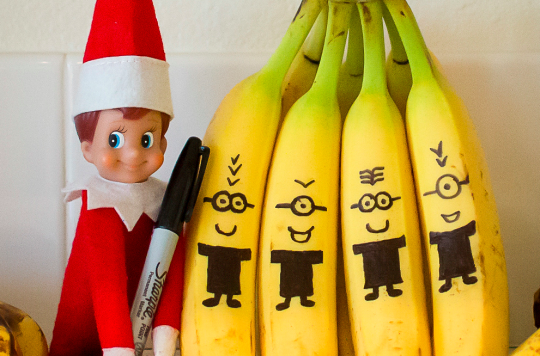 I am sure if you combine an Elf with minions you would have some trouble on your hands. Did you know that Minions started out as bananas? Get a sharpie and draw Minion faces on those bananas and then sit your innocent looking Elf next to them holding the marker.
3. Stealing the M&M's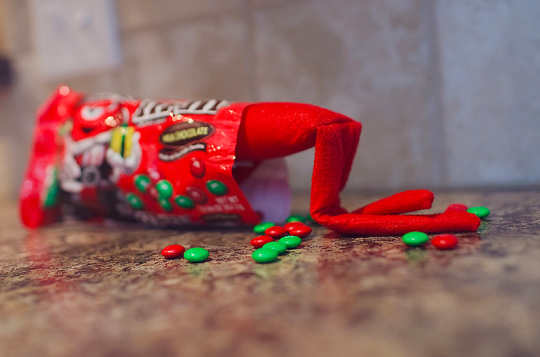 Elves love candy. So stage your elf to look like he snuck into a bag of M&M's or some other delicious treat that the kids will enjoy too.
4. Snow Angels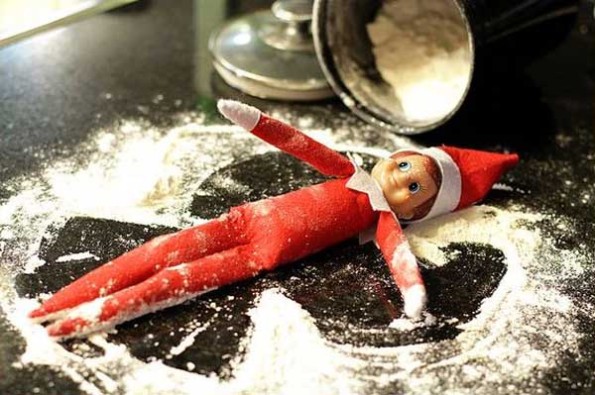 Oops! That darn Elf is always getting into trouble. It looks like he has knocked over some flour (or salt or sugar) and is making snow angels on the counter!
5. Oh Wrap!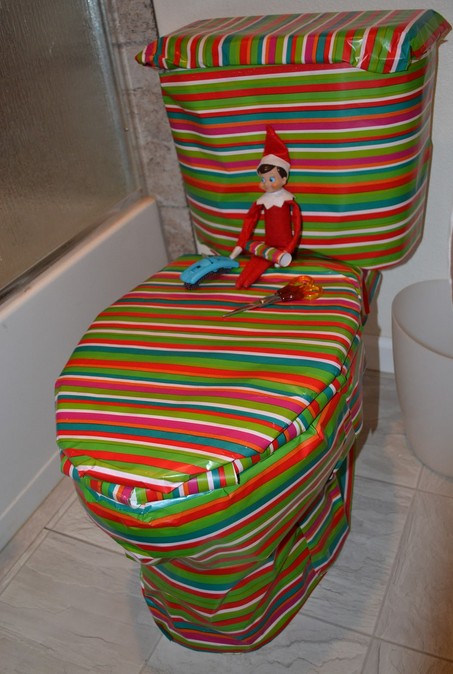 That naughty elf has gone and wrapped the entire toilet paper in Christmas wrapping paper. I sure hope your little ones know how to hold it!
6. Slippery Sledding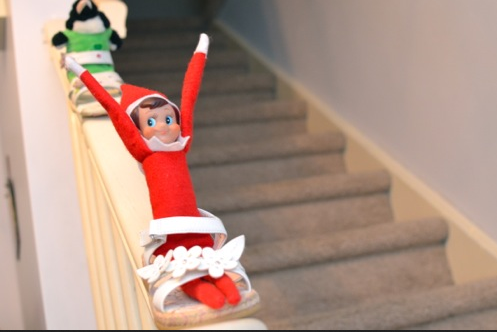 Better count your shoes! The elf has decided to sled down the railing in your favourite pair of shoes. I wish I had balance like that.
7. Gone Fishin'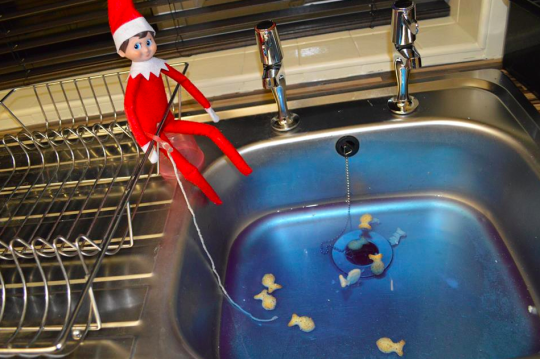 Nobody likes soggy Goldfish Crackers, except Elf. Elf has been caught fishing for goldfish in your kitchen sink. How funny is that?! There is something a bit fishy about this scenario.
8. Elf is Sick and Tired..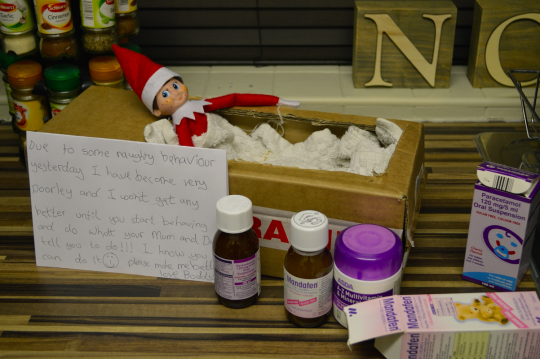 When the kids have not behaved, stage your Elf as if he needs some TLC the next morning. Leave a lovely little note that explains that Elf is sick because of how misbehaved the kiddos were. That'll teach 'em!
9. Yoga Elf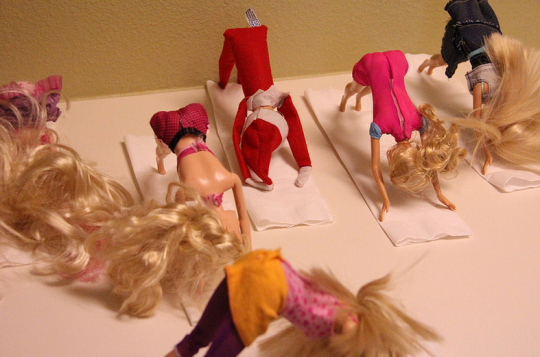 Everyone needs to relax sometimes. Elf has been caught in a yoga class with your daughter's Barbies. Let's just be happy that it ended at that!
10. Ninja Elf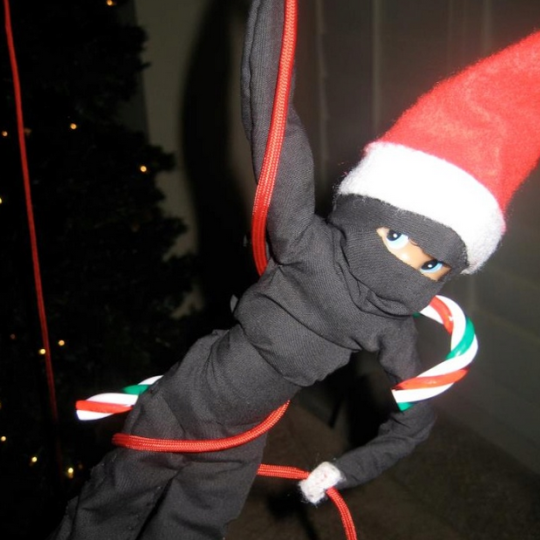 This Elf costume is hilarious - and simple. Get an old black t-shirt or sock and make Elf a black ninja suit. Then you can hang him from wherever to keep an eye on the kids. Sounds awesome, right?
Moosers, we would love to hear your Elf on the Shelf ideas so we can feature them in our next Elf blog post! Pictures are a bonus for sure. Head on over to our Facebook page and send us your most hilarious Elf on the Shelf poses.