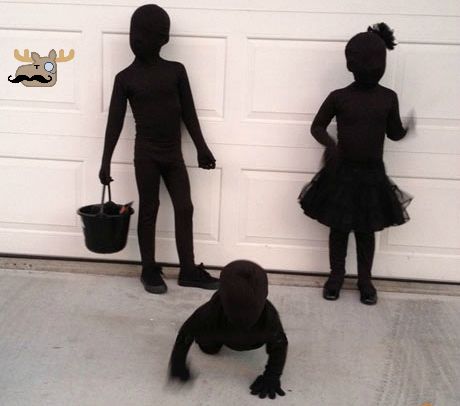 That question is probably rolling around your house hold right now - What do we dress the kids as for Halloween? You always want something unique, and adorable for the young kids. As they get older they want to be something a little more scary and unique, but perhaps you don't want to spend $200 on their chosen costume? You can dress your kids up as shadows for incredibly cheap this year for Halloween, and the costumes will totally be one of a kind once you add your personal touch to each of them. Most of the items you may already have around the house too, so this might be a fantastic way to upcycle some old clothing rather than throwing it out.
The best way to start your shadow costume for you or the kids is a morphsuit. They seem to range in price from $25 to $60, and you can find them online or at your local Halloween costume store. Get a black one of course! Here are a few I found over at Amazon.ca:
For a more frugal go at it, you could always use black pantyhose. The baby in this image is dressed with black pantyhose, black clothing, black gloves and black shoes instead of a morphsuit since they did not make them in his size. I am interested in knowing just how comfortable this costume would be if you were dresses as a shadow for a long period of time. Remember to make it more personalized. For girls, maybe add a black skirt or black headband with a flower? Black high heels? Sunglasses? You can add whatever you like, so long as it is black to go with the shadow look. If you have something in mind but it is not black, Michael's Arts & Crafts has black fabric dye that might help. It is about $8 per bottle but I find that one bottle can dye several items. It is just a bit of work to get it done.
Be warned that if you dress your child as a shadow for Halloween, they will be very hard to see at night. I wouldn't suggest this for toddlers or younger kids, as you wouldn't want to lose them or have it so drivers cannot see them. These costumes would, however, make fabulous Halloween party costumes I think. They are also superb if you trick or treat before dark.
Photo credit: Coolest Homemade Costumes
(Expiry: Never!)