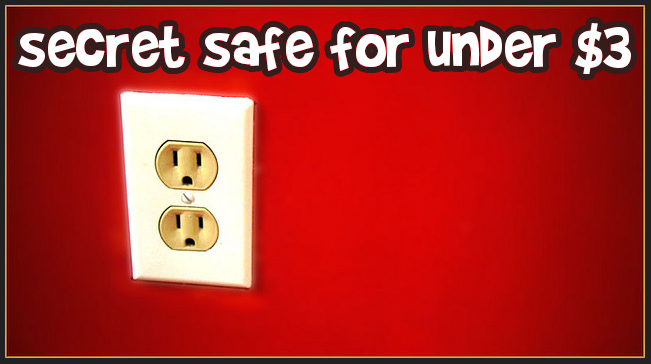 If you have been looking for a great way to keep some small things safe within your home without spending hundreds of dollars on a locking safe, then keep reading. If you are a little handy, you can make a secret safe in your home for under $3, with a little effort. The great thing about this little safe is that people won't know it is storing your most precious belongings, even if they are staring right at it. You can use this safe to store computer passwords, money, collectibles, jewellery or whatever else you want to keep safe.
So here's what you'll need:
extra long electrical gang box
blank wall plate
envelope
sharp knife for cutting through drywall
There are two different ways to go about making this secret safe. You can use an existing jack outlet, or cut a fake one into the wall. If you are planning on cutting, you may want to borrow a stud finder as well. You may have one around the house already, but they can cost you upwards of $55 if you don't.
Cut Your Own Secret Safe:
Use a stud finder or tap on the wall until you find a hollow spot at the same level as your regular outlets. Then, trace around your extra long electrical gang box with a marker.
Cut into the drywall where you traced around your electrical gang box. You may want to tape an open envelope just underneath so that it catches most of the mess from cutting through the wall.
Insert your electrical gang box, and cover it with the blank wall plate. You will have to screw & unscrew this wall plate every time you want into the safe, but that is part of it being super secret. What robber is going to unscrew all of your outlets?!
Use an existing Cable Jack:
If you don't want to cut into  your wall, then there is another alternative. I rent my home so I wouldn't cut into the wall. You can find an existing cable jack somewhere around the house. The cable within is protected and it will have plenty of space inside. Just unscrew the existing wall plate and hide your items inside. This option will end up being completely free!
Thank you to The King Of Random for this awesome tip. You can head on over to our Facebook page to watch the tutorial video!
So what will you hide in your new secret safe?