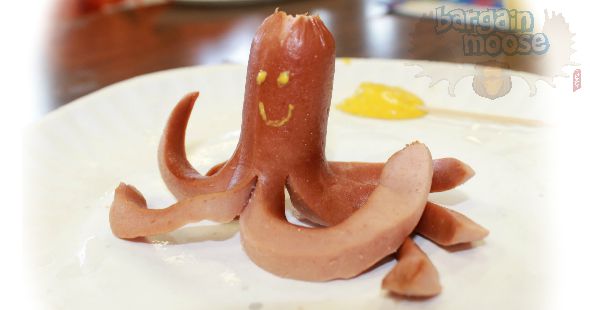 Most kids love hot dogs, but once in a while they may get bored of a plain old hot dog. To make dinner a little more interesting, why not try these Octopus Hotdogs? They are super simple to make, and they won't need any extra ingredients either. So whether you have a picky eater that only likes hot dogs or you want to try something new, then this might be the quickest recipe just for you. Feel free to spruce it up with your own ideas of course. Let us know what you do differently in the comments!
Here's what you'll need:
The directions are real easy. Just remember that each hot dog only produces one octopus. Follow these easy directions to get the desired result:
You'll want to cut each hot dog in half, length wise. Leave enough room so that the octopus has a head. I generally leave about one inch for this.
Then, cut each section in half lengthwise. Then in half again. That will give  you eight octopus tentacles.
Boil the Octopus Hot Dogs until they are fully cooked. The tentacles will be curled up which is so cool.
You could create these little critters in the microwave instead if you wish. Just put the Octopus Hot Dogs on a microwave safe plate and insert them in the microwave on high for about 30 seconds. I've even seen little baby Octopus Hot Dogs made by cutting the hot dog in half before creating the legs. Poke holes with a fork for eyes and you can even cut a little smile in the sucker! My parents use to serve these over a plate of Kraft Dinner.
Be sure to let these little creatures cool long enough before serving them to your kiddos. Hot dogs tend to retain heat really well. These are also great for birthday parties and kids that are cranky or sick. My two and a half year old is always captivated by the Octopus Hot Dogs when he is sick and has no appetite. These directions will work with any type of hot dogs, whether you prefer pork, beef, chicken,turkey, vegetarian etc.
Don't forget to check out more Do It Yourself projects and recipes on Bargainmoose. Enjoy!