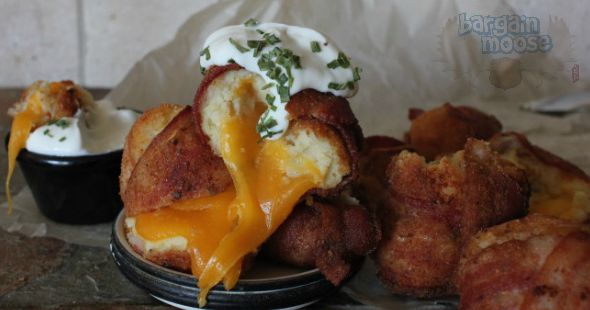 I am always looking for quick, cheap and delicious recipes. As a single mom of a toddler, I don't want to spend hours on a food that will wow my company, or my child. I came across these Bacon Potato Cheese Bombs and I fell in love. These tasty treats are quick to make, won't cost you a fortune and I bet almost everyone will enjoy them. They will take about 25 minutes to make, and the ingredients list is not all that long or complex.
This recipe will make about 8 large bacon bombs. I think I could eat 4 or 5 myself, they look so delicious. I mean, who doesn't love cheese and bacon? So, here's how to wow your guests with delicious Bacon Mashed Potato Cheese Bombs:
Ingredients needed:
2 diced & boiled potatoes
2 tablespoons of butter
2 eggs
1 cup of flour OR 1 cup of breadcrumbs
1/2 cup of milk
vegetable oil
your favourite cheese in 1" chunks
package of delicious package
Let's get started:
First, you're going to want to dice up those two potatoes and throw them in a pot. Boil them for about 10 minutes. To save time, heat your vegetable oil in a pan or a small pot while you are waiting for your potatoes to cook.
Mash those potatoes to your taste. Add the milk and stir.
Get another bowl out. This is where you will beat your eggs and add your flour or breadcrumbs.
Then cut up your cheese into 1" cubes. I actually have a beautiful cheese slicer that comes in handy for tasks like this. After you have cut up your cheese, take your mashed potato substance and pack it around the cheese cube. Make it as round as possible.
Roll your little bomb in the mixture you made in step 3. This might get a little messy. Then wrap the bomb in one slice of bacon.
Then you're going to fry your bacon bomb in the pan or pot of vegetable oil for 3 or 4 minutes. Use your judgement to make sure the bacon is fully cooked of course. Then you can let your bacon bomb drain out of excess oil while it cools for a few minutes.
Yum! I would serve these with sour cream - sort of like perogies. Thanks to do it yourself recipes and crafts posted on Bargainmoose.
Moosers, are you excited to try this recipe out?