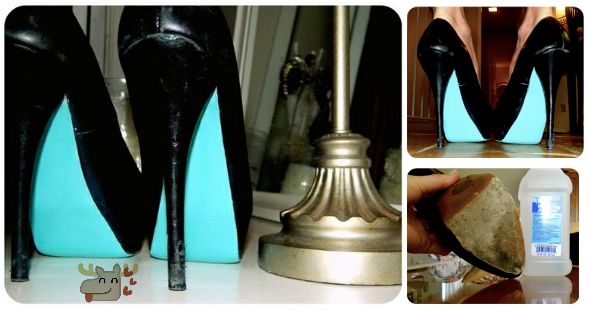 Let me guess, your black pumps that are your "go-to" shoes are slowly starting to wear out and get scuffed? Don't worry! There is still a chance to upcycle those babies and get them looking brand new (or better) with a unique twist. Using this tutorial you can learn how to colour the sole of your shoes any colour you want. You may even have everything you need in your home already to do this fun do it yourself project. I can't wait to try it out myself. I am head over heels for this little DIY idea! I think I would go with Tiffany Blue, what about you?
Here is what you're going to need to add some life to your shoes:
white nail polish
paint brush (a little larger than the nail polish brush)
nail polish colour of your choice
nail polish remover
a pair of shoes that need a makeover
So the steps are pretty simple and this craft won't take much of your time, but you will have to be willing to sacrifice a pair of shoes though. Be sure to prep your chosen shoes by cleaning the soles with rubbing alcohol. This will also help the colour stay better. Then follow that procedure with these steps:
Paint the sole of your shoes with the white nail polish as a primer. While you could  use the nail polish brush that comes with it, I would suggest dumping some of the nail polish on a paper plate and using a larger brush so that the painting process is less time consuming. That way there you can also reuse the nail polish for your nails after without having to worry about the brush being ruined or anything. Then let the shoes dry for at least 10 minutes.
Make sure to clean your brush after step 1. You can use nail polish remover to do so. Then you can start paining the sole of your shoes with whatever colour nail polish you like. You can even do them separate colours if you are feeling risky. Keep in mind that you may need two or three coats of nail polish for the best finished result and you have to let each layer thoroughly dry before applying another coat.
After you are done painting, let your shoes dry over night. Other tutorials say that you only have to wait 30 minutes but to be safe why not let them dry over night. I would also suggest sealing the soles with a clear top coat when you are done, for extra lasting power.
There are a few variations as well. You can use regular acrylic paint and then seal the shoe with Mod Podge, since that dries clear. You can also throw on some glitter if you like. The possibilities are endless. Even if you get bored of the colour, you can always use nail polish remover and take off the colour and start all over again.
So Moosers, what colour are you going to paint your retired shoe soles?