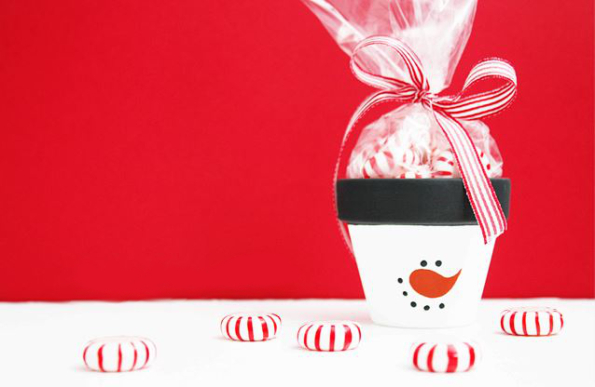 Christmas gifts can get expensive, and with 8 weeks left until Christmas we are going to want to pinch every penny possible. For small gifts, why don't you hand out some adorable Christmas Candy Pots that you make yourself? These adorable little candy holders will only cost you a couple bucks to make and they are cute enough to be used as a decoration for years to come. You won't even need to be super artsy to complete this project, and chances are the kids will want to chime in of course. Fill your handmade pots with whatever candy you want and tie it with a bow. Are you ready to get started?
Here's what you're going to need to make your own Christmas Candy Pots:
clay pots
red, white, black, orange and other acrylic paints
paint brushes
candies
clear treat bags
Christmas theme ribbon
You can pick up small clay pots from the dollar store. They are $1.50 at my local Dollarama and they come in a few different sizes. For the cutest effect I just grabbed the smallest possible clay pots. You can select whichever size you want, just remember the larger pots take more candy to fill them up. You can also snag some Christmas coloured candy at the dollar store while you're at it, among some of your other supplies I am sure.
So first thing is first. You're going to want to paint those pots! Paint the base of the pot white, and the rim along the top black (or green or red even). Then set those aside to dry for a few hours. You might want do a few coats to be sure the colour is completely covered up. The clay colour is dark so I would imagine you would feel better using a few coats of paint. Just try to avoid the drip lines.
Then you can get a pencil and lightly sketch two button eyes, a carrot nose, and some coal pieces for a mouth. Make them unique of course, add your own personal touch! By using a pencil lightly, you can correct any mistakes before painting on the final copy.
One you are happy with the facial detailings on your Christmas Candy Pots, you can go ahead and paint on the carrot nose and button eyes. I would suggest using a fine paint brush for this portion. You don't want to make a mess or have it looking too chunky (if you're going for perfection). For the eyes and mouth pieces you can dab the handle of the paint brush in the black paint and apply the paint dots to your clay pot. It will make perfect dots! How adorable is that?!
One your Christmas Candy Pots are all painted, you can go ahead and fill your treat bags with whatever candy you selected. Tie the bag shut with a ribbon and then you're all set. There you have it, some adorable Christmas Candy Pots to give as Christmas gifts this year.
Moosers, how did you get creative with this project?!