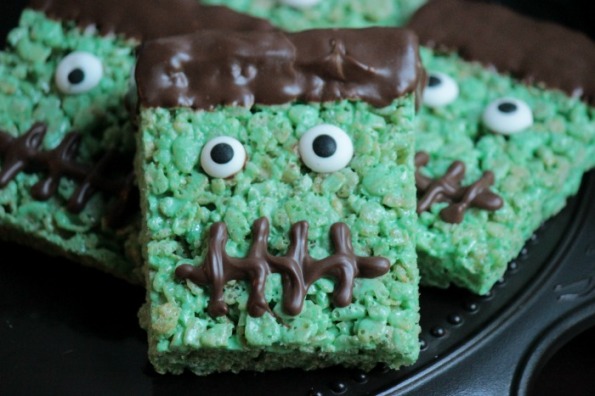 Who doesn't love rice crispy squares?! If you are looking for a simple yet delicious treat to make this Halloween, then you may want to try out these adorably tasty Frankenstein Rice Crispy Squares that the entire family will love. I mean, Halloween is only a short time away and you may not have much spare time to make more complex treats. This recipe only calls for a few ingredients, and you may already have most of them around your home if you are lucky. You can also swap out some of the ingredients for healthier options if you don't want to cheat your healthy eating choices for Halloween.
So here's what you're going to need to make your very own Frankenstein Rice Crispy Squares:
6 cups Rice Krispie Cereal
10 oz Marshmallows
3 tablespoons Butter
20 drops Green Food Colouring
melted chocolate Chocolate
Candy Eyes
This recipe will make about 10 Frankensquares depending on the size that you cut them. If you can't find green food colouring, you can use 10 drops of yellow and 10 drops of blue food colouring instead. You can also add some vanilla extract if you want to sweeten the flavour just a little bit. So let's get started!
Step 1: Get your butter and melt it slowly in a large pot. You can also add the marshmallows at this part. Stir them together until they are all melted and a smooth consistency.
Step 2: Add your food colouring until your mixture is a perfect Frankenstein green.
Step 3: Add your rice crispy cereal a little bit at a time while stirring so that it doesn't all clump incorrectly. Then pour and press your mixture into a buttered 9 x 13 (or close to) pan. Use a spachela or spreader to flatten the mixture and let it cool. You will want to let them cool for approximately 30 minutes, but wash the pot right away or it will be a huge chore later.
Step 4: Remove your Frankensquares from the pan and cut them into squares or rectangles.
Step 5: Melt your chocolate according to the package directions. I highly suggest that you don't melt the chocolate in the microwave for long periods of time. I learned the hard way that it catches fire. Once your chocolate is melted, dip the tops of your squares into the melted chocolate to form Frankenstein's hairdo.
Step 6: Lay your squares on a sheet or wax paper and use the melted chocolate to make Frankenstein's mouth and to "glue" on the candy eyes that you selected. To make the mouth neat, you can put the melted chocolate in a ziploc baggy and push it into one corner. Snip off the corner of the bag with scissors so you have like an icing applicator to draw on your mouth on each square.
After all that, let the chocolate dry for about 20 minutes and then enjoy!!
Thanks to BigBearsWife.com for this awesomely affordable (and adorable) Halloween treat recipe.