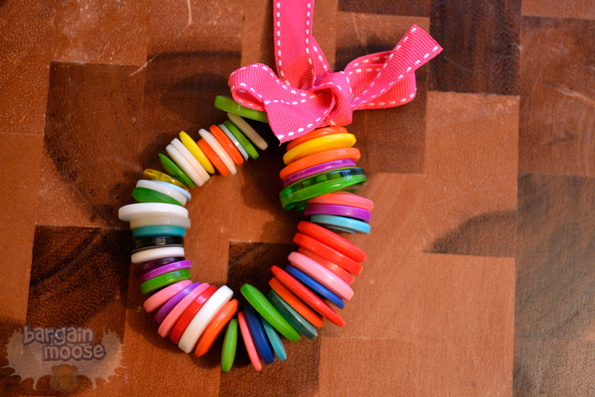 Here's one I made earlier! I've been browsing Pinterest for some interesting, frugal and crafty designs which I can try out myself, for Christmas decorations. In the image above, you can see a decoration which I have crafted to hang on my Christmas tree. It's simply made from some thread, some ribbon and some buttons! This pin was my inspiration for the above project.
I have a sewing box which is just filled to the brim with the perfect items for crafting, so I was able to make the above in 15 minutes, without spending a penny. However, if you don't have all those craft materials at hand – keep an eye out in your local dollar store or craft store for bags of random buttons, which they might be selling at reduced prices. That's exactly how I got my hands on the above buttons which I made into the mini-wreath for my tree.
How to make your Christmas button mini-wreath:
Put some thick thread on to a needle, and knot the first button on to the end of the string.
Thread on more buttons
When you think you have enough, sew it into a circle via the last button
Cut a slice of ribbon, tie it in a bow with a loop going upwards for hanging on the tree
Other ideas to expand on the above project:
Group the same colours of buttons together in one wreath to colour-coordinate, with matching ribbon.
Intersperse coloured beads through the buttons for some variation.
Give the kids the materials and get them to do it!
Have fun crafting!