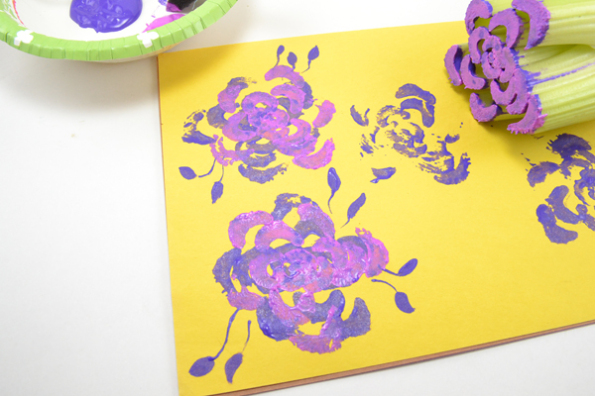 I always prefer to make things and gifts rather than buy them. I found this adorable idea on the world wide web, and I can't wait to try it out. Basically your child can make cute little flowers or roses by dipping a celery stalk in paint. I'm thinking this is a great idea to make some Valentine's Day cards!
Here's what you will need:
celery stalk
washable paint
paper
kids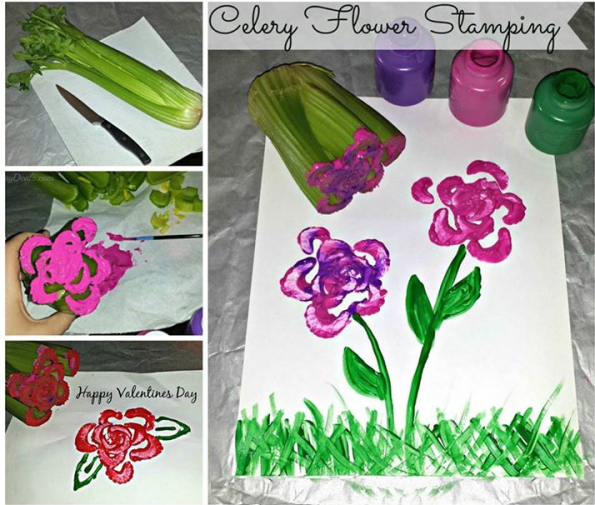 A stalk of celery shouldn't cost you much more than $1 at the grocery store, and if you have kids then you probably already have washable paint and paper laying around. You may also want a paper plate for this craft.
Start by taking a knife and cut the celery almost to the bottom. You will want to leave enough stalk for your child to easily hold your new "stamper". Make sure you cut evenly across so that it is easy to stamp your celery stalk onto paper.
Then you can either dip your celery stalk in a plate of your desired paint colour, or use a brush and paint the immediate surface of the celery stalk. Make sure the entire top is covered, but not dripping. Then you can press your celery stalk stamper firmly on the paper, and then carefully lift it up. If you have younger kids, give them a hand so that they don't smear their flower. You can even get creative and mix different shades or paint colours on each "petal" of the stamp.
Once your flowers or roses are stamped on, you and your little ones can then paint leaves, grass or even "Happy Valentine's Day" on the paper to go with it.
Credit goes to CraftyMorning.com for coming up with this fab idea!
Moosers, have you tried this with your kids before?