Looking for the best tablet for kids? Check out our list of the best tablets available in Canada with the pros and cons of each one. Whether it's built-in apps, durability, the best possible parental controls, or maybe you want to borrow the thing and use it yourself after you put the little one to bed!
Best Tablet for Kid-Friendly Content: The Dragon Touch Kids Tablet

The Dragon Touch Kids Tablet is perfect if you've got a Disney-lover on your hands. The rubber case makes it a solid option for heavy-handed little ones. It comes with tones of Disney-authorized game apps and audio e-books and over 40,000 pre-approved video clips and free YouTube content.
Summary:
Does it play Netflix? YES
Price? $90
Why get it?

Excellent resolution
Access to Facebook, Instagram, and Twitter

Premium parental controls
Comes pre-installed with Kidoz so kids can access to millions of videos clips, paintings, and educational games
The Most Accessible Tablet for Kids: The V-Tech Innotab Max
The V-Tech Innotab Max is ideal for ages 3-8 and comes equipped with a flip stand that also works as a protective cover. The tablet comes with 15 onboard apps, a kid-friendly browser, time controls, and a stylus pen. Added bonuses are the HDMI port to display video content on a larger screen, plus the microSD card, enables the memory to expand up to 32 GB.
Summary:
Does it play Netflix? NO.
Price? $90
Why get it?

Has a build-in handle that doubles as a stand

Comes pre-loaded with 18 apps

Kids can send and receive voice messages, photos, and drawings to and from iPhone and Android smartphones

Expands up to 32 GB and has an HDMI port

very restrictive/kid-friendly web browser
Shop for a VTech InnoTab Max here.
Best Mid-range Tablet for Kids: The Nabi Jr.

Does it play Netflix? YES.
Price? $100+
Why get it?

Great for early education, the most advanced tablet-based adaptive learning system for kids
30 pre-loaded apps and games dedicated to reading, puzzles, counting, matching, first words and more
Mommy mode, allows parents to use without parental controls
Shop for the Nabi Jr. Tablet here.

Most highly-reviewed Tablet for Kids: iPad Mini2

Why bother buying an iPad4, when you can snag an iPad Mini 2 for fraction of the price? While I wouldn't say this is the most durable investment for the cost, you can invest a little extra to make it kid-friendly with a case and an educational kit from OSMO.
Does it play Netflix? YES.
Price? $330
Why get it?

It can grow with your kids so you won't have to upgrade
Comes with Family Sharing feature that enables parental restrictions
Long battery life and super sharp image quality
An almost endless selection of apps
You can totally share this with the kids (if you want to)
Shop for an iPad Mini2 tablet here.
Best Tablets for Learning for Kids: The Epic Kids Learning Tablet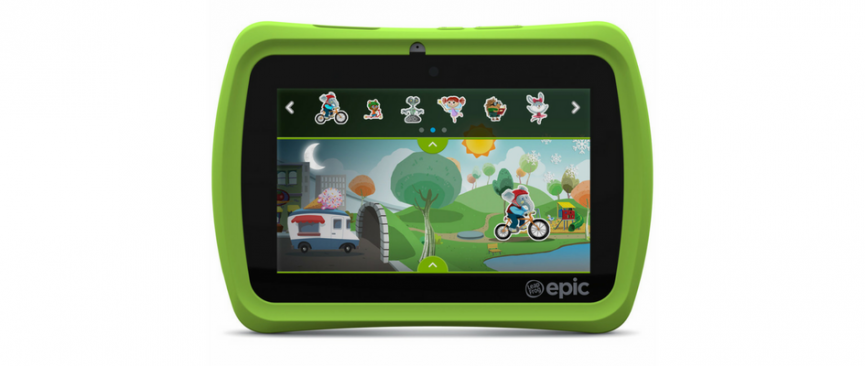 LeapFrog Tablets are designed from the ground-up to be used for educational purposes for kids. The most advanced model in the LeapFrog lineup is the 7" Epic Kids Learning Tablet is the most advanced and like the rest of them, it is designed for ages 3-9. Unlike the previous model, the LeapFrog Platinum, this one has a memory card slot for expanded memory, better screen quality, and access to the Amazon Appstore.
Does it play Netflix? YES.
Price? $170
Why get it?
Excellent games and educational programs for kids
Built specifically for kids under five (durability points!)
Interactive homescreen and engaging software that's thoughtfully designed
Excellent for complete parental control
Enables multiple user profiles
Shop for a LeapFrog Epic Kids Learning Tablet.
Honourable Mentions:


LeapFrog LeapPad Platinum and the LeapFrog Glo, if you want an option that is completely locked-down and for kids-only with pre-loaded kid-friendly content and an extremely durable design, these are both options. But, be warned, either of these options are Netflix-friendly!