Summer is almost here, and that means you're probably due for some new sunscreen. Not sure which one to choose? We put together a list of our the best sunscreens that you can actually buy in Canada in 2018!
To get the coverage and protection you need, Health Canada recommends applying a generous amount of sunscreen before you leave the house and reapplying 20 minutes after going outside and again every two hours after that – which all adds up pretty quickly. That's why the best sunscreens not only feel (and look) good, but they're also affordable enough to buy often throughout the summer.
How to choose the right sunscreen
Everyone is a little different, so what works for one person might not be best for another. Here are a few tips for finding your perfect sunscreen:
Check the label before you buy! A good sunscreen should have an SPF of at least 30, broad-spectrum protection and be water-resistant.
Keep your skin type in mind. Whether you have dry, oily, acne-prone or sensitive skin (or anything in between), you'll want to pick a sunscreen that's made specifically for your skin type, so you don't aggravate any existing conditions.
Choose between lotion or spray. Sunscreens come in all different forms, so choose whichever kind of application you like better! After all, you shouldn't hate the process if you're going to reapply every hour or two.

Test new products. If you're trying a new type of sunscreen for the first time, apply a small amount to a patch of skin on your inner forearm. If it turns red or you have any other kind of allergic reaction, don't use it.
Pick one you can buy easily. You might have found the best sunscreen in the world, but if it's not available in stores (or worse, you can't get it in Canada at all), then it might not be your best bet. Most sunscreens on our list are available on Amazon.ca (so you can get free two-day shipping with Amazon Prime) and at most pharmacies and department stores across the country.
---
Best Deals on Sunscreen in Canada
One of the tricky things about sunscreen is that it can be expensive, especially if you're going for a high-quality product that you reapply (and therefore use up) as often as you should. That's why we're keeping an eye out for sales and letting you know as soon as any of our top picks below are marked down!
---
Best Sunscreen for Adults
Trust me, I know buying sunscreen is tough. You want something that isn't too greasy or expensive – but you still want it to work! Here's our top picks:
Sun Bum Moisturizing Sunscreen Lotion SPF 50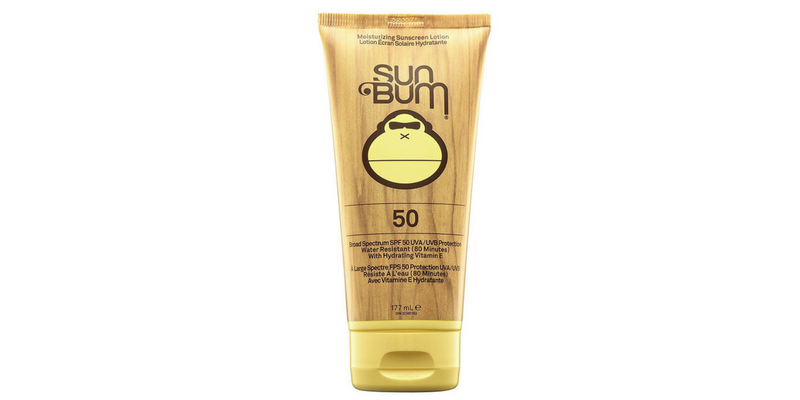 Sun Bum is probably one of the most famous sunscreen brands out there – and it's for a reason! This one is light, won't clog your pores and is still suitable for sensitive skin. It's water-resistant and uses vegan ingredients, too!
Aveeno Protect Plus Hydrate Sunscreen SPF 60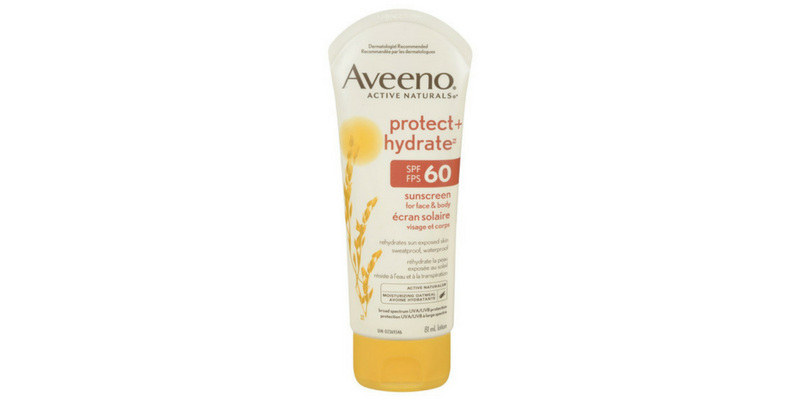 Not only is this sunscreen fairly easy to rub in, but it's made for you to use on both your face and body, too! It's a little pricier than some, but this Aveeno sunscreen is waterproof and moisturizing, so it could be worth it for dry skin.
Garnier Ombrelle Complete Body Sunscreen Spray SPF 60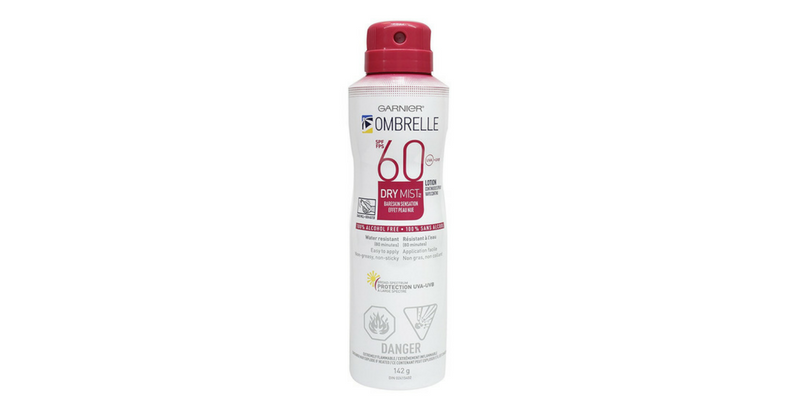 Looking for a spray sunscreen instead? This is one of my favourites, because it's sheer, it won't get too sticky, and as long as you rub it in properly, you won't need to worry about white residue – or getting burnt!
---
Best Sunscreen for Kids
There's been a lot of debate about what exactly is the best sunscreen for kids. The truth is, there's no one answer, but there are a few products that outshine the rest of the competition. Here are a couple of our favourites:
Thinksport Kids Safe Sunscreen SPF 50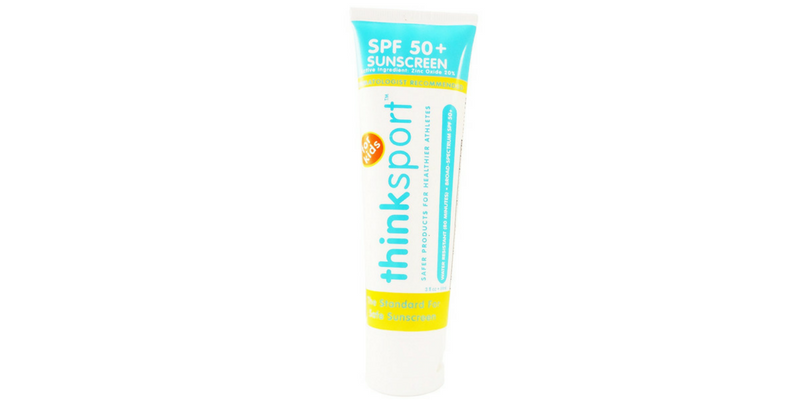 Without a doubt, Thinksport makes some of the best sunscreens you can buy, including this one! It's water-resistant and is completely free of harmful chemicals, so you can feel good using it all summer long.
Banana Boat Kids Sunscreen Lotion SPF 60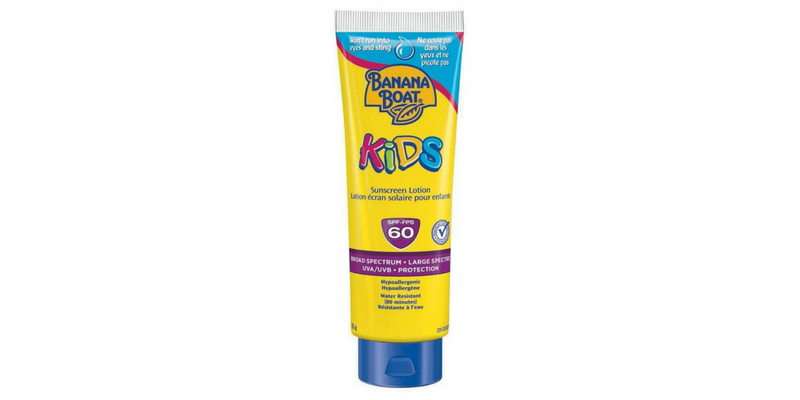 Parents swear by this sunscreen, since it's affordable, sold pretty much everywhere and goes on white (until you rub it in), so you can make sure you don't miss any spots when applying. Plus, it promises to be tear-free, so it won't sting if it ends up running down into their eyes.
Coppertone Kids Continuous Spray Sunscreen SPF 60 Two-Pack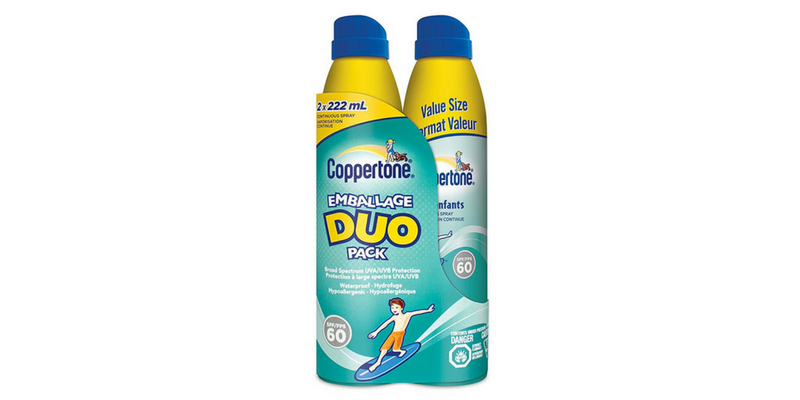 If you go through a LOT of sunscreen, you might want to look into bargain packs – like this one from Coppertone! The spray gives you even coverage (even when you spray it at an angle), and the formula won't irritate your kids' skin.
---
Best Sunscreen for Babies
Experts agree that babies who are less than six months old shouldn't wear sunscreen. Instead, keep your infants out of the sun whenever possible. But when they get a little older, which sunscreens should you go for? Here are our picks for the top baby sunscreens in Canada:
Badger Baby Sunscreen Cream SPF 30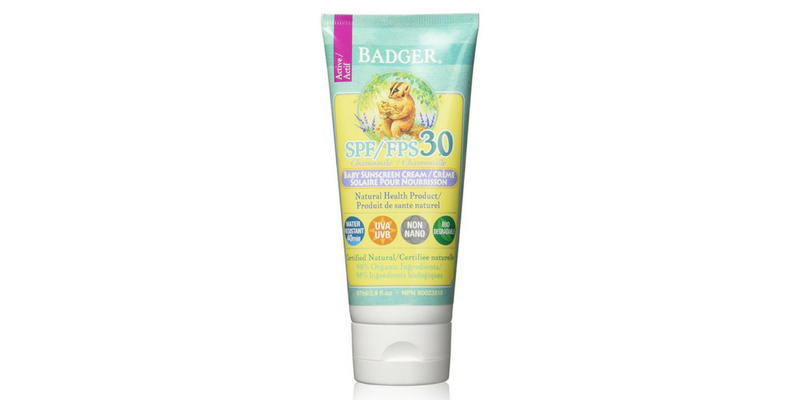 This sunscreen gets a thumbs-up, thanks to its organic ingredients and how easy it is to spread. However, it's a little expensive (even more so than usual for a baby sunscreen), and while Amazon.ca usually has a bottle or two in stock, it can sometimes be hard to find in Canada.
Thinkbaby Safe Sunscreen SPF 50
This is one of the most popular baby sunscreens out there, and it's easy to see why! Thinkbaby is free of harmful chemicals, has next to no smell and applies and absorbs easily without feeling oily.
Goddess Garden Sunny Baby Natural Sunscreen SPF 30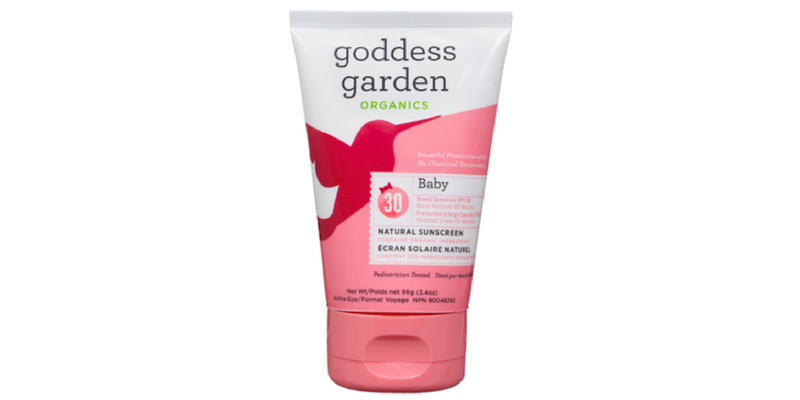 Looking for a more natural option? Goddess Garden makes pretty incredible (if not a little pricey) sunscreens, including this one for babies! It goes on a little thick, but it's perfect for keeping skin hydrated in the sun.
---
Best Sunscreen for Sensitive Skin
If you have acne-prone or sensitive skin, you want to make sure you find a product that works with you – not against you. The Canadian Dermatology Association recommends these sunscreens that are hypo-allergenic, non-perfumed and non-comedogenic (which means they won't clog your pores). Here are our favourites:
Clinique Broad Spectrum Sunscreen Face Cream SPF 50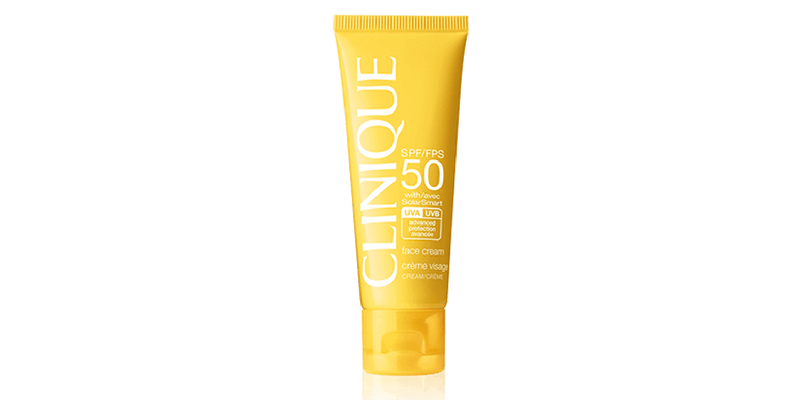 Okay, it doesn't say "sensitive skin" on the bottle, but that doesn't mean it doesn't work! I just started using this Clinique sunscreen, and while my skin usually flares up when I try anything new, it's been fine with this!
Coppertone Sensitive Skin Sunscreen LotionSPF 50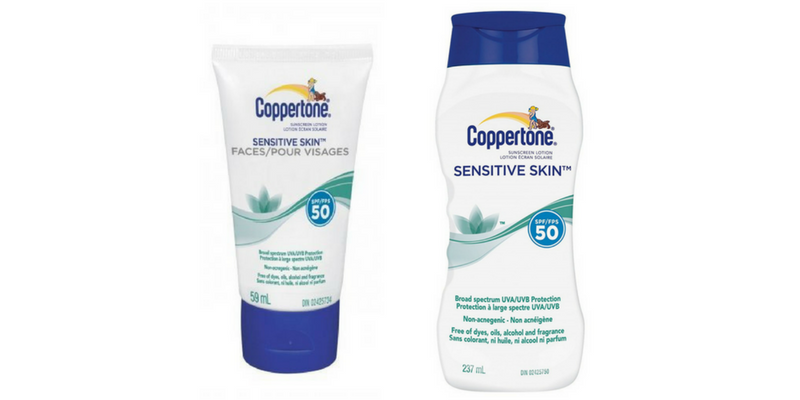 Coppertone is one of the clear winners here. Not only does their Sensitive Skin Sunscreen Lotion come in two different varieties (one for your face and one for your body), but they're pretty affordable, too! Just a heads up that they might take a little extra work to fully rub into your skin, but it's worth it.
Neutrogena Ultra Sheer Dry Touch Sunscreen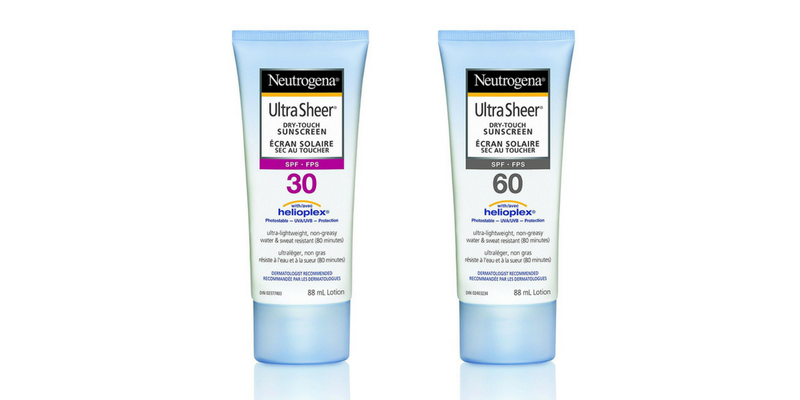 This sunscreen is lightweight, fragrance-free and gentle enough for sensitive skin – and you can choose which SPF you want: 30, 45, 60 or 110. The only downside is that these tubes are a little on the pricier side, so you've probably best off saving them for your face and using another sunscreen for your body.
---
Best Sport Sunscreen
A good sport sunscreen is a must if you want something that will stay on whether you're sweating, swimming or just running around. Here are a couple of our favourite sunscreens for athletes:
Juice Beauty Sport Sunscreen SPF 30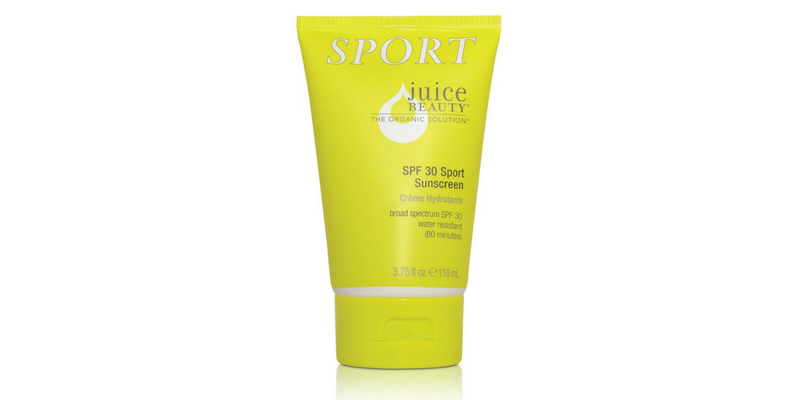 If you need something to throw on for your morning run or yoga in the park, this could be the one for you! Juice Beauty's sport sunscreen is water-resistant, and it has jojoba oil and aloe to sooth your skin.
Hawaiian Tropic Island Sport Ultra-Light Sunscreen SPF 30

I've been using Hawaiian Tropic products for as long as I can remember, but this is one of my favourites. It's light, it won't clog your pores, and it smells amazing. I'd recommend using this one on your body only, because it can run into your eyes if you go swimming or start sweating.
Banana Boat Sport Performance Ultra-Lightweight Sunscreen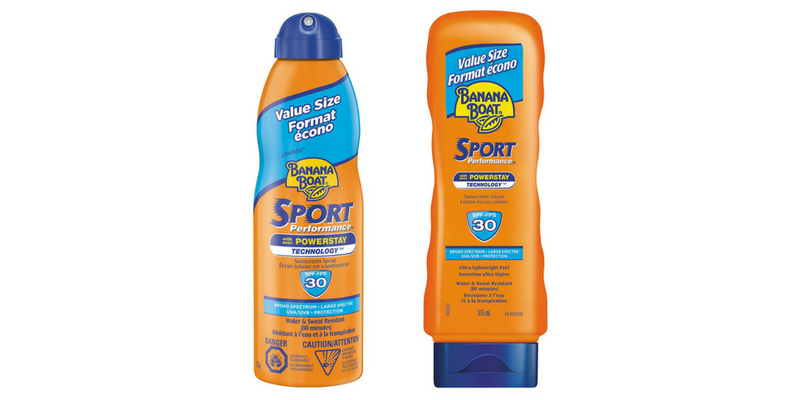 The incredible thing about this sunscreen is just how many different varieties you can buy. It comes in both SPF 30 and SPF 60, and you can choose to either grab the SPF 30 as a lotion or a spray sunscreen!
---
So what about you? Let us know about your favourite sunscreens below!