It is not for the faint of heart. Or the empty stomach.
Armed with my phone calculator, I set out to investigate the best prices for all sorts of Halloween treats. I canvased prices at Costco, Walmart, and Loblaws/Real Canadian Superstore.
Here is a look at which retailers have the best last prices for the most typical Halloween treats. But before you rush out to fill your candy basket, please take note. Sales pop up all the time in the days leading up to Halloween. It won't hurt anything (except perhaps your waistline) to surf the candy aisles for sales on a regular basis.
Full-sized chocolate bars
Winner - Costco
Perhaps you strive to be neighbour of the year or maybe only a few children will knock on your door on Halloween. Either way, you will the story of legends if you hand out full-sized chocolate bars.
The best price for full-sized chocolate bars is easily Costco's variety pack of 18 chocolate bars for $11.99. That is a cost of just $.66 per bar. Surprisingly, if you buy larger boxes containing only one type of chocolate bar at Costco, you will pay more. A 36 count box of Twix chocolate bars costs $28.99 which amounts to $.80 per mini Marshall or Elsa at your door.
The prices for full-sized chocolate bars at other retailers can't touch Costco. At Walmart, an eight-pack of full-sized Nestle barscosts $6.97 which works out to just under a dollar per bar.The price is a bit better at Loblaws. A 14-pack of Nestle bars costs $11.99 which comes in at $.86 per bar.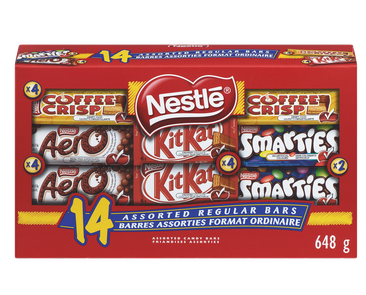 Mini chocolate bars
Winner - Costco on sale/Walmart with regular prices
It can be frustrating comparing prices of mini chocolate bars as there are so many varieties on the market and manufacturers package them in varying quantities. Typically, the larger quantity boxes cost less per candy, but a good sale can make a smaller package a better value. In addition, some brands (often the nut-free ones) cost more than others. This means that determining what is a good price will largely depend on your brand preferences.
The ever-popular box of nutfree Nestle Favorites contains a mix of Smarties, Aero, KitKat and Coffee Crisp. A 100-count box costs $14.47 at Walmart (just under $.15 per bar). The same box costs 19.99 at Loblaws (almost $.19 per bar). You can also buy a larger 120-count box at Costco for $19.99 at regular (slightly less than $.17 a bar). However this candy is on sale right now for $3 off at Costco. This brings the price per candy to an ultra low $.14.
You'll typically get more bang for your buck if you consider other brands of chocolate bars such as Cadbury or Hershey's. Cadbury treats variety packs include a varying combination of Reese Peanut Butter Cups, Reese's Pieces, Caramilk, Oh Henry and Wunderbars. A 90-piece box of this mixcosts about $.12 per bar at Walmart and $.18 at Loblaws. At Costco, you can grab a similar mix of 120 bars for $16.99 ($.14 per bar). Walmart is the clear winner here. Nom nom nom.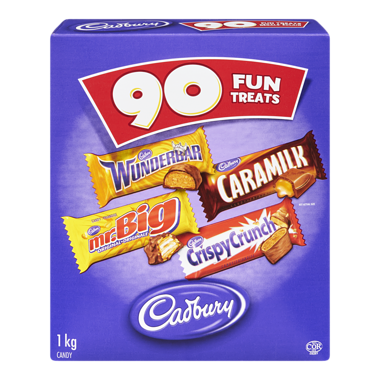 Miscellaneous non-chocolate candy
Winner - Costco on sale/Walmart with regular prices
Non-chocolate candy is usually cheaper than mini chocolate bars. And there are so many options to choose from. Lollipops and other small candies are the most affordable options and provide a good choice for "filler" candy.
A 90-pack of Skittles and Starburst costs $12 at Walmart which is $.13 per individually wrapped package. A 150-count pack of Skittles and Starburst costs $15.99 at Costco or $.11 per candy. This is the best regular price we have found. And bonus! This week these candies are $3 off per box which brings the price per candy to an amazing $.09 per candy!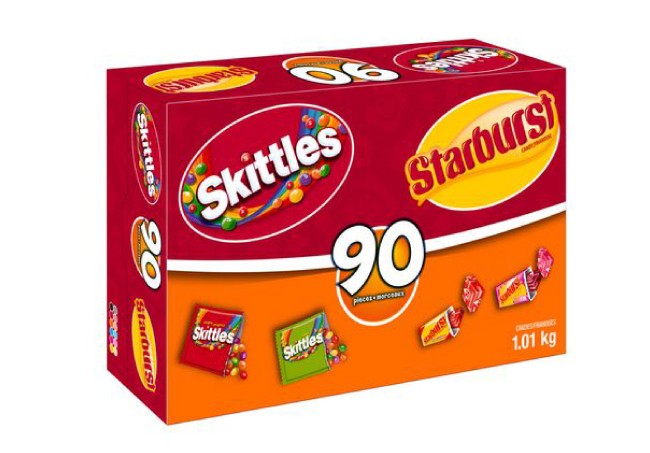 But beware. A 95-count box containing smaller candiesof this mix retails at Loblaws for $7.99 which also works out to $.08 per candy. However, the price isn't really comparable to the other retailers due to the smaller sizes of the included candies. This highlights the importance of checking which items are included in each box to determine if you really are getting a good deal.
A 70-pack of assorted Maynards candies also offers an affordable choice. This box costs just $8.47, or $.12 per individual package at Walmart. This is much cheaper than a comparable 75-pack at Loblaws which costs $12.99 ($.17 per individual package).
Salty snacks
Winner - Walmart
Dare to be different by handing out chips. They are a good choice particularly if you want to hand out only one or two items per trick-or-treater. This is one place where Costco is put to shame. At Costco, the Frito Lay Variety Pack costs $13.99 for 50-packages ($.28 per bag). At Walmart, Lays chips cost only $7.84 for 45-packages ($.17 per bag) but each box contains only one flavor. This same single-variety packcosts $9.99 for 50 at Loblaws ($.20 per bag) making Walmart the winner of the battle of the chips.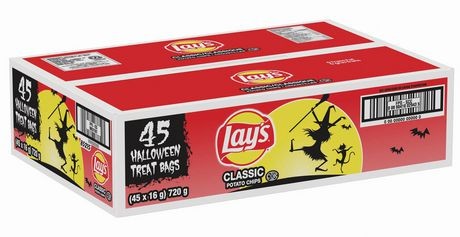 Conclusion
Overall, you can't go wrong with Walmart for most Halloween treats - the glaring exception being for full-size chocolate bars. Costco is also a reasonable choice for your candy needs, but you are better off trying to catch a sale. Definitely look elsewhere if you are handing out chips. In general, the regular prices on Halloween goodies at Loblaws aren't competitive with Walmart or Costco, but you might be able to find a good deal on sale.
Getting a good price on your Halloween goodies is sure to make any post-Halloween candy hangover easier to bear. We hope these shopping tips make stocking up on treats a little less scary this year.
Where are you buying your Halloween treats this year? What treats do you plan to hand out?