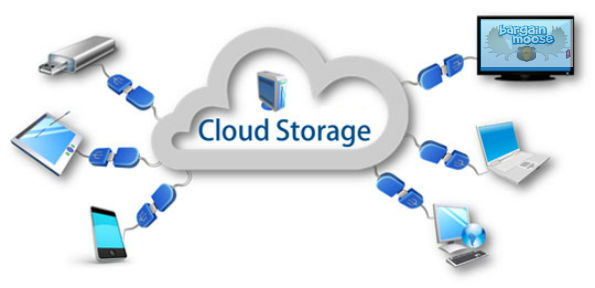 Waitaminute Shawn. Slow down. You aren't running a tech site anymore, you're a deal monkey. Go find my deals! Yeah, you're right, I am your faithful deal monkey but this topic, believe it or not, is important to save you money - the best online storage and backup solutions. Still don't believe me? Let me explain.
This article isn't so much about saving money on these online cloud backup services but rather it is about choosing a storage service that will save you money. So the real question is "how can cloud storage save me money?" Well, do you use a computer for your side business? Do you ever work from home? How much would it cost if you lost all the images from your home photography business or if that proposal you've been working on for the boss was deleted? It could cost hundreds or thousands of dollars to get the pictures of your kids off a crashed hard drive. Online storage is preventative money saving and these are the best.
Here are Bargainmoose's top picks for the best online storage solutions:

The other cloud backup solutions I am going to mention here are pretty much on the same level. Carbonite is on a whole other level. It is the obvious choice for cloud backup. When you first sign up for Carbonite the software will start backing up the stuff on your local hard drive. It doesn't try to dump everything in one go, it does it slowly in the background so you never notice it. Carbonite has apps for your tablet and phone so you can access your files on the go.
Carbonite starts at $59 a year for unlimited backup, which is amazing. There are other plans that cost more and have more features so make sure you explore them all to pick the right one. Carbonite also has business and server backup solutions. If you decide to subscribe, you might be able to find a discount on our Bargainmoose Carbonite coupons page.

SugarSync is on here just for the wealth of features. I'd say they are probably the most developed platform out there. They have all the standard apps and features but they have some oddball ones like a Symbian App, email uploads and a plugin for outlook.
SugarSync has a referral plan like DropBox but it goes up to 32GB free if you refer enough people. Prices area bit high at $4.99/month for 30GB. Check for valid Sugar Sync coupons on our coupon forums.

This is the service I use. It doesn't natively support automatic backup of your entire drive like Carbonite but it does let you specify a folder to be synced. Google Drive also integrates web apps to access your files. For example, if you back up a document to Google Drive, Google lets you open it with Google Docs. Images are handled by picasa. Not all file types are supported but a huge amount of them can be handled by some piece of online Google software. Google drive has apps for your iOS and Android devices.
Google Drive gives you 5GB free but if you want more storage, you get it by paying a monthly fee. On the low end you can get 25GB for $2.49 or 100GB for $4.99. If you need a ton of storage you can get up to 10TB but you will pay $799.99. There are also Google Drive options for business.

Amazon's cloud Drive is a service that I don't think gets enough notice. Most of the cloud storage solutions out there are actually built partially (or totally) on Amazon's S3 cloud storage solution so it follows to reason that Amazon's Cloud Drive would be a good service. Amazon only has a photo storage app for Android and a desktop app.
They make up for their relative lack of features by having even better prices than Google Drive. You get the standard 5GB free but 20GB of storage is $10/year. 50GB is $25. You can go up to 1000GB which costs $500/year.

You can't have a list like this without DropBox. Everyone uses DropBox. It works like Google drive in that you can have a DropBox file on your desktop which is kept synced across all your devices.
The reason, I think, that everyone is on DropBox is their referral program. You start out with 2GB for free but you can get 500MB free every time you refer a friend who doesn't have DropBox. You can get up to 18GB of free storage by referring people. If you need more, you'll pay. 100GB is $9.99/month, 200GB is $19.99 and 500GB is $49.99.

The reason I am putting Mega outside of my top five is because of some shady elements around it. It is the spiritual successor to MegaUpload.com and is run by the same guy, Kim DotCom. DotCom has a kind of chequered past and this service seems too good to be true. All that combined means that if you sign up for this, you might want to wait a bit before you put the digital copy of your will and every single picture of your kids on it. Just use it for stuff that you won't cry too hard over if the government steals another server rack full of peoples' data.
Mega.co.nz offers 50GB for free. Their pro plans range from 500GB for $9.99/month to 4TB for $29.99.