Check almost any list of pregnancy must-haves, and chances are you'll see a maternity pillow at the very top. But how do you know which pregnancy pillow is the best one for you?
Of all the options out there, the Snoogle Total Body Pillow is probably one of the better-known maternity pillows, but there are so many more to choose from.
There's a lot to consider when picking the perfect pregnancy pillow, so we put together a quick guide to help make things a little easier.
Why do I need a pregnancy pillow?
While they definitely aren't absolute necessities, maternity pillows can make your life a lot easier, especially if you have trouble sleeping during your pregnancy. They can help you relax into a more comfortable position and keep you from tossing and turning – so if you share a bed, your partner will definitely appreciate the investment, too.
What's the best pregnancy pillow?
Honestly, this really depends on you. The way you sleep, your height and even the size of your bump can make a huge difference here. So while some moms might swear by total body pregnancy pillows, you might be better off with a full-length one instead.
Total body pregnancy pillows
Like the name suggests, total body pillows wrap around your entire body (including your belly!) and can give you some of the best support out of everything on this list. They're usually about 5 or 6 feet long, which means they're big enough to hug your front and back.
There are two types: C-shaped pregnancy pillows and U-shaped pregnancy pillows.
C-shaped pregnancy pillows
These are probably the best-known maternity pillows on the market. Basically, you "ride" the pillow as you sleep, so you lie inside the "C" of the pillow with your legs straddling the base and your head resting on the top.
Supports your head, neck, back and legs
Great if you already sleep on your side
One of the best designs for plus-size women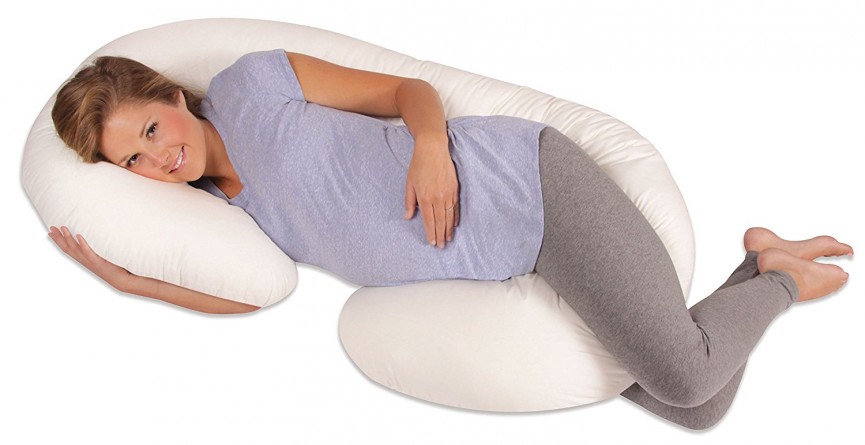 Leachco Snoogle Total Body Pillow
The Leachco Snoogle Total Body Pillow might just be the most famous pregnancy pillow of all. The C-shape means you can use it in multiple sleeping positions, and it's suitable for petite and plus-size moms.
U-shaped pregnancy pillows
U-shaped maternity pillows offer even more support, since they wrap around your front and back. They're designed for you to straddle and cuddle as you sleep. U-shaped pillows are usually recommended for anyone who usually sleeps on their back but can't during pregnancy.
Supports your head, neck, back and legs
Great if you usually sleep on your back
One of the best designs for moms expecting twins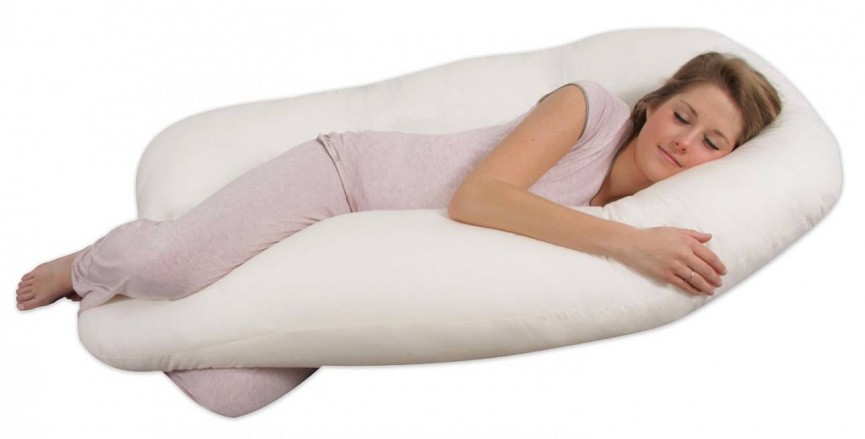 Leachco Back 'N Belly Contoured Body Pillow

True, the Leachco Back 'N Belly Contoured Body Pillow is the most expensive items on this list, but it's worth it if it means you can get a good night's sleep, right? And the best part? You can even connect the ends to turn it into a nursing pillow!
Wedge pregnancy pillows
If you're looking for a more affordable and portable option, wedge pillows might be for you! They're small enough that you can still use them without taking up both sides of the bed, but you'll still need a separate pillow for your head. You can use them in all kinds of positions and places, but they're most commonly used to support your tummy or back.
Supports your belly, back or legs
Great if you already sleep on your side
Smallest, most affordable option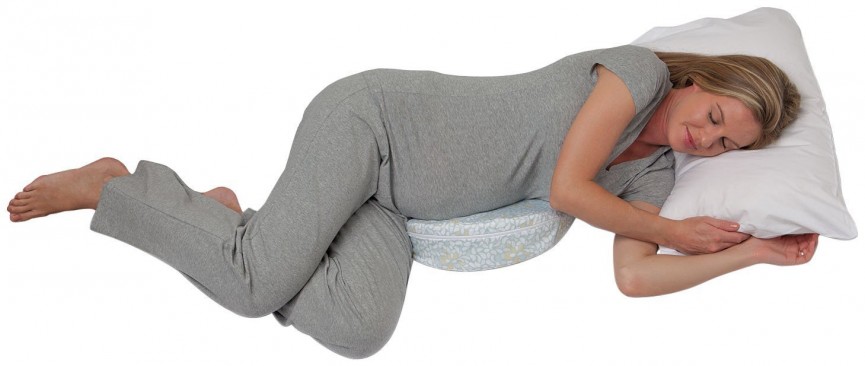 Boppy Pregnancy Wedge
The Boppy Pregnancy Wedge usually runs for about $20, but you can get a lot of use out of it. It's a very firm pillow, but it's small enough that you can also use it while relaxing on the couch or in a chair. They're a little tricker to find in Canada but definitely worth it!
Other options include the Jolly Jumper Wedge Eze Maternity Support Wedge ($19.97) and the Babyworks Pregnancy Wedge ($19.99)
Inflatable pregnancy pillows
Getting a good night's sleep while you're pregnant is tough enough already, but it can be almost impossible if you're used to sleeping on your stomach. Enter, inflatable pillows! While these are technically more like airbeds than separate pillows, they're the perfect way to accommodate your bump.
Supports and can adjust to fit your growing belly
Great if you usually sleep on your stomach
Requires an air pump (often sold separately)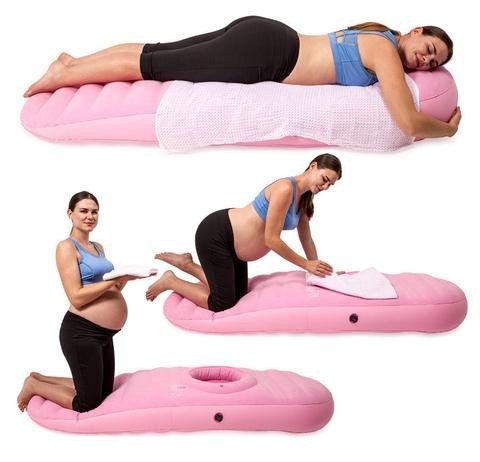 Cozy Bump Maternity Pillow
The Cozy Bump Maternity Pillow is a full-length inflatable body pillow that basically takes the place of your bed for nine months. It has a headrest, so you can use it with or without your usual pillow, and you can even adjust the mattress a little as your belly grows. The central bump helps take pressure off your hips and bladder (which is always a plus).
Did we miss your favourite? Do you have any questions? Tell us in the comments!