Looking for a way to beat the heat this summer? Cooling mattress toppers can help, which is why we put together this list of the best cooling mattress pads in Canada.
If you're not too sure where to start, just give it a read! We looked at plenty of the different kinds of cooling mattress pads available at different stores. Rest assured, there's something out there for every size bed and budget.
Because cooling mattress pads can often cost well over $100, we also decided to include a few mattress covers and protectors on this list. Some of them do the trick just as well as an expensive gel mattress topper, but for much less money.
READ MORE: Guide to the Best Sunscreens in Canada for 2018
We curated this list by comparing different mattress pads, toppers and covers in three different areas: price, availability and effectiveness. So you can rest easy knowing that we went through reviews and did the comparison shopping for you!

1. Novaform EVENcor GelPlus Gel Memory Foam Mattress Topper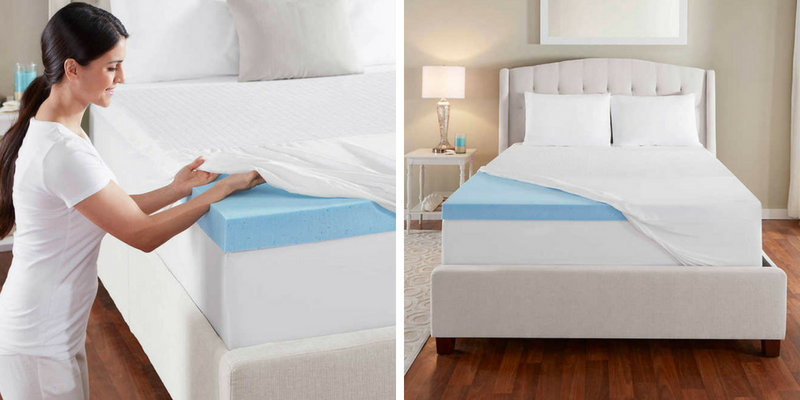 Price: from $154.99 shipped
Sizes: twin, double, queen, king
One of the first things you'll want to look for in a cooling mattress pad or topper is gel, and the Novaform EVENcor GelPlus Mattress Topper definitely has enough to go around. It's also known as the Costco Cooling Mattress Pad, and it's usually available in their stores and online in sizes king, queen, double or twin.
This foam mattress topper has a cooling cover that will help your bed (and you) stay at a consistent temperature all night, even in the middle of summer. Plus, it's completely washer-safe and dryer-safe!
Just note that since shipping and handling are rolled into Costco's online prices, you may be able to find one of these for a bit cheaper in-store.
2. Alwyn Home Gel Memory Foam Mattress Topper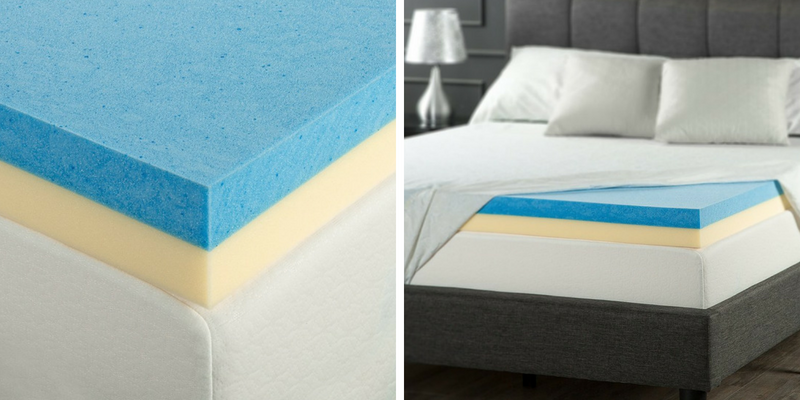 Price: from $154.99
Sizes: twin, full, queen, king
The Alwyn Home Gel Memory Foam Mattress Topper is one of the highest-rated mattress pads at Wayfair Canada, so you know they must be doing something right. It has a two-layered design (complete with cool breeze technology) and stacks 4" above your mattress, to give you a more luxurious and restful night's sleep.
Unlike the Novaform mattress topper, however, this one is not washable or water-resistant, and spot cleaning with a gentle laundry detergent is recommended.
3. Sealy Posturepedic Cooling Comfort Mattress Protector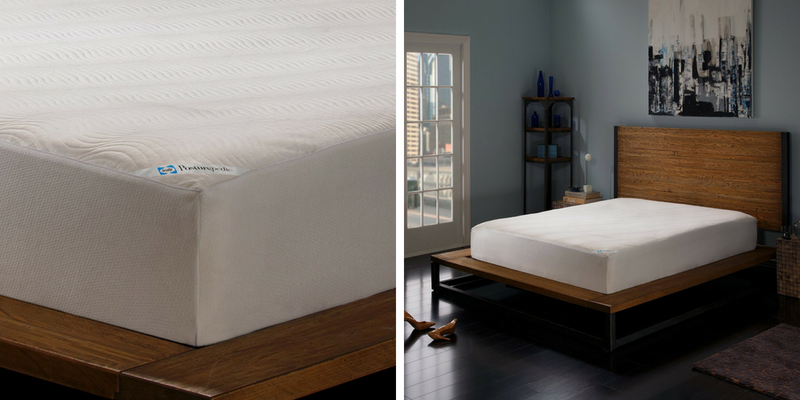 Price: from $64.99 shipped
Sizes: twin, full, queen
This is a great two-in-one option if you're looking for something that will keep your mattress dry and cool you off on those warmer nights. The Sealy Posturpedic Cooling Comfort Mattress Protectoris a hypoallergenic fitted cover that wicks away moisture, so you can stay comfortable enough to sleep through the night.
It has a waterproof backing that protects your bed from urine, perspiration, sweat and stains, but it doesn't have a plastic layer like most protective pads – which makes it MUCH more comfortable!
This mattress protector might not cool you down as much as gel would, but it's worth it for the price, especially if you need something water-resistant.
4. Healthy Nights Temperature Balancing Mattress Protector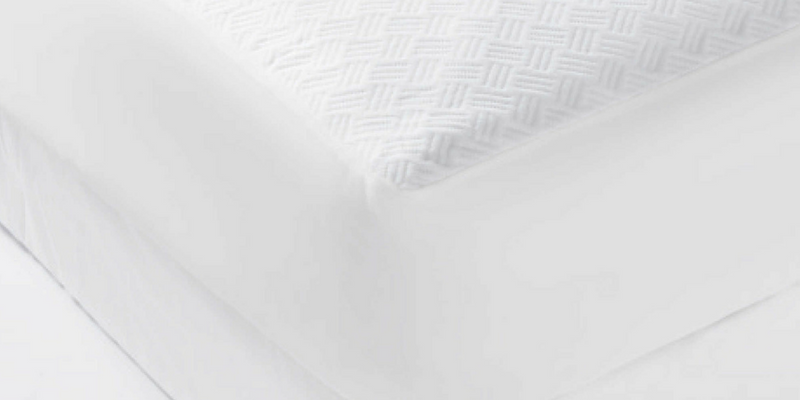 Price: from $49.99 shipped
Sizes: twin, full, queen, king, California king
Honestly, you just can't beat the price of this Healthy Nights Temperature Balancing Mattress Protector. It's half the price of most items on this list, and it's also waterproof! This breathable mattress protector cools or insulates by wicking moisture to keep you dry and asleep all night long.
You can throw it in the washing machine whenever you need (which is a hug plus), and it will fit deep mattresses. Most reviewers say it doesn't change how the mattress underneath feels, and it doesn't crinkle like other protectors.
5. Zinus Gel Memory Foam Mattress Topper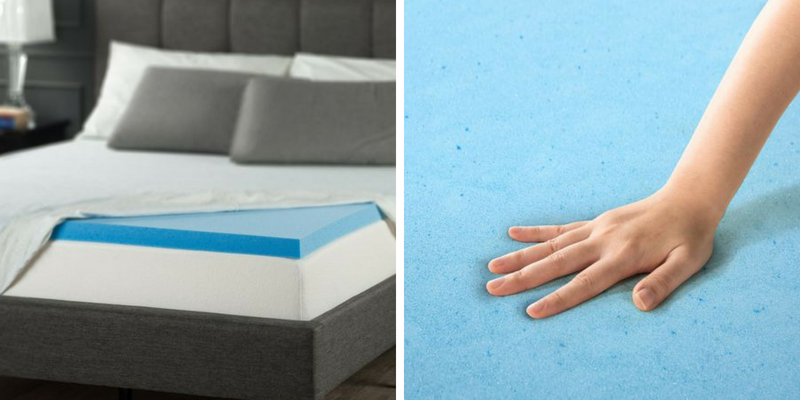 Price: from $89.97
Sizes: twin, full, queen, king
Back to the gel mattress pads! The Zinus Gel Memory Foam Mattress Topper is a two-inch memory foam layer that sits under a fitted sheet to give you a little extra support and cools you off while you sleep.
Just in case all that wasn't enough to get you to break out your wallet, it's made from Biofoam, (which uses natural plant oil instead of the traditional petroleum), and it's infused with natural active charcoal to help absorb moisture, as well as natural green tea extract to help eliminate odours and keep everything fresh.
6. ChiliPad Cube Mattress Pad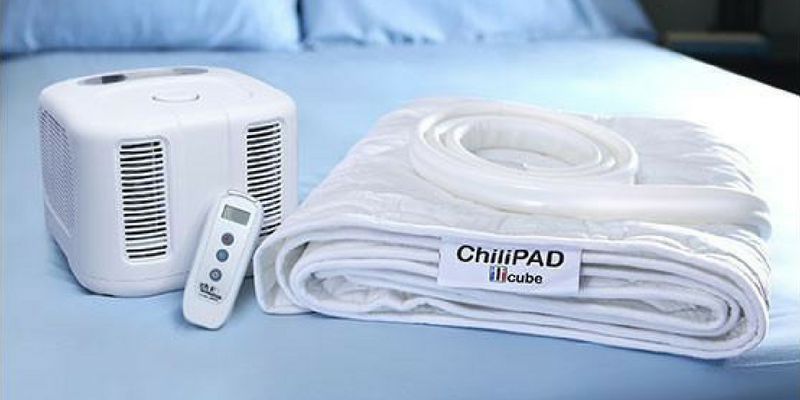 Price: from $449
Sizes: single, twin, full, queen, king, California king
To sum it up, the ChiliPad Cube is the most innovative and most expensive mattress pad on this list. It's made by Chili Technology and truly is a great solution if you and your partner fight over the thermostat when it's time to go to sleep.
It works by pumping water through a network of tubes to cool or heat your mattress. You can choose from Single Zone models (to adjust one side of the bed) or Dual Zone Cubes to adjust both sides of the bed to different temperatures.
If you are looking to buy one, just note that select sizes are currently out of stock and may not ship until late July 2018.
7. Protect-A-Bed Snow Maximum Cooling Mattress Protector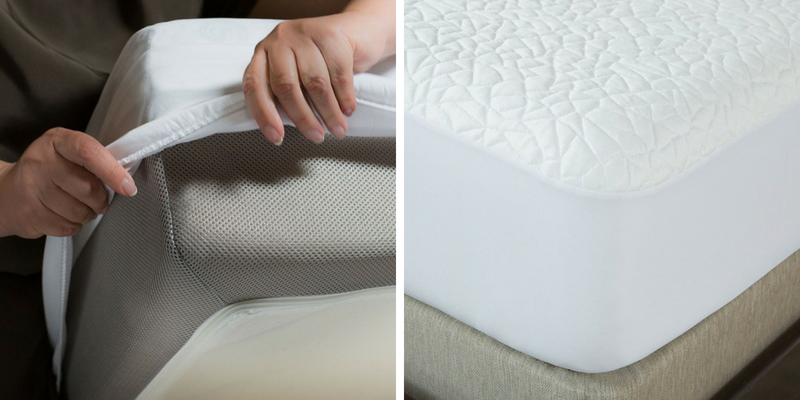 Price: $299.99
Sizes: twin, split king
If you're looking for a mattress cover that will absolutely keep you cool, check out the Protect-A-Bed Snow Maximum Cooling Mattress Protector. First things first, it has a flexible, thin and silent Waterproof Miracle Membrane that prevents dust mites, allergens, liquids and sweat from seeping into your mattress.
But here's where things really get good. Its Nordic Chill fabric dissipates your body heat to cool you off throughout the night, even through sheets. The whole thing is pretty thin and will work MUCH faster than cotton covers.
8. Sunset Sleep Products Climatech Mattress Pad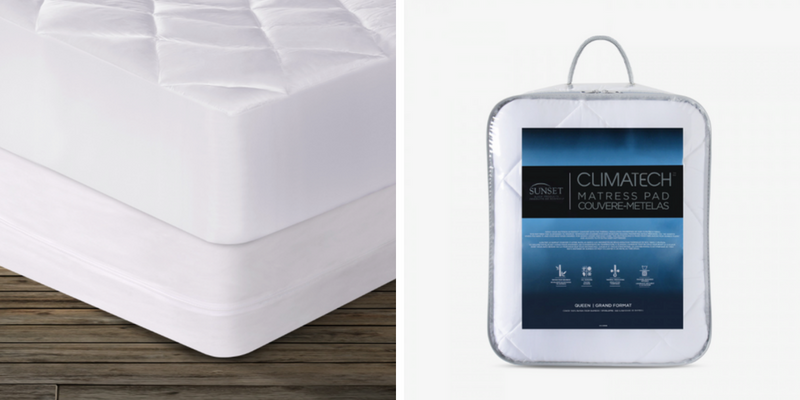 Price: on sale from $68.99
Sizes: twin, full, queen, king
This might just be the budget option you've been waiting for. The Climatech Mattress Pad is currently on sale at SleepCountry in all available sizes, and almost all of them will ship across Canada for free!
It consists of Climatech fill, which keeps moisture away to cool you off, inside a 100% bamboo rayon cover. This mattress pad is machine-washable (yay!), and the entire thing is quilted to add a little extra comfort.
9. SleepBetter Iso-Cool Memory Foam Mattress Topper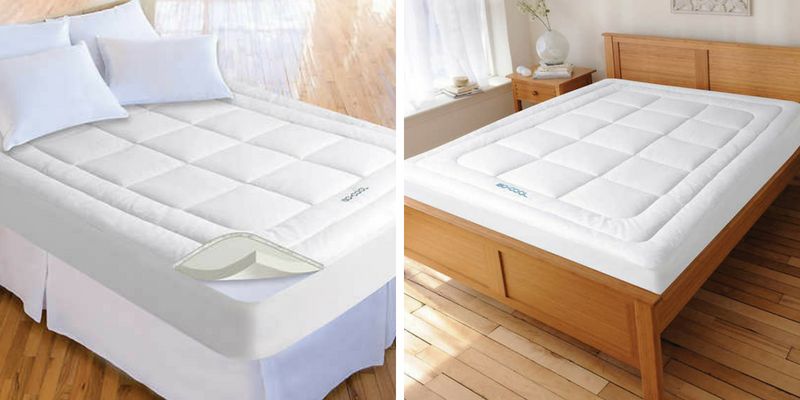 Price: from $159.99 shipped
Sizes: twin, full, queen, king
This is another one of those famous cooling mattress pads you can get at Costco. The Iso-Cool Memory Foam Mattress Topperwill, yes, help you sleep better. It's hypoallergenic, and the visco-elastic memory foam helps regulate the temperature of your bed as your body temperature changes throughout the night.
It's made to hug your mattress tightly, so it stays in place, even if you toss and turn. Plus, the cover is quilted for added comfort and support.
Since shipping and handling are included in the web prices, you might be able to find these mattress toppers for a little less at your local Costco warehouse.
10. Jupiter ThermoCool Mattress Cover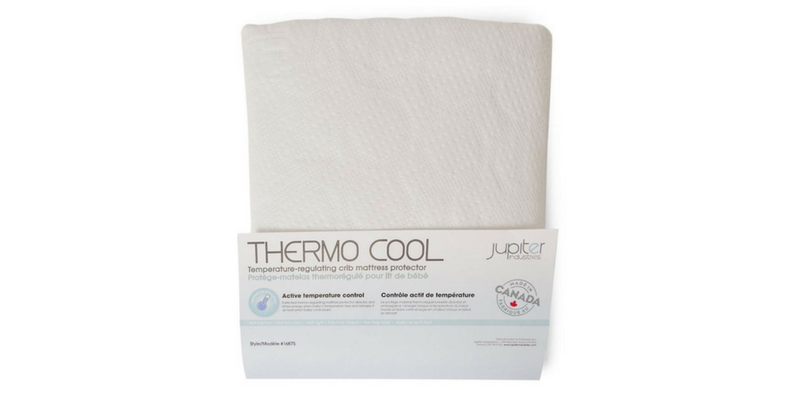 Price: $49.99
Sizes: fits a standard crib mattress
Don't forget about the littlest beds in your home! Cooling crib mattress pads exist, and the Jupiter ThermoCool Mattress Cover is actually available at a pretty reasonable price. It is temperature-regulating and has everything you need to keep your baby dry and cool through the night, including a waterproof backing.
But the absolute best part? It's machine-washable (yay!), and it'll work hard to keep your baby not too hot and not too cold.
---
Did miss any mattress pads should have made the cut?Let us know below!