Bento-style lunches are fun, and can be super simple to make too. They are a great lunch idea for back to school, or even a fun lunch idea for the kiddos who are still in daycare. Before, making lunch may have been the most tedious of your tasks. Now you will be drooling at the thought of posting tomorrow's lunch on your Instagram account.
Sure bentos can be super fancy, but the trick is keeping them simple (and fun) for the kids. If you make the kids lunch boxes interesting, you have a higher chance of having less waste. Plus you can make healthy foods more appealing, which is a definite bonus. You also want to keep in mind that your child may only be allowed 10-30 minutes to eat depending on how long their lunch break is.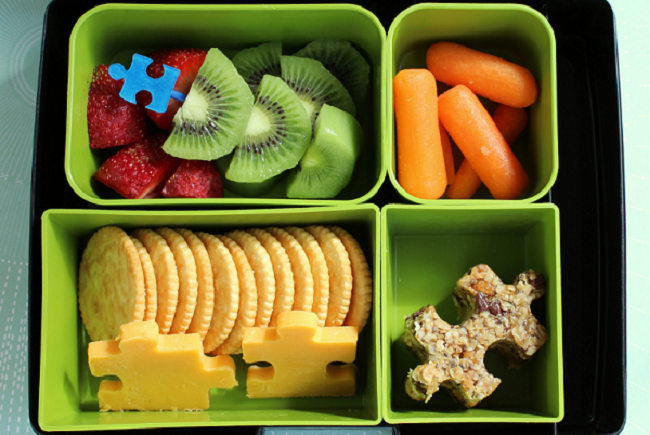 To start, you'll definitely need a Bento Lunch Box. It doesn't have to be a Planet Box, but I suggest getting something like this California Home Goods 3 Compartment Bento Box - these come in a set of 6 for $26.95 from Amazon.ca. Then you'll also need a lunch bag for your child to carry it in, and maybe an ice pack to keep it cool. Walmart has ice packs starting at $1.67 and lunch bags starting at $7. If you plan on making sandwiches into cute shapes and sizes, then pick up some sandwich cutters in the shapes you desire. You will also benefit from using silicone baking cups to use as dividers.
So get creative with your bento boxes and your lunch ideas for the kids, but here are some simple and inspirational lunch box ideas we discovered across Instagram:
This lunch looks appealing to toddlers and young kids! You see PB&J sandwiches cut into diamonds, cheddar cheese flowers, broccoli, oranges, sunflower seeds and vitamins.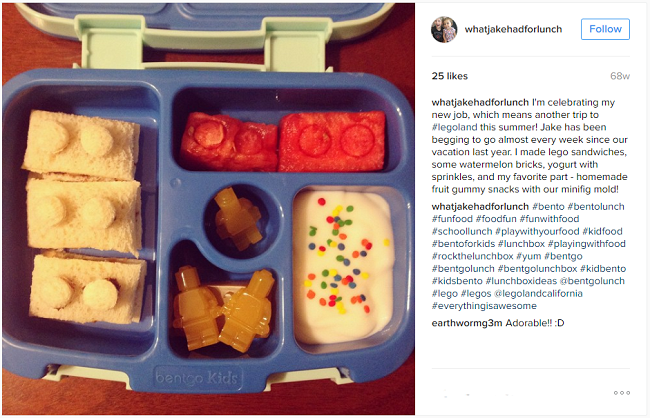 Bento lunch - LEGO style! This lunch has Lego sandwiches, Lego watermelon bricks, homemade Lego Minifigure gummies, and some yogurt with sprinkles.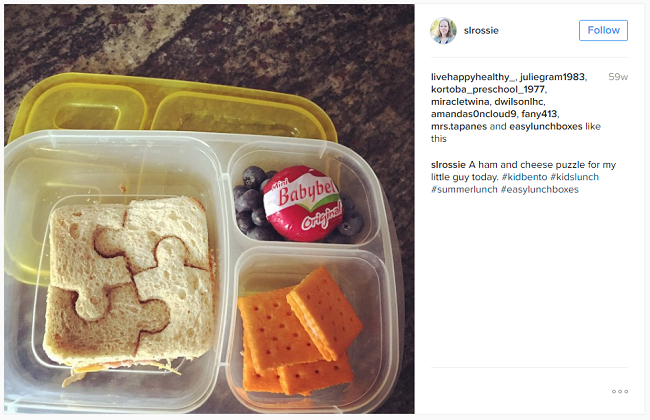 This bento-lunch idea looks easy enough to throw together in the morning! A peanut butter sandwich (perhaps peanut-free butter) cut into puzzle shapes, blueberries, Babybel cheese, and crackers with butter by the looks of it.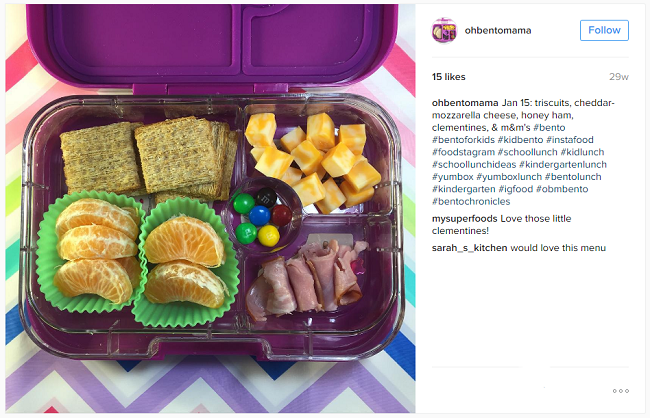 Here you can see those silicone cupcake cups in action. This kiddo has it made: triscuit crackers, clementines, marble cheese, honey ham and a handful of M&M's to top it off. This one doesn't even involve any cutters or real effort - but the kids will love it.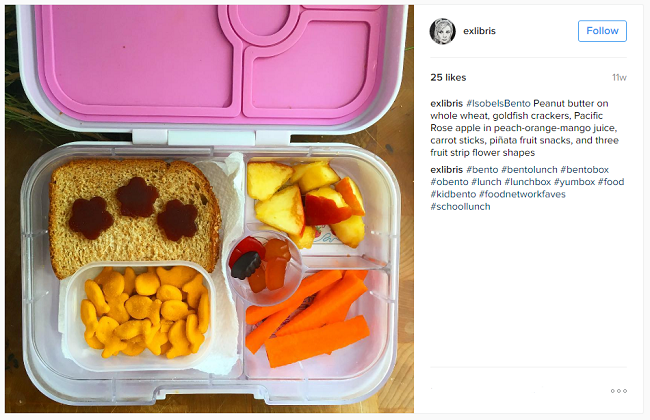 Here's another lunch that I would enjoy eating. Peanut butter sandwich on whole wheat (use peanut-free butter if your school doesn't allow peanuts), goldfish crackers, apples, carrot sticks, fruit snacks and fruit strips (Fruit To Go) cut into flower shapes.
So as you can see, there are tons of bento-style lunch box ideas for school. All the kids in the class are going to want their moms to learn about bento-style lunches too!
What items would you be putting in your kiddo's lunch box?