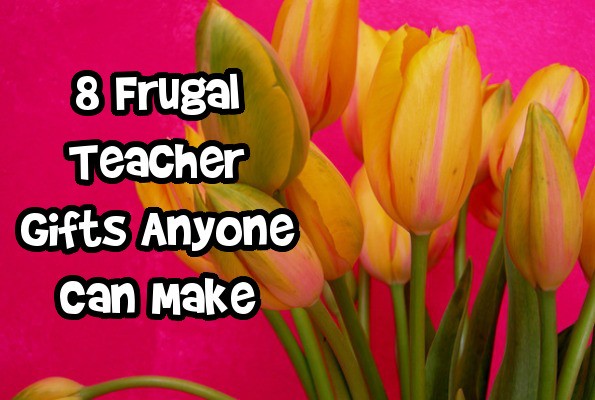 The end of the school year is almost here, and those teachers, educators and other people who work with your children have been working hard all year. Now is the time to say "thank you" one last time for all of the amazing work that educators do throughout the year. I have put together a small roundup of ideas that I think are fantastic gifts that anyone can pull together. So pull out your scissors, and let's talk cute and inexpensive gifts!
No Sew Personalized Tote Bag
Over at V and Co., they created a cute personalized tote that looks like a sheet of paper complete with the teacher's name. Best of all, she used fabric paint pens to make this fun project, no sewing necessary. Complete the gift by stashing a few fun treats in the bag for your favourite teacher, and use your best cursive writing!
Thanks A Latte Card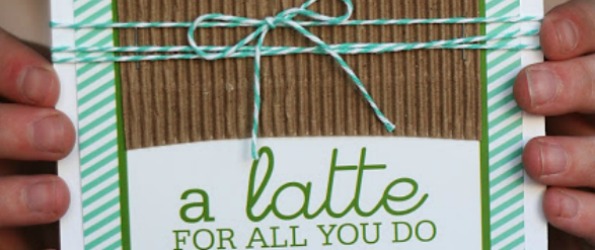 My go-to teacher gift is a handwritten note and a gift card to a nearby coffee shop. Jazz it up a little with this cute free printable from Eighteen 25. Print the card on card stock or print on photo paper and glue to cardboard. When you go to buy your gift card, ask for a few extra coffee sleeves, which will then hold the gift card in place. Genius!
Bouquet Of Flower Pens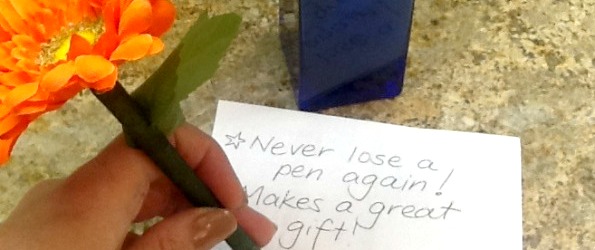 Pens are always walking away in the classroom with many hands in need of writing utensils. Help your teacher keep her pens together with this sweet bouquet of flowers over atArtzcool. Attach pens to the stems of the artificial flowers and present the gift in a vase. This gift is thoughtful, cute and practical all rolled together. Your teacher will never be without a pen again. These pens will not accidentally disappear from the teacher's desk.
Tickled Pink Giftset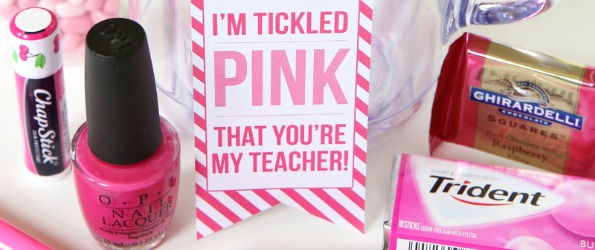 I think this "Tickled Pink" gift set atPizzazzerie is both fun and customizable. This gift includes a cup with a pink lid and an assortment of other small pink items to help say thank you. Ideas include pink lip balm, pink nail polish, chocolate in a pink wrapper and whatever else will fit in the cup. I like that you could make this gift as small or as large and that the items you include can vary. Follow the link for a free printable tag to hang on your gift.
Thank You For Being A Light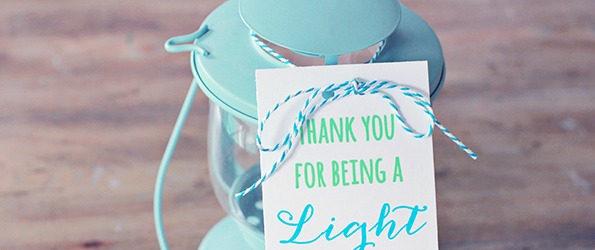 You can pair this sweet printable fromThe Crafting Chickswith a lantern, candle or another type of light for your favourite teacher. I like that this blogger chose this fun Ikea lantern.  I have several of these lanterns in my backyard and love them. A citronella candle is also a thoughtful gift for your teacher's patio.
Funny Giftcard Holder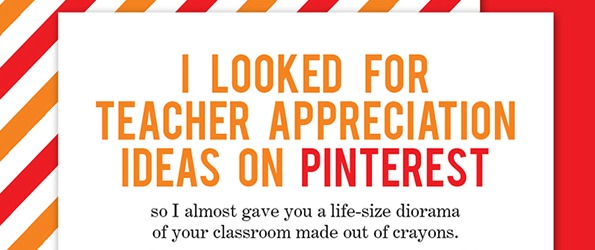 If you have a sense of humour, you may want to consider this hilarious gift card holder fromChickabug. I may just have to snag this idea for my favourite teachers as I think they would have a nice chuckle. Even better, any gift card could slide into this card for a quick and easy gift.
Potted Flowers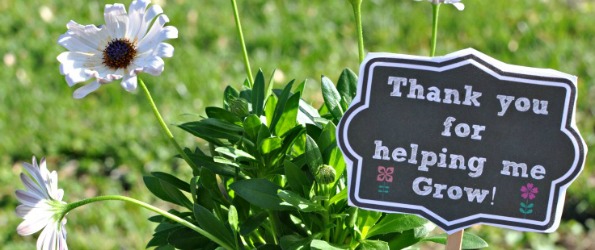 I have happy memories from my childhood bringing purple Irises to my teachers each year from our garden at the end of the year.  I now prefer to give potted flowers for gifts, as they tend to last longer than cut flowers.  At Sippy Cup Mom, there is a cute free printable to add to a potted plant that says "Thank You For Helping Me Grow." If you know your teacher loves to cook, why not include a potted herb such as basil or oregano that they can use all summer long. You could also add this printable to cut flowers also to finish off a cute gift.
Spa In a Jar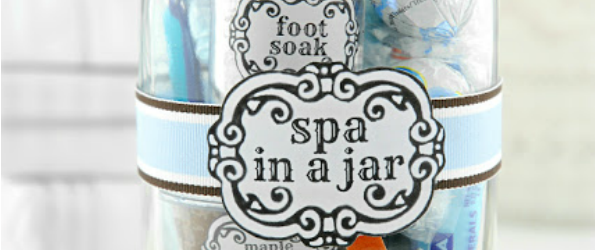 What I love about the spa in a jar idea is that this gift can scale. Choose to include only a few items or extend this gift into a larger basket. Over at The Gunny Sack, they have created a spa gift set with many ideas for in the jar. This blogger included some homemade beauty items with links to the recipes and free printable tags. If you are not crafty, a few smaller lotion bottles also work just as well. For a smaller gift, I might include nail polish in a pretty colour, a foot file, nail clippers and a nice neutral smelling foot soak or lotion.
For more great ideas for gifts for teachers, check out this past post Eva wrote: 6 Inexpensive Ways To Thank Your Teachers.
Bargainmoosers, what do you have planned for your end of the year gifts?
(Image Credit: wakima)