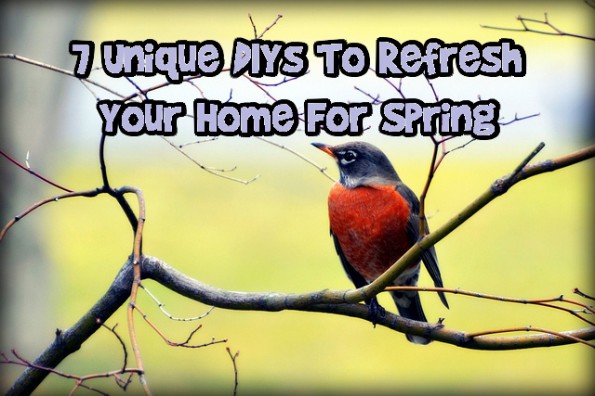 In eight days, it will be March - in like a lion, out like a lamb - March. Soon, we'll be opening windows, taking down the cobwebs and basically trying to refresh our home for Spring. Things that looked good all winter, no longer look that great in the spring sunshine. Here are seven unique DIY ideas you can do to refresh your home and give it more of a spring vibe.

I got this very fabulous idea from Fabulous Home Blog. Basically you take a sheet of music that you love - you can get these at Music Notes very cheaply - and you blow it up at Staplesand then frame it. There you have a piece that is whimsical, special and very interesting, not to mention extremely inexpensive to create.

Bring some yellow into your place with this ruffle shower curtain that is an Anthropologie hack. If you know how to sew, you can make this beautiful curtain that will definitely refresh a blah bathroom immediately. You can choose any colour, it doesn't have to be yellow, but follow the instructions at Elle Apparel.

I am so in love with this idea from The Inspired Room. As a family, you need some sort of messaging system, but I find many of them look cluttered or cheap. This idea is inexpensive but adds loads of character to a room.

This Shanty 2 Chic magazine tray just adds a little something to a boring coffee table or ottoman.

I'm sure you have many of these types of wicker baskets lying around your home. Refresh them by spray painting them to match the decor you already have. You don't have to just go with plain old brown - silver, gold, even pink - these are all possible. I got the idea from Kevin and Amanda when they revamped their laundry room into a pantry.

Old shutters add a touch of rustic beauty to your wall. They can also be useful too, used as a mail slot or note hanger. Vintage Indiegives you some ideas on how to display them.

Painting a door in your house that is typically white gives a definite refresh. We painted our son's bedroom door red to match his bed, which really looked bold from the hallway. I've also seen where you can paint all the doors black to lend elegance. The House of Smiths painted their pantry door blue, which I think is beautiful.
Bargainmoosers, what do you do to refresh your home for the spring thaw?
Banner photo credit: blmiers