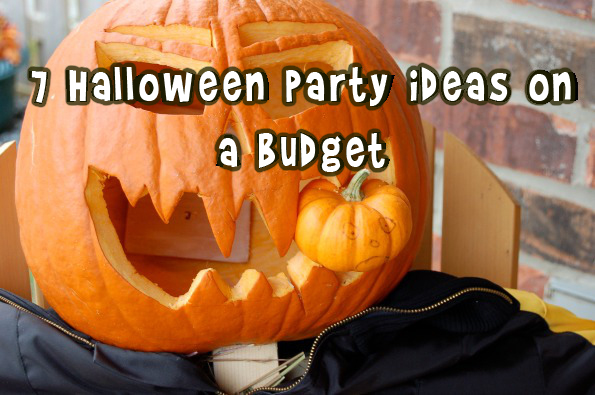 I held a Halloween party for the kids at my house last year. It was loud, messy, but incredibly fun for both parents and kids. I found most of my inspiration on Pinterest and I did it very cheaply, on a limited budget. I'm going to give you some frugal ways to spook up your party.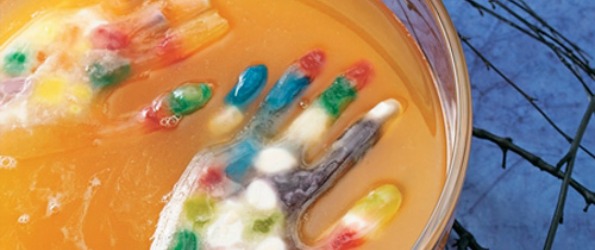 I served a witches brew, which for me, was essentially a mix of purple and orange pop. That was so cheap, because pop is actually really cheap. There are recipes out there, like this one from Tablespoon, so you can fancy it up a bit, and adding these ice cube hands is a nice touch.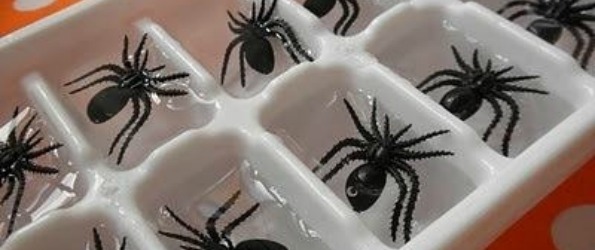 If you want to make your witches brew just that much more creepy, try adding these spider ice cubes. You can probably get the little spiders in a package at the dollar or party store for cheap and water is, of course, free. I found this idea on Love This Pic.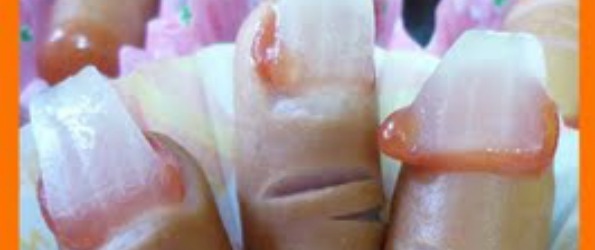 If you want some finger food (pun totally intended) for the party, check out these absolutely disgusting hot dog fingers. They are incredibly easy to make and hot dogs are cheap! Jojoebi Designs has all the instructions for you.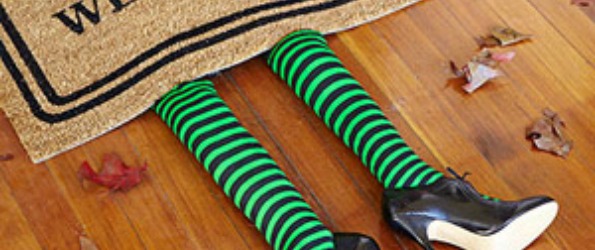 Decorations can be highly inexpensive too, like the ones above that use only your welcome mat, pool noodles, tights and shoes (that you probably already have). Creative and almost free! I found this idea at Parents.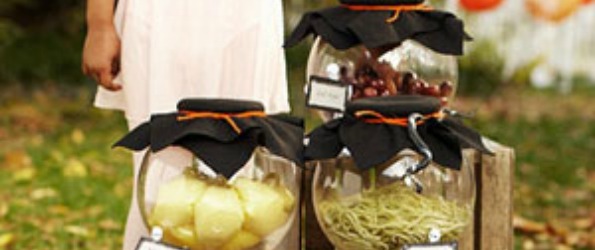 I did the mystery bowls at my party and they were a huge success. So easy to do, with items you might even have in your own pantry. Use cooked spaghetti for hair, olives for eyes, a canned pear for a heart. Kids (and adults) will love to hate touching this stuff. Parents also has some good ideas for this game.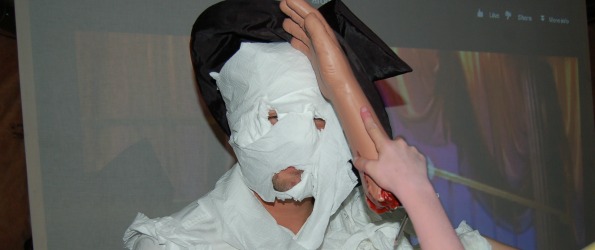 Another very inexpensive game we played was toilet paper mummies. I decided that mummies, were the mommies at the party and let the kids paper their own moms (or dads in my case) in record time. They didn't win anything for it, but they loved doing it! Toilet paper can actually get expensive when you are buying for that many kids, but since I supplied everything else, all I asked everyone to bring was a roll of TP per kid. Worked perfectly. Above is my hubby all mummied up!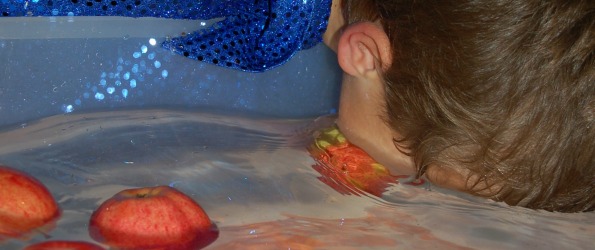 Another really inexpensive game is the classic bobbing for apples. All you need is a large tub, water and some apples (which are super cheap at this time of year). Again, if you wanted to be even more frugal, ask each guest to bring an apple or two. Above is my son dive-bombing an apple. This game created a lot of laughs!
Bargainmoosers, what scary and fun and mostly frugal ideas do you have for your next Halloween party? Let me know in the comments below!
Photo credits: Webster