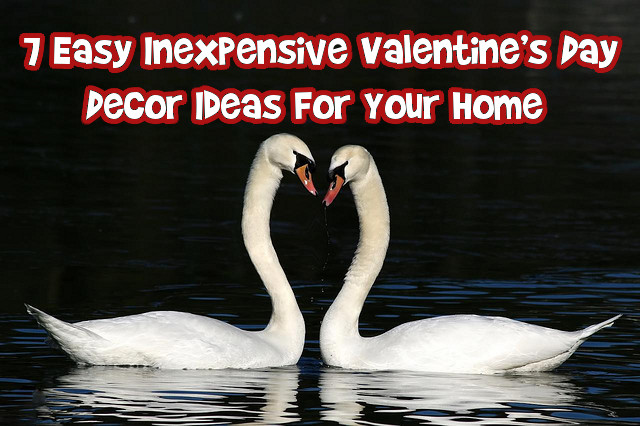 Mi amore! Valentine's Day is just around the corner including all of the hearts, sparkles and kisses that goes with it. The stores are already starting to tempt us with candy hearts and giant stuffed dogs professing their love. I like to spruce up my house with a few decorations for the holiday. While you can find plenty of shiny heart tinsel, I prefer to spend my cash on treating my sweetie instead of elaborate decor. Here is a great roundup of cute and easy ideas that you can put together to spruce up your holiday decor for Valentine's Day while still keeping things cheap and chic.
1. Valentine's Day Heart From Wine Corks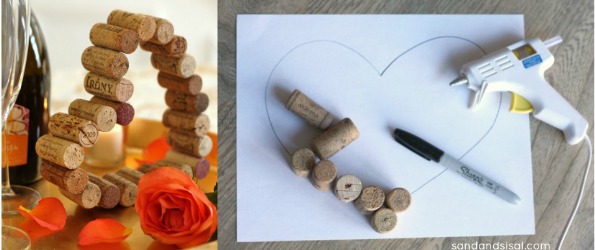 This cute upcycled craft will not cost you anything if you are already a wine drinker. This cork heart from Sand and Sisal looks amazing and is super simple. Grab a hot glue gun and some leftover wine corks and you are ready to create. Draw a heart on a piece of paper as your guide. Then place corks along the line making sure they touch. Once you have enough to create the edge of your heart you can start gluing. Another alternative would be to fill in the entire heart with corks on the inside also. You could then hang the filled heart on the wall and use thumbtacks to stick little love notes into it for your sweetie. I love that this craft looks expensive without very much effort.
2. Free Valentine's Day Printable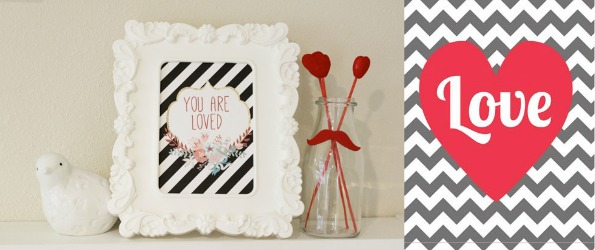 I love free printable pictures to change up the look in my house for any holiday. All you need is a picture frame and a printer. Check out these free printable pictures from Soho Sonnet. Included are 7 cutesy printable pages with lots of hearts, flowers and modern prints and one cheeky one that says "I love you like a fat kid loves cake." Add these to a picture frames with multiple slots and see if your friends notice the cheeky one. These freebies are available in three different sizes so they should fit whatever frame you already have in your house.
3. Melted Crayon Word Art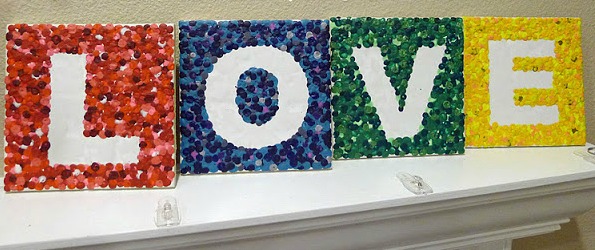 I really like this cute word art from Pieces By Polly. This blogger used trivets for the decoration above but you could use canvas, wood or even cardboard as your base. Paint a base coat if necessary on your chosen canvas. Then cut out the letters and trace around it on to your canvas. You can choose to spell love, another word or even pick shape such as a heart. I would keep my shape or letters somewhat simple to keep the piece looking clean and modern. Melt the tip of the crayons in a candle then press the melted wax onto your surface around the outside of your shape. Repeat the process until your entire surface except for the letter or shape is covered. I like that this technique can be created on pretty much whatever you have already laying around the house. This would be so sweet for a little kid's playroom spelling out their name also.
4. Candy Filled Vase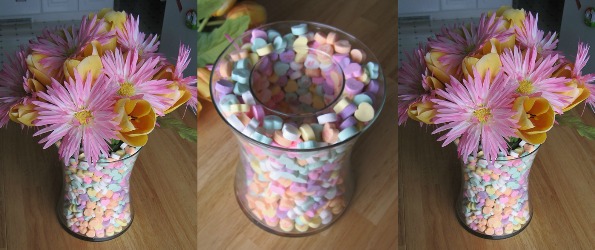 It is time to raid the candy section at the bulk store for this sweet craft. I love how simple this conversation heart vase is from A Day In My Life. All you need is two vases, one large that is clear and one small in any colour plus any small Valentine's Day candy. Place the smaller vase inside the larger vase. Fill the space in between the two vases with candy. Viola!
The smaller vase in the center allows you to put water in for real flowers that your sweetie gives you. You could also throw in fake flowers for effect. If you are trying to give a hint you want flowers for Valentine's Day, this might be a way to do it subtly. My husband is overall observant but I would probably throw a few flowers in it myself to finish the look. This craft also tastes as delicious as it looks.
5. Coffee Filter Valentine's Day Wreath
Check out this beautiful heart wreath from Soccer Mom Style. I always seem to have cardboard laying around the house so that makes this project super easy. You can buy coffee filters for only a buck or two if you do not already have some. Simply create your shape out of cardboard and cut it out. You can poke holes to put in the coffee filters as this blogger has done or you could hot glue the coffee filters to the cardboard. I like how she painted the tips of the coffee filters red but you could really choose any colour. I will probably add a layer of glitter to mine with some leftover spray adhesive.
6. Paper Heart Garlands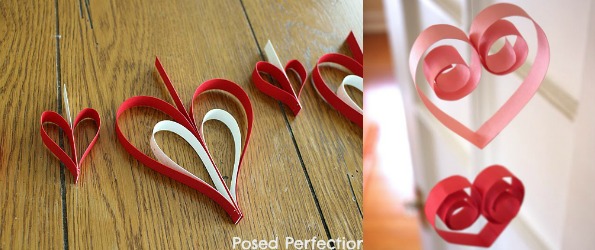 If you can staple and cut, you can make this sweet heart garlands from Posed Perfection. This is another versatile idea because you can use any kind of paper and string you already have handy. Solid red, pink and white paper looks great in this garland, but you could easily jazz this up with pages from an old book or leftover scrapbooking paper. For an alternative version of this garland, check out this curlier version at How About Orange that is strung on clear thread.
7. Valentine's Day Countdown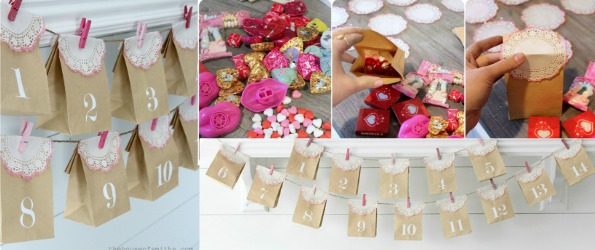 Add a little suspense and excitement to the holiday with a countdown. This decoration idea serves double duty as treats and decoration, my kind of home decor! Click on over to this easy advent calendar style countdown from The House of Smiths. Paper bags, doilies and glitter are all inexpensive to pick up if you do not already have them on hand. The countdown numbers on the bags are made of vinyl, but you could easily write the numbers on yourself with a marker or some glue and more glitter. Fill the bags with whatever treats will excite your favourite sweetie.
Skip the flimsy cartoon hearts this time. Instead use these ideas to create your own decorations. Without a ton of extra effort you can have fun decorations that will look chic in your home.
Photo credit: Photophilde