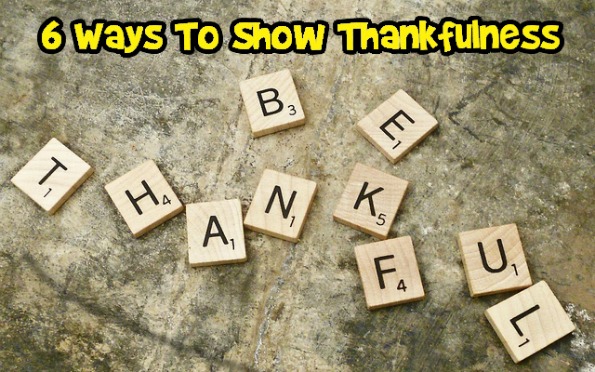 If you are perusing Bargainmoose, it probably means you are trying to save money. Most people are always thankful for money or the things that money can get, whether it be trips away, a new TV, a great pair of shoes or an excellent dinner. This Thanksgiving, why not be thankful (and show it) for things that are not money-related. Life is about the little things and there is so much to be thankful for.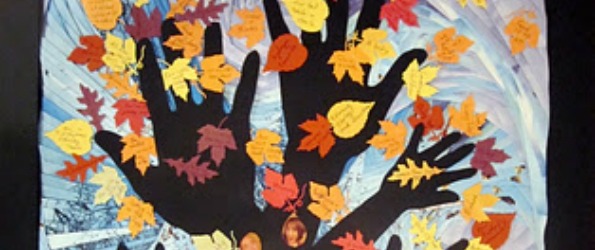 I am love withThe Idea Book's project of thankfulness! Over the month of November (she must live in the States), each member of her family wrote on leaves that she had cut out what they were thankful for. At the end of the month, she glued them onto handprint tree branches as a reminder of what they are thankful for.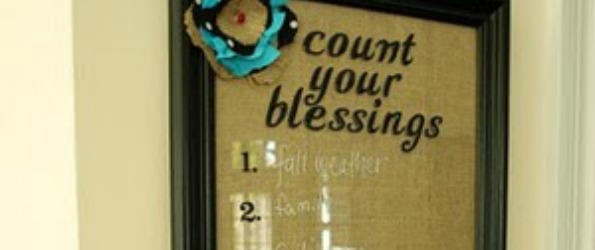 This idea from Less Than Perfect Life Of Bliss is one that can keep you thankful all year round. She made an erasable whiteboard from an old photo frame. You can dress it up as you like, or keep it simple. The premise is that you regularly count your blessings and document them on the board for all to see.
This clothespin wreath is perfect for when you have guests coming over. Everyone can add what they are thankful for and it makes a great keepsake for your home year after year. Chica and Jo can tell you how to do it.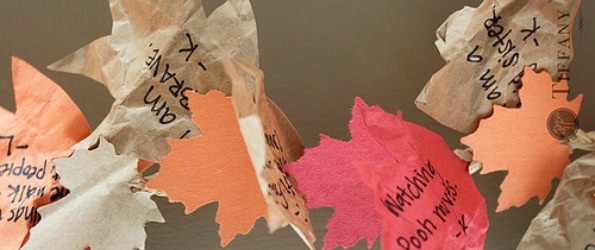 If wreathes and trees aren't enough, how about a garland? Simply Modern Mommade this chic-looking garland out of simple paper and string (I am thankful for paper and string). Every family member contributed their thoughts on individual leaves. Wonderful.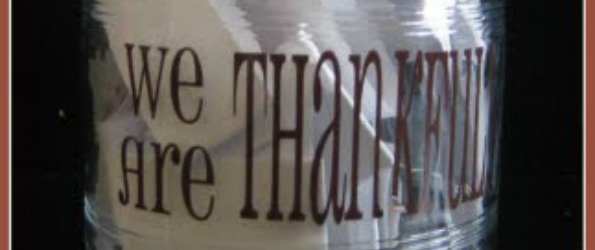 I had actually planned on starting a gratitude jar on January 1st this year, but I guess I got busy and didn't keep it going. There are two different ways of doing gratitude jars. I like Somewhat Simple's ideas of doing it as a countdown to other thankfulness exercises and projects. Or you could try MindBodyGreen's idea of adding what you are grateful for each day of the year. I like the idea of spending New Year's Eve or day reading everything you had written in the last year.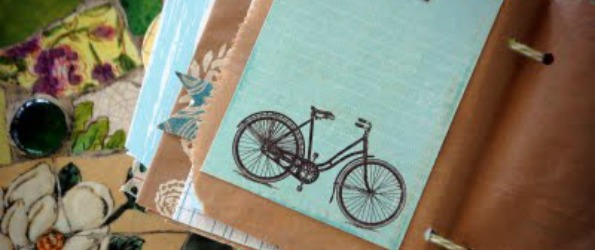 I've heard this one on Oprah, so you know its good. Have a gratitude journal, which you write in each day to remember the good things, even on a bad day. This is also a good project for kids to participate in, because it is so easy to lose track of what is really important. It can be dressed up and gorgeous like the one above, or just a simple journal in a lined notebook. You could even use a calendar or day planner. If you like the dressed-up version, check out how to do it yourself at Noel Mignon Layouts.
Bargainmoosers, what are you thankful for this year?