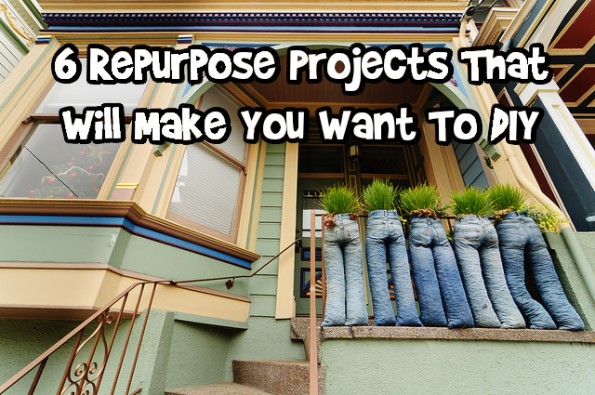 In a world where people consume and discard, repurposing items is so much better for everyone. An item gets re-loved, you save money and you have fun doing it. If those reasons don't persuade you, take a look at the repurpose projects below. These amazing and beautiful re-dos will make you want to run out and start your own DIY ASAP!

Doors are the ultimate throw-away item. They serve a great purpose, but once someone doesn't like them, goodbye. U Create Craftstook discarded cupboard doors and turned them into hinged art desks for kids. Brilliant!

Speaking of doors, how about this door turned into a bench? I love the detail of the bench and it serves a great purpose, just like it did as a door before it. I wonder what it will want to be next? Twig Decor actually made this bench from a door that was already repurposed as a headboard!

If you've got a banged up old tool box, this repurpose from Funky Junky Interiors is perfect for you! Take it into 2014 as a charging station. It is very simple to do and can hold other purposes too.

You probably have a whole room full of useless suitcases, but they don't have to stay useless forever. Turn your vintage or distressed suitcase into a table, like they did on Hometalk!

Just like doors, chairs serve a great purpose - until they don't. After cushioning your butt for years, don't kick them to the curb. This bathroom shelf is so ingenious, I feel like I need to make one. I got this amazing idea from Recyclart.

I just found my husband's next project! I have a bunch of collectible spoons from all over the world that were my grandmothers and they were handed down to me. They sit in a drawer and I feel bad that they aren't respected more. Even though he would have to alter the spoons, I think this would be an amazing way to display them and give them their due. Found this on Indulgy.
Bargainmoosers, link us to your DIY repurpose projects.
Banner photo credit: Brandon Doran