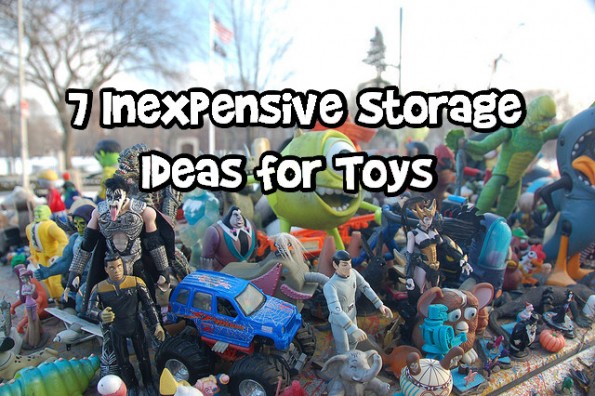 I have two kids so we have about a million toys laying around the house.  I can't tell you how many times I have tripped over toys, or asked my kids to pick up the toys in their room.  It seems we never have the space for all of these toys (or the storage).  I went searching for some cool storage ideas for kids toys and came across some pretty unique ideas that I would have never thought of myself.  Here are six of them that I thought I would share with your that are not only unique, but they are inexpensive as well to do.
1.Reuse Containers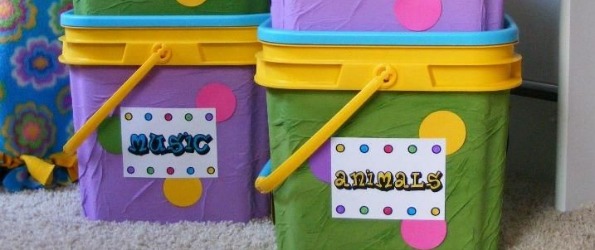 This idea is absolutely free and great for storing small toys.  Just take an old container, whether it be a cat litter box or a peanut butter jar and wash it out, and decorate it.  This idea from Top Inspired is so easy, your kids can actually do it as a craft themselves.
2. Rolling Drawers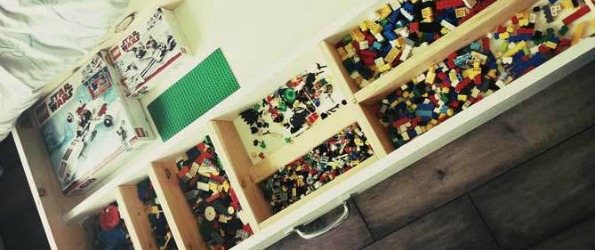 This idea from Storage Geek is good for any kids toys, but they feature Lego storage specifically. I like the idea of having small toys like Lego in one big container out of the way under my boys beds. You can just use an old drawer and add some wheels to it to make it easy for the kids to roll under the bed. The complete instructions are posted and easy to follow.
3. Animal Swing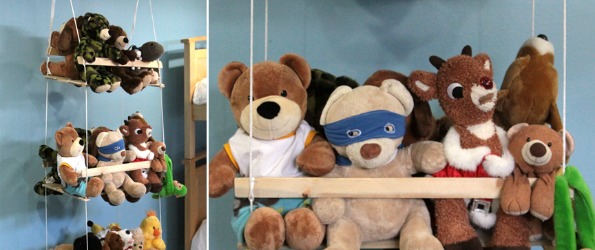 If you are crafty, you can make your kids this stuffed animal swing to hang on their wall and get their stuffies off the floor. The directions can be found on It's Always Autumn but it looks fairly simple and inexpensive to make.
4. Hanging Baskets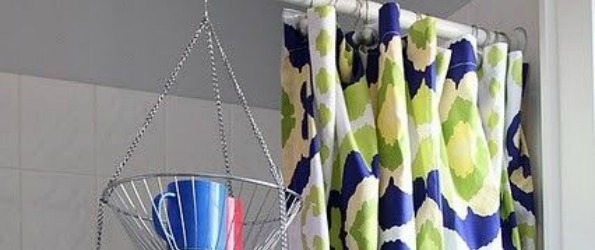 I love the idea of taking an old fruit basket that you don't use anymore and hanging it in the bathroom for bath toy storage. I found the idea on Indulgy.
5. Hanging Shoe Organizer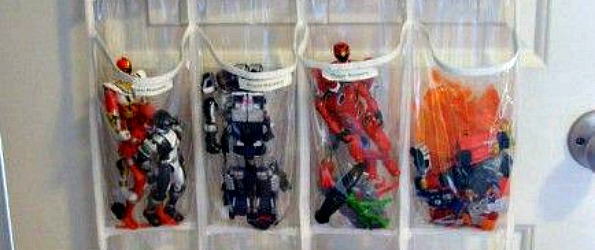 This idea from Organize Your Stuff Now doesn't require you to do anything except use an old shoe organizer.  You can hang it on the back of their closet or bedroom door for figurine storage or barbie doll storage.  The clear ones would be the best so you can see what is in each compartment but any will work.
6. Wooden Cage
This last idea from Lumber Jocks is one for someone who know how to work with wood.  All you need is some wood, nails and some bungee cords to make this awesome wooden zoo cage for your kids room.
What are some things you have created to store your children's toys at home?
Photo credit: Chris Devers