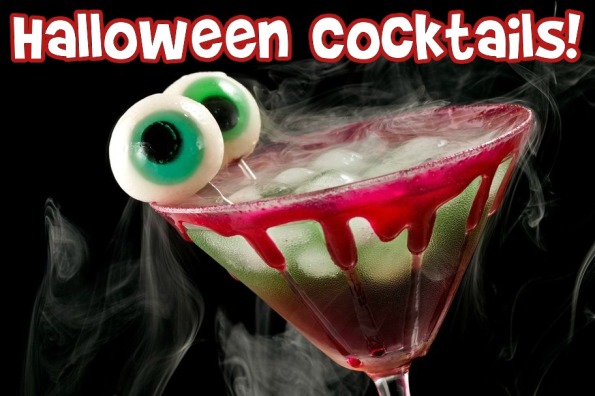 So who says that kids get to have all the fun on Halloween? Make yourself a deliciously spooky cocktail to sip while you relax after the kids go trick or treating. If you are having a grown-up Halloween party, you can bet these drinks will be the topic of discussion for your friends for a long time. I can guarantee you will want to make a trip to the liquor store after reading about these devilishly garnished beverages. I can't wait to try them out. Honestly though, I think I would drink these year-round. They are not just for Halloween, although they are an excellent addition to this lovely occasion.
Black Velvet
This delicious drink is sure to wow your friends. It looks so delicious, and actually resembles witches brew. It is a combination of bubbly wine and beer. The taste is rich and dark, and only takes a few minutes to make.
Ingredients:
3 oz stout beer (Guinness for example)
3 oz dry sparkling wine
Directions:
First your going to pour the stout beer in a large champagne flute. Then slowly top it off with the sparkling wine and stir gently.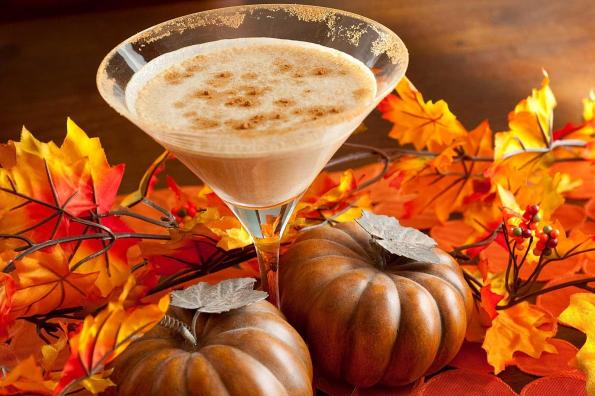 Pumpkin Martini
Oh the pumpkin spice everything has arrived. I can't believe some of the things that I have seen in a pumpkin spice version. Thankfully though, I am willing to try a Pumpkin Martini over Pumpkin Spice tampons any day. There are quite a few ingredients, but totally worth it I am sure.
Ingredients:
1 tbsp sugar
1/4 tsp pumpkin pie spice
3 tbsp vodka
2 tbsp half and half cream
1 tbsp canned pure pumpkin puree
1 tbsp maple syrup
1/4 tsp pure vanilla extract
Directions:
First you are going to combine the sugar and pumpkin pie spice on a small plate. Then you can dip the rim of your cocktail glass in water and then dip it in the mixture you just made. It will perfectly line the rim of the glass.
Then get a martini shaker and fill it with ice. Combine the vodka, half and half, pumpkin puree, maple syrup, vanilla extract, the remaining 1/8 tsp of the pumpkin pie spice. Shake it and then strain it into the glass you have already prepared.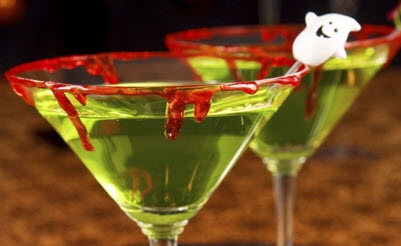 Green Ghoul Martini
This little Halloween martini has to be my favourite by far. I love the blood garnish, and I hope that my local dollar store has little ghost or pumpkin martini sticks like pictured.
Ingredients:
2 oz Midori Melon Liqueur
2 oz Mr. and Mrs. T Sweet and Sour Mix
1 oz Vodka
Directions:
The blood garnish is the tricky part, but not all that difficult. You can make red hard candy and pour it along the rim of the glass OR simply dip your martini glass into some strawberry or raspberry jam. Mix all of your ingredients in a cocktail shaker filled with ice. Then strain it into your blood rimmed martini glass.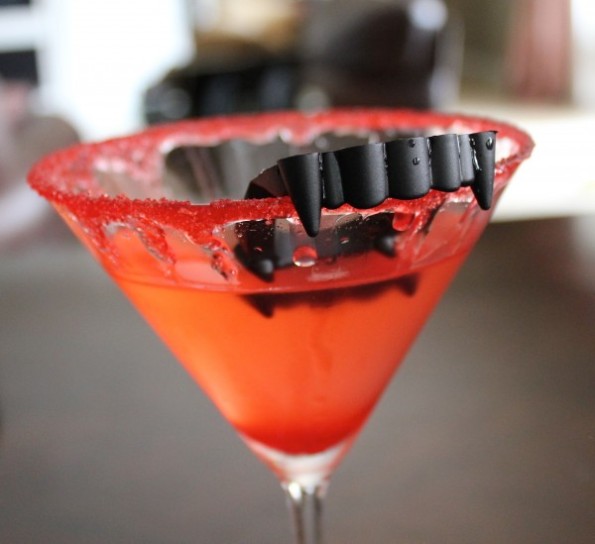 Vampire Kiss
This drink looks sexy, plain as day. This is a beverage I would be proud to hand out at my Halloween house party for sure. You can probably pick up the plastic teeth from your local Dollar Store.
Ingredients:
3 oz Chilled Pinnacle Whipped Vodka or Vanilla Vodka
Strawberry Sundae Syrup
Plastic Vampire Teeth
Directions:
Get a chilled martini glass and line the rim with your strawberry sundae syrup. Drip some on the inside of the glass so it looks like dripping blood. Then pour vodka into a shaker with ice and shake it well. Then strain it into your prepared martini glass. Add your teeth so they are hanging off the side of the glass.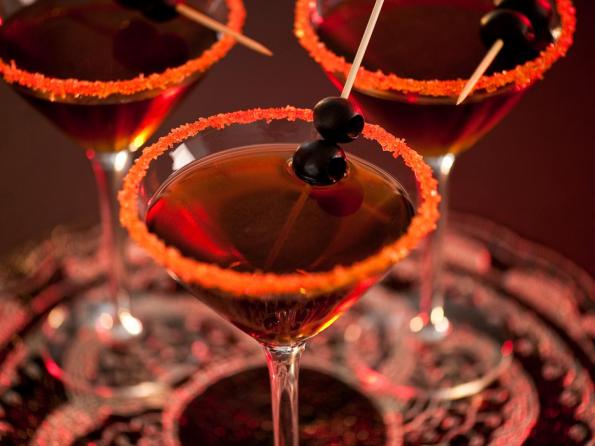 Black Devil Martini
This drink looks cool. I am not a fan of black olives, but I bet I could put candy eyes on the martini stick instead. Wouldn't that add a great touch to this drink?
Ingredients:
2 oz dark rum
1/2 oz dry Vermouth
black olives
Directions:
This is definitely an easy martini to mix. Even beginners can enjoy it. Stir your mix together and strain it into a chilled martini glass. The rim looks to be sugar or pop rocks. Garnish your drink with olives or a candy eye.
Moosers, what beverage are you going to try this Halloween?