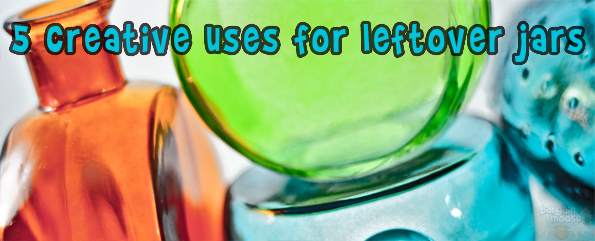 I have a cupboard filled with leftover jars. I just hate throwing them out when they could really serve a good purpose. I've found some creative inspiration for using up those old jars. Here are a few ideas for you to try: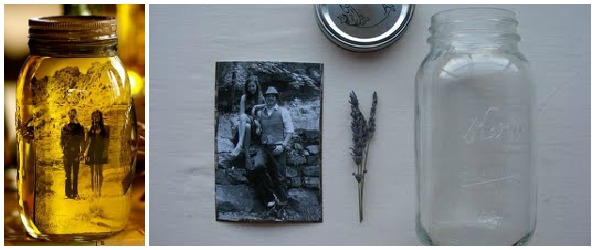 Disha on the Wilderness blog used these for wedding centrepieces (pictured above), but I think they would look cool just on a shelf. She took an old, clean jar, filled it with vegetable oil, added a sprig of lavender and put a photo inside of it. The vegetable oil gave the photo an aged, vintage look and the lavender made it smell nice.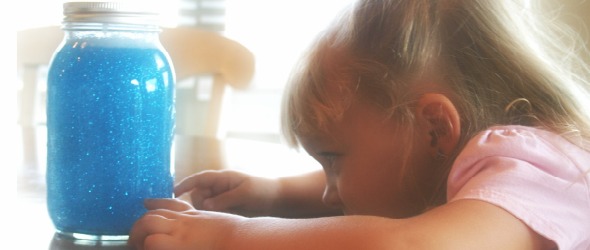 The first time I saw this idea, I loved it. More of a "time-in" than a time-out, the time-out jar helps to calm and relax your child during a tantrum. Instead of punishing them for their strong feelings and actions, letting them sit and play with this jar until they are calm is an amazing idea. So easy to make, with just glitter, water and super glue, the sTORIbook will give you all the instructions (shown above).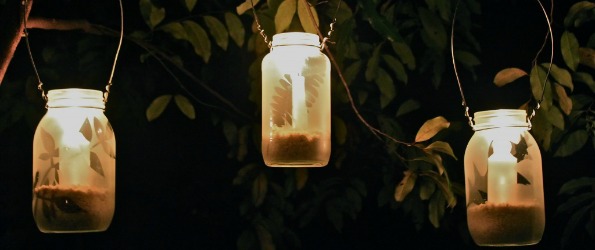 Little House in the Suburbs had an amazing idea for making the frosted garden lanterns shown above and it is easier than it looks! With some adhesive shelf paper, frosted glass paint and some wire, you can make these gorgeous additions to your garden too.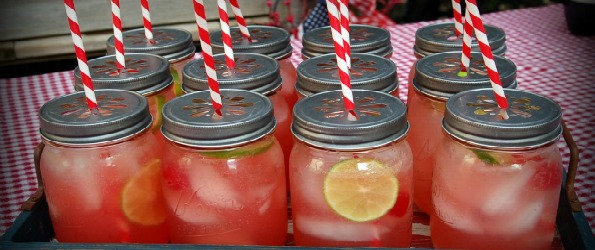 What a great idea for an outdoor party - jars of cherry limeade! Pinkpolkadotcreations bought these lids, but I think you could easily drill into the regular jar lid. This will keep the bugs away and you have a fancy, unique vessel for your drinks.
Liz Marie Galvan created this awesome mason jar organizer for her bathroom supplies easily, with a board, some paint, frame hangers and pipe clamps. I love having my bathroom supplies out and easily accessible like this, and it keeps it off the counter.
What do you think - will you try any of the above ideas? Or do you have any great ideas of your own? Please post a comment below!
(Title image credit to callmekato)