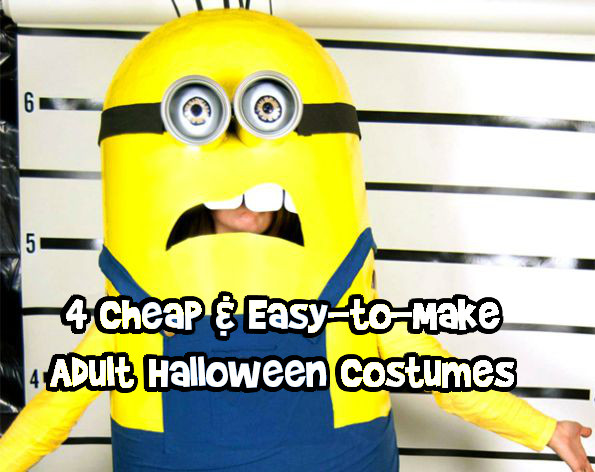 With Halloween just around the corner, it's time to start thinking about what you're going to dress up as for your friend's annual Halloween party or taking your kids trick-or-treating around the neighbourhood. If you aren't particularly skilled with a glue gun or would just rather make life easy and buy your costume outright, luckily there are a number ofdeals you can take advantage of to save yourself some money. If you like and look forward to crafting your own costume every October, then here are a few cheap and easy-to-make costume ideas for you to consider this year.
A Squeaky Clean Loofah
Got a few tutus and some string lying around? Then you're costume is practically done! Not only will this be more comfortable to wear than a cardboard box robot outfit, but I highly doubt anyone will ask you that dreaded question "So what are you supposed to be?" Thanks to Brittany Estes and C.R.A.F.T. for the inspiration!

A Real-World Sim
For any of you gamers out there, if you want a true no-fuss, no-muss costume, then this is for you! All you need is some wire, a headband, some cardboard, and a colour printer (or you can go all the way and paper mache your giant, green diamond) and you can become a Sim. These ideas were found on ACParadise.com.

The Artist Frida Kahlo
For a more cultured costume, you can never go wrong with dressing up as the Mexican artist Frida Kahlo. Finally, an excuse to wear your most vibrant frock and a unibrow!

A Bag of Jelly Beans
This is by far the most frugal and sweet costume around. All you need is a clear garbage bag, some colourful balloons, and some ribbon and you can be a bag of jelly beans! Just remember to take caution when sitting otherwise you may become an empty bag of jelly beans. A big shout out to Wonder Mom Wannabe for this idea!

Bargainmoosers, what are you dressing up as for Halloween?
Photo credit: Awesome Costumes