Shopping at Costco is an excellent way to shop smart and save money on products that you need to buy for your family and home. Most loyal Costco members have their regular go-to name-brand products, but Costco has also developed a line of own-brand products called Kirkland Signature that has its own cult following. Many of these Signature products have been highly reviewed and rival the premium name brands.
If you have not yet bought a Costco membership or experienced the wonders of a Costco shopping trip, then my list of the top 15 Kirkland Signature products is a must-read.
This list is based on reviews and personal experience, so I hope it helps you navigate the aisles to find the best products that also save you money.
READ MORE:You Need to Know These Costco Secret Shopping Tips
Organic Extra Virgin Olive Oil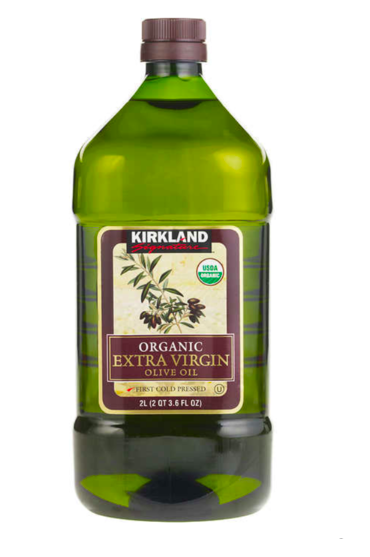 One of my personal faves; this olive oil is both organic and extra virgin, plus it comes in a hefty
2-litre bottle. It is perfect for cooking, salad dressings and dipping, and most importantly, it meets the extra virgin quality standards. You may have heard reports that many imported extra-virgin olive oils are not actually pure but rather mixed with other oils, luckily this Kirkland Signature passed the test, so it's a winner in my books. Try my favourite Jamie Oliver olive oil and lemon dressing for your next salad.
Organic Maple Syrup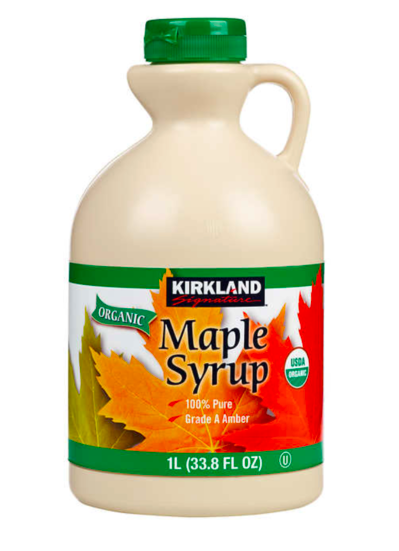 Ok, you know your Canadian when you stock-up on 1-litre bottles of maple syrup! This Kirkland Signature is just as good, if not better than other name brand maple syrups, such as President's Choice AND it's cheaper too. Hooray, now you can try these maple syrup recipes for your next weekend brunch.
Organic Peanut Butter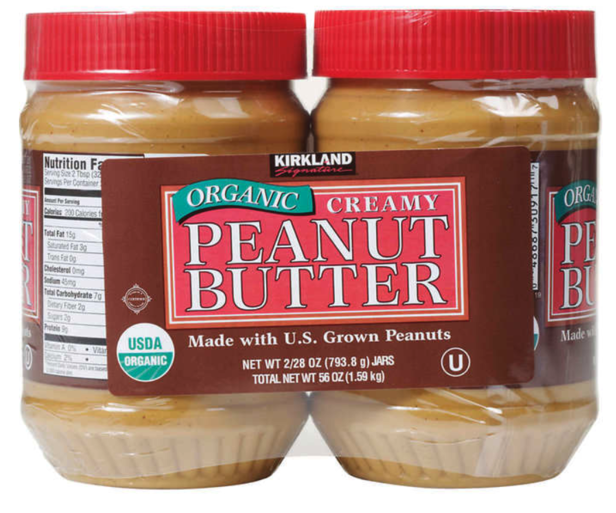 If you are a busy parent or simply love peanut butter, then you will appreciate the the 2-jar pack of organic peanut butter. It makes healthy snacks and sandwiches and doesn't contain any added sugar, (which if you are like me, go crazy with all the extra sugar that is added to food). Usually, one jar of organic peanut butter will cost around $6 in other grocery stores, so this one comes in slightly cheaper. How about this recipe for peanut butter protein balls?
Kirkland Signature Bacon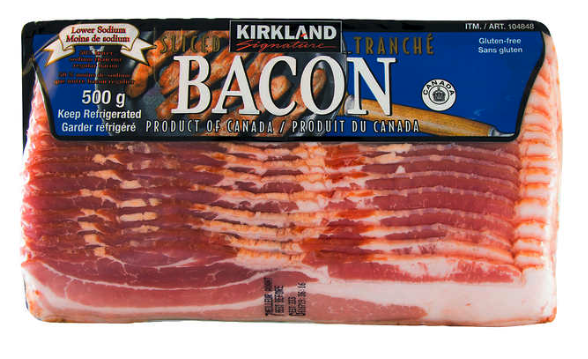 This bacon gets top marks by several reviewers, in terms of its sweet and wood-smoked flavour, crispiness and balance of fat to meat ratio. In my opinion it has one of the best flavours, so it's perfect for bacon sandwiches.
Colombian Supremo Whole Bean Coffee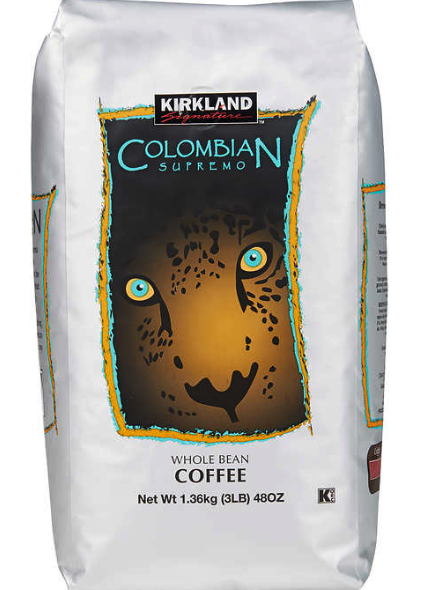 Morning coffee is an important part of most people's mornings and luckily, this bag of whole bean goodness packs in a nice medium-roast with hints of chocolate and dried fruit. Some reviewers say it is slightly bitter, but I have had this coffee and, unless you are a coffee aficionado, the taste is fine and you definitley can't beat the price.
Greek Yogurt Plain Non-Fat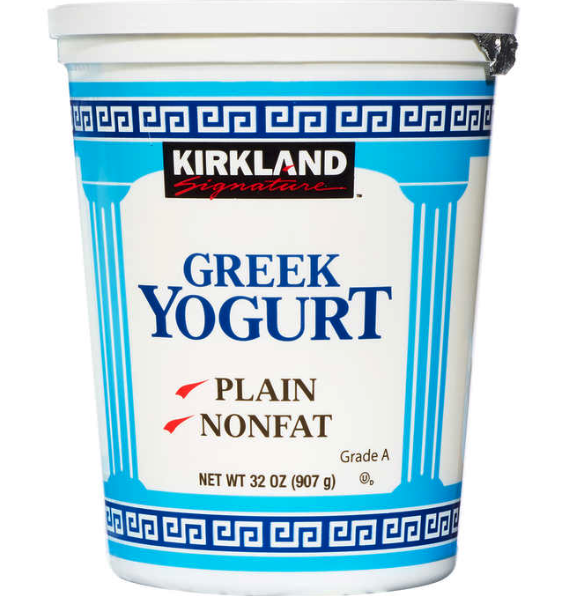 This is a top product in the greek yogurt category, beating out other top brands. It is thick and creamy, has no added sweeteners and is naturally high in calcium. Voted the best tasting non-fat greek yogurt, it is available in large containers and also convenient, individual servings.
Wild Salmon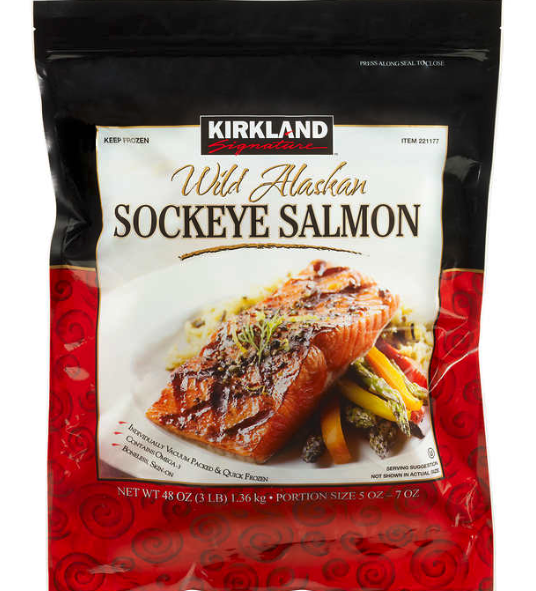 Salmon makes for a healthy dinner choice, and if you can get your hands on wild versus farmed, that's even better. Costco has both frozen and fresh wild salmon available, so pick the one that works best for your family. For a fast & easy nutritious salmon recipe, click here.
Mixed Nuts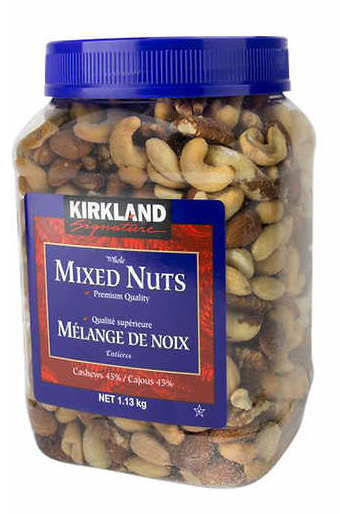 Costco has a variety of nuts to choose from, such as walnuts, pecans, pistachio and this mixed nut variety. So whether you want to to bake or snack, they are fresh and tasty. Plus, they are priced well below other super market prices.
Pure Vanilla Extract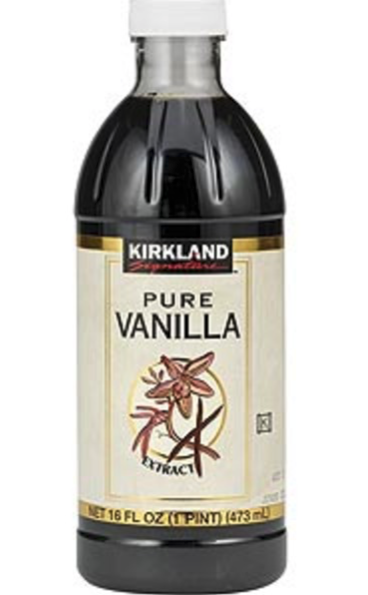 If you are a baker, then you know how expensive pure vanilla extract can be, and quite frankly, the imitation version, does not measure up to the real thing. This bottle is quite large, so you might have to organize a neighbourhood bake-off or split the cost with a friend, to get through the bottle. Check out recipes from CBC's Great Canadian Baking Show.
Frozen Berries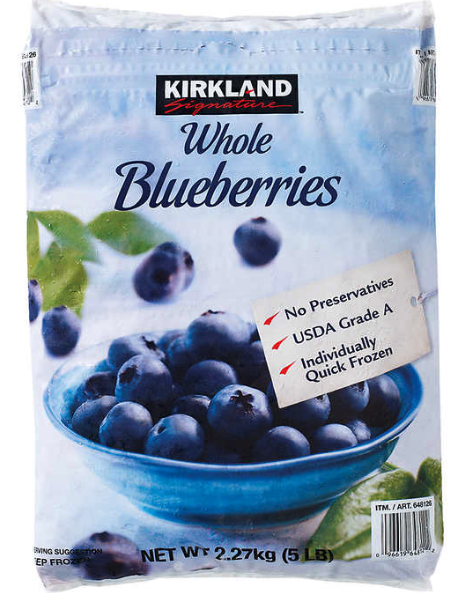 Costco's Kirkland frozen berries are one of the best buys because the bag is much larger than what you can find in major grocery stores. I usually pick up the Whole Blueberries, but the Three Berry Blend is another popular choice. Now you can make affordable breakfast smoothies that will kick-start your day . Try the Kirkland Signature smoothie recipe here.
Ultra Clean Free and Clear Liquid Laundry Detergent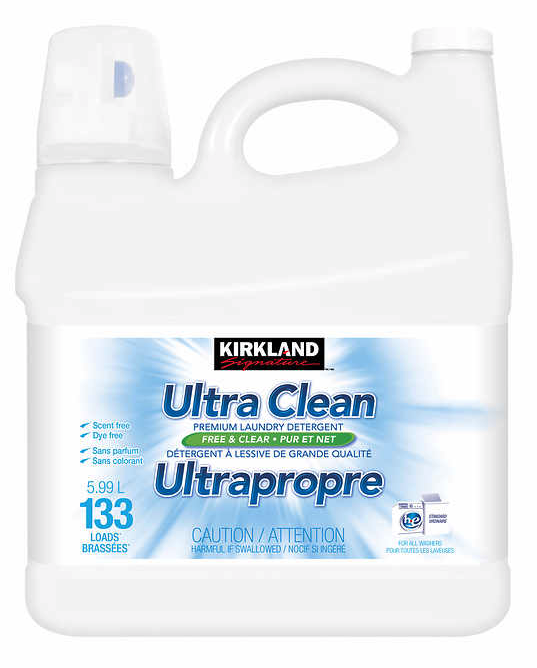 Laundry detergent can really be expensive but the Kirkland Signature Free & Clear detergent is both cost effective due to it size and easy on the environment. It comes in a whopping 5.99 litre jug that cleans 133 loads. It is also biodegradable, hypoallergenic, scent and dye free, in addition to lifting and releasing tough stains. The cost–just $21.99.
Supreme Diapers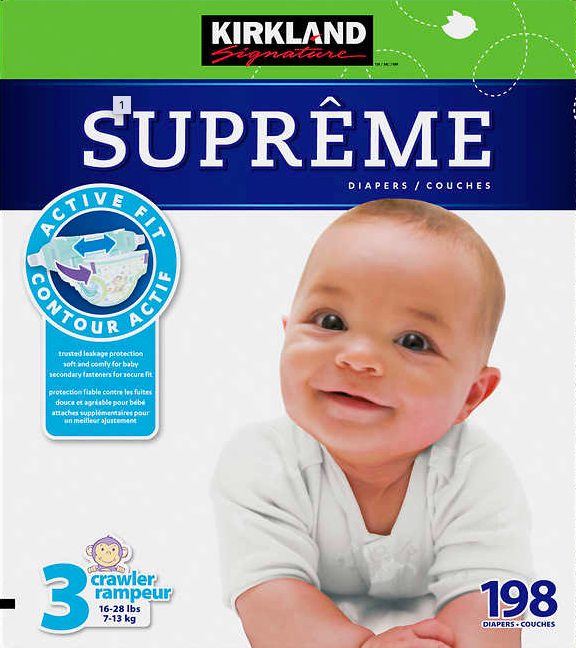 Diapers for your growing baby can be a huge expense but Kirkland's Supreme Diaper range comes in several sizes and is priced well below other name brands, such as Pampers that range from $35-$40 for almost half the amount of diapers. Kirkland Signature diapers are currently priced at $45.99.
Infant Formula - Omega+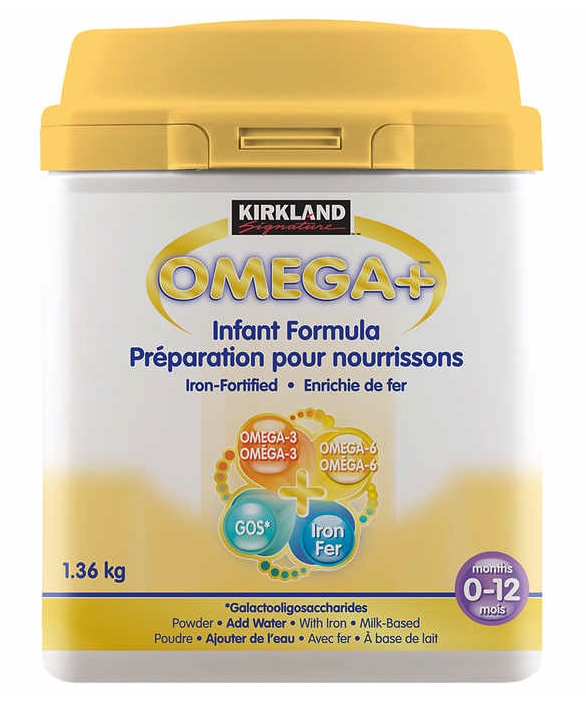 Canadian mothers can rejoice, knowing that Kirkland Signature formula is only $27.99 compared to other name brands that cost around $49. There is also a Sensitivity formula if you baby is sensitive to lactose. In fact, some reviews have said that the Similac and Kirkland Signature infant formulas are the same product.
Baby Wipes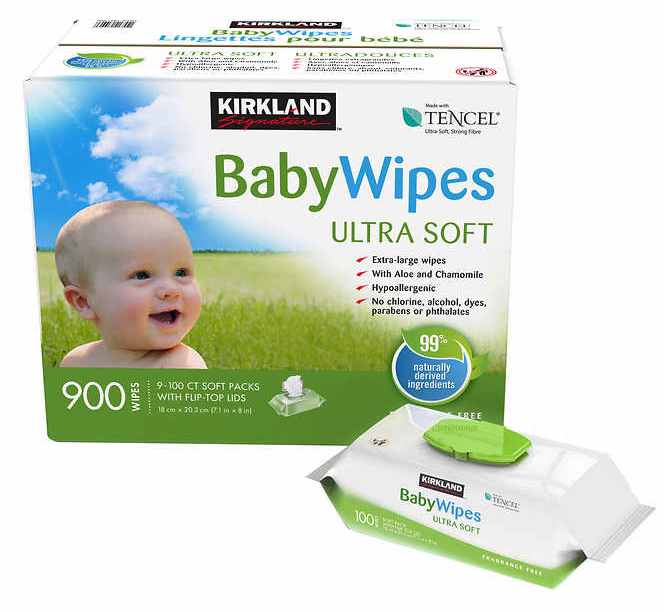 Our readers love these Kirkland Signature Baby Wipes, and wanted us to include them in our list. They are a great buy at $24.99, and in the box you get 900 extra-large wipes that can be cut in half to go even farther, (which of course, saves you even more money). These wipes are ultra soft, hypoallergenic and paraben-free, so they are gentle on your baby's skin. I love baby wipes too, so I also recommend them for adults!
Medication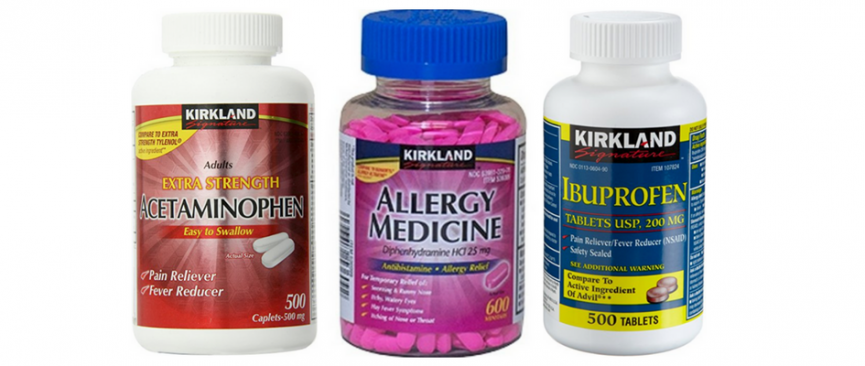 I love heading to the pharmacy section in Costco. They have a good selection of Kirkland Signature pain-killers, cold & flu, allergy tablets and vitamins that are worth a second look. So, instead of paying name brand prices, take advantage of these generic meds that can definitely save you money. Plus, they usually have the exact same ingredients, as popular name brands.
Multi-Purpose Sterile Content Lens Solution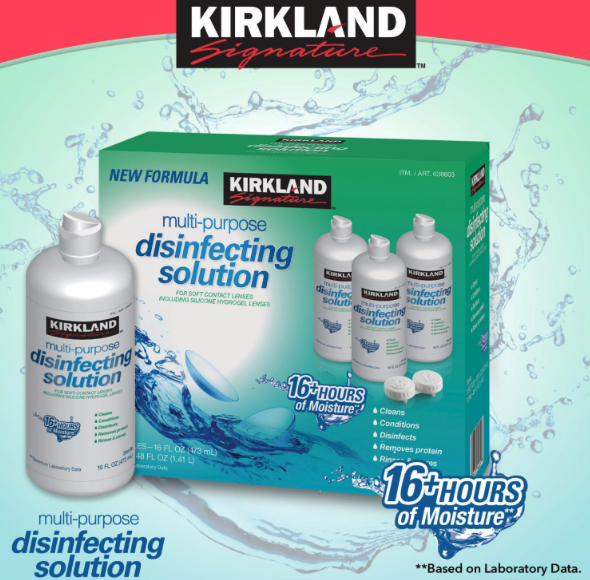 This is one of my favourite products. As a contact lens wearer, solutions can add up over time so, it's nice to get larger sized bottles at a cheaper price, than what you would normally pay in the local pharmacy or grocery store.
What Kirkland Signature products do you love and recommend? Let us know and we will be happy to add them our list.