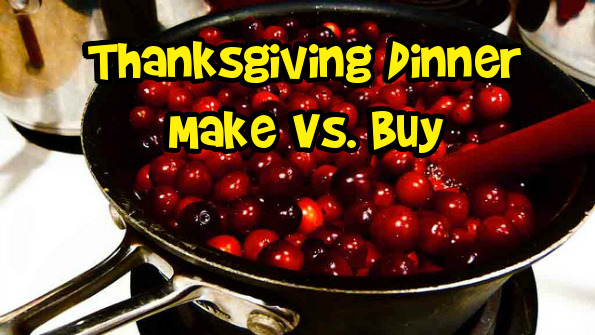 With Canadian Thanksgiving here, my family and I planned the menu for the Thanksgiving meal, which we are hosting at our house.  My husband does 95% of the cooking in our household; however, I usually contribute in the menu planning and the dessert baking of the meal.  This year we are planning on having a turkey dinner including the turkey (I bought a frozen Butterball turkey, which is on sale this week at Loblaws for $1.25/pound), dressing, brussels sprouts, rolls, some type of potato dish, salad, cheesecake and another healthier dessert option.  This menu takes a lot of time, effort and consideration to plan and prepare.  This got me to thinking, what is the cheaper option for our menu: make or buy?
Bread or rolls
Like the vast majority of the population, most of the time, we buy our bread and rolls.  That said, on a cool fall weekend morning you might just see me baking a loaf of homemade bread in my kitchen.  I absolutely love the smell of freshly baked bread perforating through my house, and fresh bread tastes so delicious!  The other weekend I took my dog for a quick run, and when I came home I devoured 2 slices of freshly baked bread.  It was heavenly.  In determining whether to make rolls or purchase them, I visited my local Loblaws.  There, a dozen small whole wheat dinner rolls cost $2.99.  Using this recipe I calculated the cost of ingredients if I make my own:
¾ cup water- FREE
¾ cup milk- $0.35
¼ cup honey- $0.50
2 tbsp canola oil $0.05
1 tbsp molasses $0.05
2 ¼ tbsp yeast $0.10
3 cups whole wheat flour $1.50
Total cost: $2.55
Verdict:  When you factor in the time it takes to make the rolls, it makes better financial sense to purchase them.  That said, if you enjoy the act of baking, and take pride in your ability to bake home-baked items, make your own.
Homemade Cheesecake
We generally don't eat dessert that often.  I eat clean, so I rarely eat sugar at all, however if we do eat dessert I go all out!  If I'm going to eat something for dessert, I want it to be incredibly decadent.  For Thanksgiving I'm going to make my own homemade cheesecake.  For comparison's sake, this week at Loblaws, a 1kg President's Choice cheesecake is on sale for $12.99.  Using this recipe, here are the ingredients of a classic cheesecake I have made before, which is sure to please:
1 graham cracker crust $1.99 (I bought this on sale)
5 250g packages of cream cheese at $1.99 each= $9.95 (also on sale)
1 cup sugar $0.50
3 tbsp flour $0.01
1 tbsp vanilla $0.05
1 cup sour cream $1.00
4 eggs $0.75
Total cost: $14.25
Verdict:  If you can purchase the cheesecake on sale, it is actually cheaper to purchase the premade cheesecake.  Additionally, when you purchase a pre-made cheesecake, you are guaranteed that it will taste good.  If you make your own, you could be destined to fail.
Sweet potato casserole:
We have a number of specialty food stores in the city in which I live, one of which specializes in sweet potato casserole.  We love it, although it isn't cheap.  For a small, 500g container of the casserole, it costs approximately $6.00.  If we were to purchase this for Thanksgiving, we would have to purchase approximately four 500g containers of the casserole to feed our extended family of 11, for a total cost of $24.  In comparison, this recipe is a homemade version of our favourite spud dish:
4 cups sweet potatoes $4.00
½ cup white sugar $0.25
2 eggs $0.38
½ tsp salt $0.01
4 tbsp butter $0.25
½ cup milk $0.28
½ tsp vanilla $0.02
1/2 cup brown sugar $0.25
1/3 cup white flour $0.10
3 tbsp butter $0.20
½ cup pecans $1.00
Total cost:  $6.74
Verdict: Making my own sweet potato casserole will be much, much cheaper than buying a store-bought casserole.
Considerations:
If you are a clean eater like me, although it's either equal in price, or cheaper to purchase some baked goods, I still prefer to make my own, as I'm in control of the ingredient quality, and there aren't additional fillers, sweeteners or preservatives.  Also, I LOVE the bragging rights I garner when I make my own food.  Call me overly dependent on receiving praise from other people, but I really appreciate the positive reinforcement which comes from producing excellent food.  It also shows them, in a practical way, how much I love them.   As my husband's Italian grandmother always says, I am happiest when I am feeding my family and filling their bellies with healthy food!  Mange!
Conclusion:
If you aren't concerned about preservatives and additives, sometimes purchasing baked goods is a cheaper option than making your own.  For other menu items, such as potato dishes, salads, turkey etc, it will almost always be cheaper to make your own food as opposed to purchasing pre-made dishes.  Additionally, I think it tastes a lot better when you make your own, although this depends on how adept a cook you are.
Besides purchasing some dinner rolls, we will be making 100% of our Thanksgiving meal.  My husband and I really enjoy both the planning and the cooking of our meals.  This isn't something we would trade for a pre-made meal.  We will be saving a considerable amount of money when you consider the cost of packaged items such as casseroles, salads, gravy and other fixings.  Our guests will likely bring a bottle of wine, or offer to bring an item to contribute to the table, which will also lessen our expenses.  Regardless of what people bring, we are always happy to feed our family.  Happy Thanksgiving everyone!
Photo Credit: Ruthanne Reid