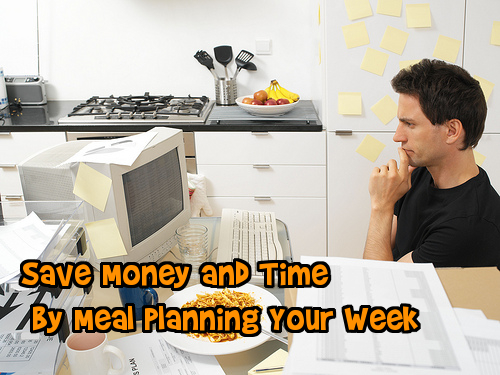 As a busy individual who may be a full-time working mom with kids who need to be picked up from soccer practice or swim practice or piano lessons, or a busy stay-at-home mom with many things on the go, or even someone like me who is childless (unless you count my boyfriend as a child which he sort of is) with part time work and full time schooling, time is always a luxury.
Although I love to eat and I really enjoy eating, I just can't spend that much time cooking, looking up new recipes, or buying groceries for these recipes on a daily or almost daily basis.
Planning your week in advance gives you a sense of grounding, knowing that you have a PLAN. This is much better than coming home exhausted and feeling too tired to cook, or to even get the energy to magically conjure up something TO cook.
Time organization skills are key to spending your time on more important things, like family, your personal goals, or finishing up a busy project.
Some Great Ideas for Meal Plans
Oprah has some great meal plans that she rotates on a biweekly or few-weekly basis. In addition, Unclutterer has a great weekly Meal Plan Excel template you can download and use. You won't ever have to be grasping for straws when answering "what's for dinner".
With a meal plan, I am able to answer this question myself, and it prompts me to take the frozen chicken out of the freezer to defrost in the fridge. There have been many times when I forget to take something out of the freezer the night before to defrost, only to come home and say "doh!" Keeping organized keeps me from feeling stressed and irritable. At the same time, the meal plan is very flexible. If you don't feel like having X today, you can always switch it around and have Y instead. Having at least some ideas keeps things fresh and easy.
Planning the Week Saves Trips to the Grocery Store (and the Take-Out Restaurant)
Planning the week in advance also saves trips to the grocery store because you would have bought everything you needed to cook for that week already.
Also, using a chest freezer is helpful with time management and organization as you can store all your left-overs (and your extra meals) in there. If ever you are feeling too tired to cook, you can just grab a few containers and heat them up.  This beats eating processed microwavable dinners that have ingredients that are unpronounceable  that even a chemistry major couldn't explain. You know what is in left-over meals because you made it them. In addition, planning your week in advance with meals prepared in advance (if you should choose to be this ultra-organized) saves you trips to the take-out restaurant, which ultimately saves you money.
Bargainmoosers, do you meal plan? If so, do you find it useful?
(Image credits: Victor1558)