Liquid Nutrition Free Smoothie Coupon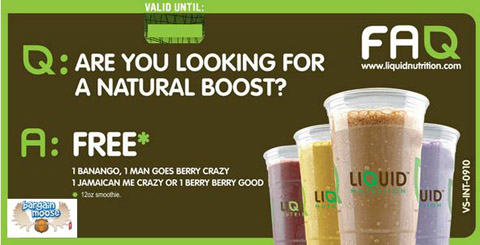 Get a coupon emailed to you to redeem for a free 12oz. smoothie at Liquid Nutrition.
Click the banner on the right saying, "Free 12oz smoothie." When you print out your coupon make sure to print the whole page to include your name, otherwise it won't be valid. You also have 24 hours to use the coupon. Choose from Banana, Man Goes Berry Crazy, Jamaican Me Crazy, or Berry Berry Good.
I wonder what's the difference between Man Goes Berry Crazy and Berry Berry Good. I do love their play on words!