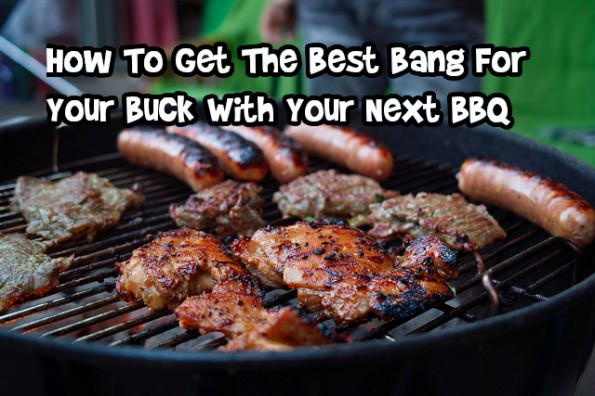 The Robinson family needs a new barbeque.  The last one we bought nearly 6 years ago has bit the dust, and it really hasn't stood the test of time.   Being the extremely frugal Bargainmooser that I am, I need to figure out how to stretch my dollars on the cost of a grill so I can afford some delicious Costco steaks!  Also, as much as I love my hubby, his research skills kind of suck; he's driven by the manly allure of fire and doesn't care as much about minute details like cost or warranties.  Truthfully, barbequing is my husband's domain, so I know next to nothing about a) barbeques in general b) where to purchase one.  Should I purchase the BBQ on sale this week at Canadian Tire or a specialty BBQ store?  Do I get a propane or gas grill?  I literally have no idea.   Let's figure out what I should consider when purchasing our BBQ so that I can get the best bang for my buck.
Charcoal vs. gas
According to this article from About.com, there are benefits and drawbacks to both charcoal and gas BBQs.  There are many charcoal BBQ aficionados who profess their undying love for charcoal grills because of the authentic smokey flavour it imparts, and because of the allure of cooking on an open fire.  On the other hand, gas grills are extremely easy to use, and  take about half the time to heat up.  Check out this awesome, extremely in depth article comparing them both from Amazingribs.  This article compares the taste and texture of different meats in different grills, and the bottom line is if you are just using it for hot dogs and burgers, either grill is fine.  If you're looking for excellent taste with meat that you are grilling long and slow (think poultry, roasts etc), charcoal is the way to go for the best flavour.
Cost
In terms of cost, depending on the model you purchase, charcoal grills are generally less expensive than gas grills.  The fuel costs, however, vary widely.   The cost of gas per use can be as little as a few pennies to under a dollar.  The cost of charcoal, however, is much more expensive and can cost up to $5 per use, depending on the length of the cook.  Plus there are various types and flavours of charcoal to consider.  Check out this article from Canadian Barbecue for an overview of different types of charcoal.  In the end most experts say that the costs even out since the cost of charcoal is so much more expensive than gas.  This handy dandy barbeque selector tool from the Home Depot is an easy way to figure out which grill model is a good fit for your budget and for your cooking needs.  According to Consumer Reports you can expect to spend between $300- $500 for a good quality gas barbeque.  From my research on charcoal models, you can expect to spend anywhere from $100-$500 for a good quality grill.
Where was it manufactured?
We always evaluate where the products we buy were manufactured.  From the cars we buy to the barbeques we purchase, where products are manufactured is one factor to consider.  A few grills which are manufactured in North America include Vermont Castings and Napoleon.  Although I'm not completely against purchasing a grill which was manufactured in China, I'd rather support a company that employs North American workers.
Warranty/guarantee?
Many of the grills I have looked at include a warranty of some sort.  Some claim they have a limited warranty, some say they have a "President's Lifetime Limited" warranty, while others have a 90 day warranty.  Check out the details of what is included in the warranty before you buy, and make sure to keep your receipt, as that will be required to make a claim.  Also check to see whether you need to register your grill in order to make a warranty claim.  I will definitely be looking out for a company that stands behind their product.
Once you have purchased a BBQ it's important to take care of it
Be sure to purchase additional supplies for your grill like a grill cover and tools to clean it.  There is no sense spending hundreds of dollars for a grill that bites the dust in a few years because you didn't take care of it.
So which barbeque did the Robinson family choose?  We are going with the Weber Gold Charcoal Kettle, as it has received consistently excellent reviews since its creation in the 1950's, it is cost-effective, it stands the test of time, it is a charcoal model, and it is built in the U.S.  We looked at a competitor model at Costco which was less expensive, but it was manufactured in China, so we opted to spend a bit more for a brand that was built in the U.S.  The particular model we purchased is only available online, so it will be shipped to our house at which point we will need to assemble it (yikes!).  My loving husband is stoked about the prospect of cooking on an open flame, and I am looking forward to eating some delicious dogs and burgers very soon!
Bargainmoosers, did you buy a barbeque his year?   How did you save money on its cost?
Photo credit: Jun Seita