Creative Matrix Storage Bookcase $190 & Free Shipping @ Costco.ca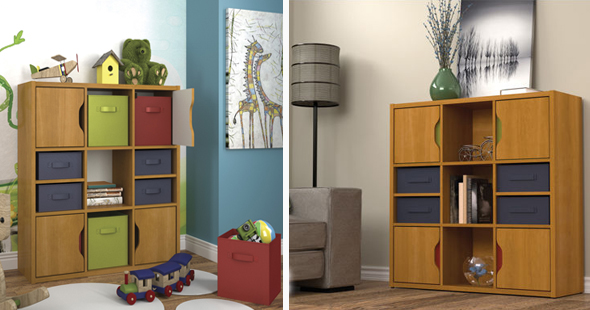 I stumbled across this great storage bookcase on the Costco website and had to share it! The Creative Matrix Juvenile Bookcase would be a perfect addition to any room despite its 'juvenile' tag. The medium brown Cappuccino Cherry finish would blend with a number of different decors. It's a generous size and offers tons of storage with some unique customization options -- all for just $189.99 including shipping and handling!
The unit is sturdy and heavy (143 lbs. -- be sure to secure it to the wall if it is being used in a playroom or child's room), comes with a 10-year warranty and is apparently made in Canada. There are some neat ways to tailor the look and storage space. Eleven shelves are included. Along with open storage cubbies, the bookcase comes with four large and 4 small baskets in the kid-friendly colours red, green and blue but they don't appear the loud, primary shades. The doors are both optional and reversible to a white Cherry Sandstone colour. You can tuck the large baskets behind the doors (where they fit neatly) or in the open storage spaces; the smaller totes rest in the smaller openings and all sizes have canvas handles so you can fill them up, then grab them and take them to another room, if needed. The back of the unit is also reversible; allowing you to select the Cappuccino Cherry or Cherry Sandstone to be visible. The bookcase stands just shy of 3.5 feet tall.
I think this Creative Matrix Storage Bookcase would be wonderful just as pictured: for toys and books in a nursery, play room or older child's bedroom. But I think it would also be great in a mudroom or other entryway; even a kitchen or den. If the included basket colours don't coordinate with the more common areas of your home, you could find more subdued colours or even use woven baskets. I think the possibilities are endless!
So, Moosers, check this out. I searched far and wide over the 'net so I could provide a price comparison and couldn't find a thing using the name of the product. I happened to search the attributes, followed that with an image search, and came across the exact same unit selling for $394 US at an American mass online furniture retailer. They even use the same stock photos with the 'Made in Canada' seal! Using current currency conversion rates, that works out to about $560 CDN. Pay just $189.99 at Costo.ca and save 66%! I call that a deal!
You don't need a Costco membership to shop their website so if you think this unit would do wonders to hide all those Christmas presents, head to Costco.ca now!
(Expires: Unknown)