Costco Canada: $20 Off PetDek - Now $90 (Was $110)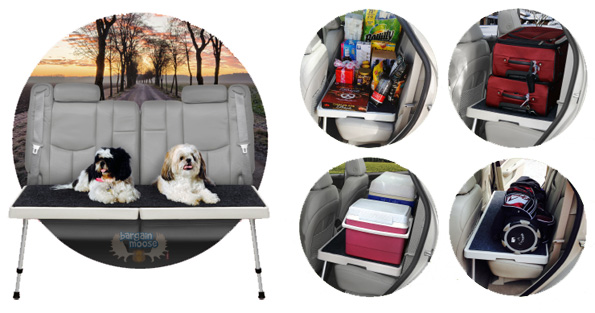 Do you have a dog or do you often haul stuff in your backseat? Then have a look at the PetDek, especially since Costco currently has a great deal on it. For a limited time, you can save $20 on the PetDek and get it for just $89.99 instead of $109.99.
Dubbed the "A Car Space Pet Place", the PetDek converts the backseat of any car into a more functional space for either dogs or the transportation of items, such as those pictured on the banner above.
Even at full price, Costco's price on the PetDek is still much better than its competitors considering both Amazon.com and PetDek's own site sells it for $129.95, though the former lists its regular price at $175.43. In fact, here's what one reviewer had to say about this handy product on Amazon:
I really like my PetDek. It works just as it was stated. very easy to put in and remove. Really saves my leather seats and provides a stable place for my dogs to ride. I have found it handy to have in the back seat during the garden season hauling plants and soil. It does not work in the back of my husbands truck though. He is a tall man and has to have his seat back all the way. That doesn't allow for the PetDek. Wish it was somehow adjustable for seat width.
For anyone considering this product, I would definitely recommend taking a look at PetDek's list of advantages. One of the advantages listed is that it can be used in miscellaneous ways, such as for the transportation of baked goods, and I have to admit that I didn't even think of that but for anyone who bakes or even cooks a lot in their spare time for family gatherings, this would definitely be a great investment! Heck, I could even see myself using this to bring groceries from Costco home since those boxes they provide tend to be too large for my car's small trunk. Plus, once you're done with the PetDek, it can easily be folded and stored away.
Shipping is also absolutely free.
(Expiry: 30th March 2014)