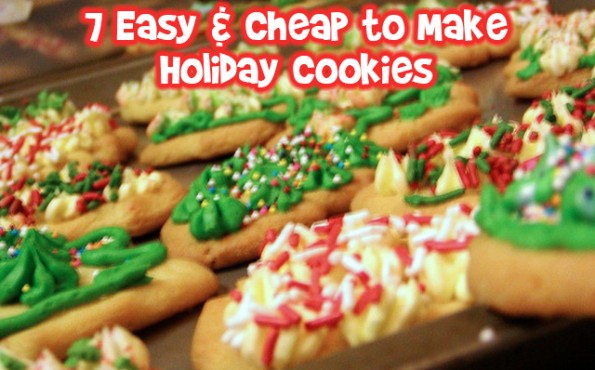 I have a major sweet tooth, which means one of the things I look forward to the most when it comes to the holidays is the excuse to bake (and eat) to my heart's content. I love trying out new recipes during this time of year, and I always jump at the chance to participate in a cookie swap with my co-workers or friends. This year is no different, and since I am always on the hunt for the yummiest recipe that is both easy to make and easy on my wallet, I've compiled a list of some frugal and festive finds that won't require you to do any time-consuming icing or elaborate baking techniques.
Lemon White Chocolate Cake Mix Cookies
I found this simple recipe on The Frugal Girls' blog, and with only four ingredients it should be a real cinch to whip these cookies up to share with your friends and family.

Holly Cookies
Although these aren't exactly cookies (they're made out of corn flakes), they are incredibly festive and fun to make! This recipe was found on Christmas-Cookies.com.

Snickerdoodles
Personally, I love these cookies mainly because of their adorable name, but they are also super easy to make and are a real crowd pleaser to boot. Thanks to High Heels & Grills for the recipe!

Chocolate Pinwheels
What's great about these cookies is they look difficult to make but they are actually really simple. There aren't too many ingredients or steps to follow, but you will need to save some time to chill the dough before popping them into the oven as mentioned on Chef in Training's blog.

Peanut Butter Marshmallow Sandwich Cookies
This recipe is essentially taking a classic recipe for peanut butter cookies and giving it a delicious twist. You could follow Baking With Blondie's instructions and make your own marshmallows from scratch, or you could take a shortcut and just buy the premade stuff from the store.

Chai Tea Shortbread Cookies
This cookie recipe was so easy and cheap to make, I made them for a cookie swap a few years ago (and they were a big hit!). And if chai tea isn't your thing, you can swap it for earl grey or your favourite tea blend.

Candy Cane Blossoms
Adorable and perfect for the holidays, this recipe found on Baked Perfection's blog also includes a helpful hint on how to save money on coloured sugar. All you have to do is put some white sugar into a sandwhich bag, squeeze a few drops of food colouring inside, then shake til the sugar changes colour. Thanks for the frugal tip Risa!

Bargainmoosers, what's your favourite holiday cookie recipe?
(Image credit: Ryan)