Zellers Canada: $10 Gift Card With $40 Purchase & 50% Off Deals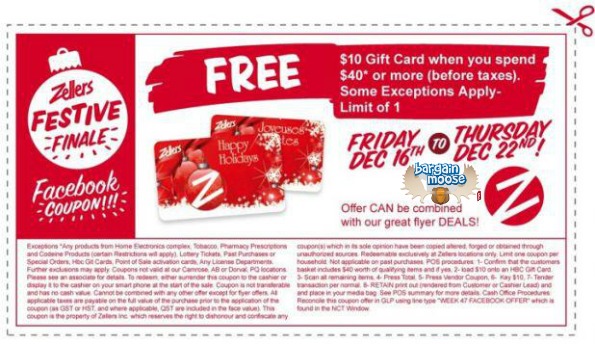 Get your FREE $10 gift card when you spend $40 or more in store at Zellers Canada until Thursday with the printable coupon below. Shop at Zellers today only and save 50% off outerwear and 50% off all furniture!
There is a limit of one free $10 gift card per household.
What's nice about this offer is that there is no time limit to use the $10 gift card and you don't have to make a minimum purchase to use it. Whether you are shopping for the trimmings for your Christmas dinner or finishing up your holiday shopping, it's pretty easy to spend $40 to get your gift card.
The 50% off outwear sale excludes Olympics and Men's snow and splash pants and the 50% off furniture sale excludes dining sets. Thanks to Kolagirl on the hot deal forums!
Coupon Expires: 22nd December, 2011