WagJag Canada: Xbox 360 With Kinect & 2 Games Only $199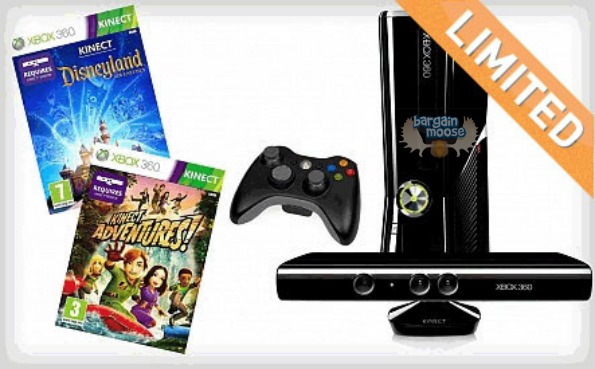 WagJag Canada has a great deal on an Xbox 360 with Kinect and two games, now only $199, with a value of $338. Shipping is also included, which is a bonus.
My kids think they are deprived because they are the only kids they know who don't have some form of gaming system. They have LeapPads, but my oldest rarely uses his now. We had a Wii, but it got broken (what a shocker in my house!), so now we only have the computer or my husband or my smartphones. Thinking about Christmas we are debating getting an iPad, some other kind of tablet or a gaming system for the kids. The first two seem the most breakable, and this Xbox deal is a good one.
Price comparing, the Xbox with Kinect on its own goes for about $250. Add the two games and you've gone up to at least $300 in value, so this is a great package deal.
Your package includes Kinect Disneyland Adventures game and the Kinect Adventures game plus one wireless controller with Kinect. There is also built-in wifi and ethernet connections. You can watch HD movies and stream TV with Xbox Live. Your item will ship to you about two to three weeks after deal end, and there is a limit of one per person. Simply buy the deal and wait for your shipment.
(Expiry: 16th September 2013)