$15 For $30 Towards Lindt Chocolates @ WagJag.com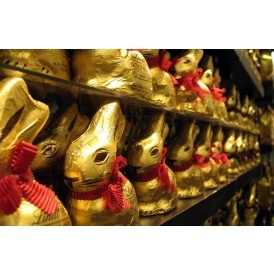 Easter is just around the corner, have you started your chocolate shopping? Why not make it a little easier on the Easter Bunny's wallet this year with this offer from WagJag Canada. While supplies last, you can pay just $15 for $30 worth of Lindt Chocolates. This voucher can be used at one of the 23 different Lindt Chocolate Boutiques locations across Canada. Hurry though - this offer ends in 3 days!
Lindt Chocolates are recognized allover the world as being a delicious treat. They carry many Swiss chocolate products like chocolate bars, truffles, pralines and so much more. This is the perfect time to stock up on chocolate, especially with the combination of this WagJag Canada deal and Easter being just around the corner. Right now you can pay just $15 to get a $30 voucher to use at one of the Lindt Chocolate Boutiques across Canada. You can even use this voucher towards the purchase of sale items, except the 100 count Bulk Lindor promotions.
There are 17 different Lindt Chocolate Boutiques so before making this purchase make sure you have one close to you. You will have to select the location you desire at the check out process. While Ontario has the largest selection of location options, there are Lindt Chocolate Boutique locations in Ontario, Nova Scotia, Manitoba, British Columbia, and Alberta.
As I added this WagJag Canada offer to my cart, I started to day dream about the taste of the Lindor Truffles. I can not get enough of their delicious chocolate shell with the smooth centre. I always look forward to the time of year when Swiss Chalet gives the three free Lindt chocolates with your meal. I try to make trades with my family so I can have their white chocolate truffles. Which flavour is your favourite?
Personally, Lindt Chocolate Boutiques are one of my favourite places to shop. I love chocolate. By love, I mean love. Also, their chocolates are all beautifully wrapped. Sometimes if you are lucky, they even have free chocolate samples to try in stores. I do a lot of Christmas shopping at my local Lindt Chocolate Boutique, but I am not sure if I buy more for myself or my family members. There is a catch to this WagJag offer though.
First, this Lindt Chocolate Boutique voucher will expire on the 10th of March, 2016 so make sure you don't miss your opportunity. The voucher will become void after the expiry date, however, the Manitoba and Alberta locations will still honour the value after expiry. You have to use the entirety of the voucher in one visit, which won't be hard to do. You will also be limited to 1 voucher per person, but you may purchase an additional voucher as a gift.
(Expiry: 29th February 2016)